Sandi Ott retiring from Vance after 41 years of service
by
Kat Jeanne
Enid News & Eagle, Okla.
October 6, 2021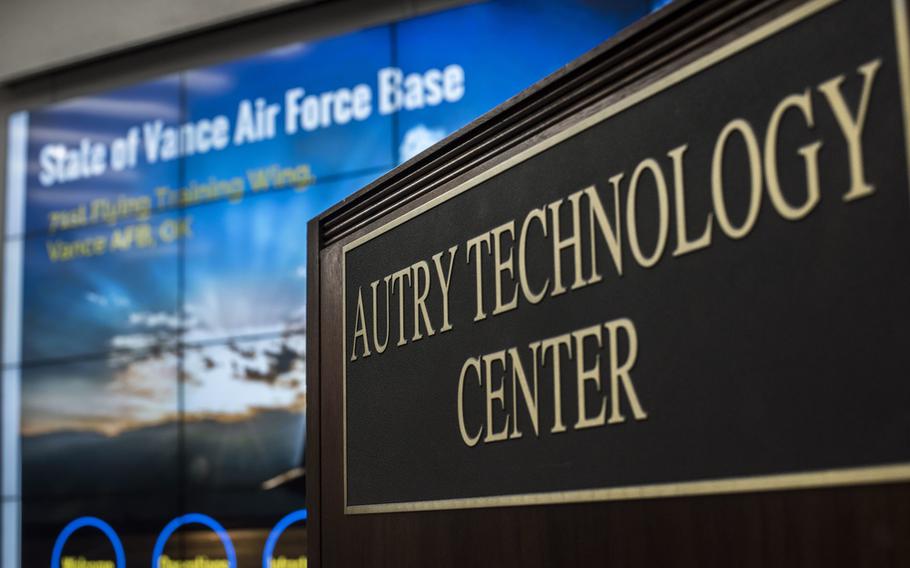 Oct. 6 (Tribune News Services) —In August 1980, when Sandi Ott travelled to her first active-duty assignment, she drove into Northwest Oklahoma wondering where all of the trees were, much less where Enid was.
Forty-one years later, the military personnel flight chief is retiring from Vance Air Force Base, where she has spent her entire military and civilian career.
"They just celebrated 80 years, and I've been here 41 years — more than half the life of the base," Ott said. She was one of the first residents of the dorms on base and watched her current office building, the 71st Flying Training Wing Headquarters, be built.
Ott retired from the military as a technical sergeant in 1984 and began working in the military personnel flight office in 1986 as a member of personnel systems management (PSM). She was with PSM for 29 years, before being promoted to chief of flight six and a half years ago.
The military personnel flight office (human relations for the military) is in charge of customer support, career development, force management, PSM and installation personnel readiness.
"There is a lot of working parts in the flight," Ott said. "I tell the people working in there all the time, they make magic happen every day.
"I don't run my office as a boss, I run it as a team. My team leads, my staff sergeants, do what they are going to do. I don't tell them what to do, unless I have to. They know what their duties are and make it happen."
Ott learned a lot as a leader from the man who hired her into the military personnel office, the late Frank Gosnell. She said he led by example and spent a lot of time mentoring her.
"I learned from Gosnell that you praise in public and punish in private," Ott said. "You stand up for your people, even if they were wrong, then you have that conversation after the fact."
Over the years, as things have moved from manually typing information into computers to self-service actions today, Ott saw lots of changes to technology and regulations.
In the 1980s, they still had typewriters. To perform a financial transaction, one had to do it on a key punch machine on a card. Next, one would take it over to data automation to put it all together.
When Ott began in the military, there were regulations with no room for interpretation. Gradually, regulations moved into instructions, with room for interpretation. As a team, they got to debate what should happen and how the guidelines should be followed, which was a good thing for the team, Ott said.
Ott's roots
Originally from Massachusetts, Ott grew up as one of six children. She said she wanted to get out of the house and not have any more roommates, which was part of her reason for joining the military.
"I wanted to go out and see what I could do on my own," Ott said. "I always thought the military would be something I would do. I don't regret that decision at all."
Ott's mother was supportive of her joining the military, as she had been a Marine herself. Ott's mother was stationed at Camp Lejeune in Jacksonville, N.C.
"Mom was all for it," Ott said. "She was always proud of her service."
As Ott approaches her final day in office on Friday, she said the favorite part of her work has been meeting people from all over the world.
"We have had people from Puerto Rico, Africa and Haiti — people from every walk of life," Ott said. "I can't imagine the number of military folks I have worked with over the years. I've enjoyed it. It wasn't always fun, but I would do it again. It was the people that made me want to get up and come to work every day."
Ott and her husband, David Ott, a retired Oklahoma Highway Patrol officer, plan to take short road trips all around Oklahoma and the surrounding area.
She is ready to spend more time with her husband, two children and five grandchildren.
After all of her years at Vance, Ott advises upcoming leaders to take care of their people first.
"Your people come first," she said. "Make sure that they have whatever they need to do their job, whether that be technology, regulations — just make sure that they have what they need to do their job. Then back them up."
(c)2021 the Enid News & Eagle (Enid, Okla.)
Visit the Enid News & Eagle (Enid, Okla.) at www.enidnews.com
Distributed by Tribune Content Agency, LLC.