Air Force bombers deploy to England for European training mission
Stars and Stripes
October 6, 2021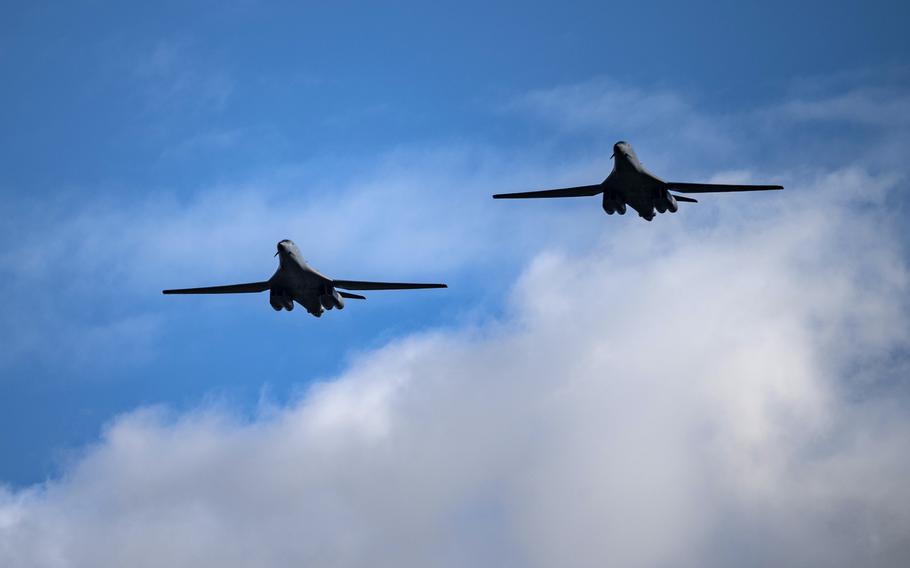 Four B-1B Lancers arrived Wednesday at RAF Fairford in England as part of a long-planned bomber mission to Europe, the Air Force said.
The bombers deployed with 200 personnel from the 9th Expeditionary Bomb Squadron at Dyess Air Force Base, Texas, according to a U.S. Air Forces in Europe–Air Forces Africa statement Wednesday.
The B-1 heavy bomber carries the largest conventional payload of both guided and unguided weapons in the Air Force inventory, according to the service.
The aircraft deployed as part of a regularly scheduled bomber task force mission for U.S. European and U.S. Strategic commands.
Bomber task force missions "amplify our coalition reach and project our collective airpower across theaters," Gen. Jeff Harrigian, USAFE-AFAFRICA's commander, said in a statement.
Since 2018, EUCOM has been conducting bomber task force missions, which consist of rotations of Lancers as well as B-52 Stratofortresses and B-2 Spirit stealth bombers.
B-1Bs deployed most recently to Europe in March along with B-2s, training with Norwegian and Swedish aircraft and marking the first time a B-1B had landed in the Arctic Circle.