Lack of civilian instructors, new training rollout slow Air Force efforts to reduce pilot shortage
by
Rose L. Thayer
Stars and Stripes
September 22, 2021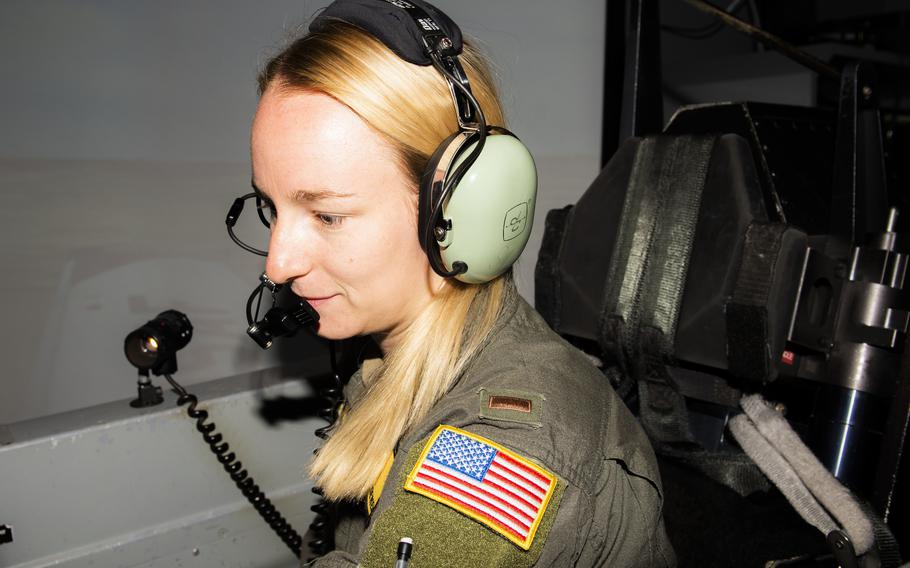 The Air Force once again fell short of its annual goal to train 1,500 new pilots, though service leaders believe more civilian instructors and the final rollout of new technology-driven training could be instrumental in helping end the shortage of enough qualified pilots.
Lt. Gen. Brad Webb, commander of the service's Air Education Training Command, said he anticipates those barriers could be cleared by next year. Meanwhile, the Air Force is looking to increase the pool of qualified candidates who apply to become pilots through free outreach training programs and an overhaul of the selection process so it's more modern and equitable.
Each year, Air Education Training Command, known as AETC, is tasked with sending 1,500 pilots into the service — the number the Air Force has said it needs to retain about 21,000 pilots within its active, Guard and Reserve forces to meet the requirements of the 2018 National Defense Strategy.
In fiscal 2020, AETC trained 1,263 pilots, and Webb anticipated when fiscal 2021 closes at the end of the month, it will be up by about 100 pilots. That should put the service back to levels of training attained before the coronavirus pandemic caused a drop.
The Air Force has continuously struggled to keep pilots in the service, with many leaving for more lucrative careers in the civilian sector that put less strain on family life. While it has remained about 2,000 pilots short for several years, Gen. Charles Q. Brown, the Air Force chief of staff, said in May that they've closed that gap by about 200 pilots.
As of this month, the Air Force had about 13,160 active-duty pilots, according to the Air Force Personnel Center. That's about 700 more than six months ago, when AETC leadership provided an update on pilot training.
Challenges within the training program
Part of the solution is creating a more efficient training process to get those pilots into units faster, but without a drop in quality, Webb said last week in a call with reporters. Two factors — hiring civilians to help with training and incorporating program changes — have slowed progress for now, he said.
While technology will take time to implement, the service is working through a plan to get more civilian personnel hired.
AETC employs civilians to run training flight simulators, but only about 80% of the jobs are filled, Webb said. Part of the hiring challenge is finding people willing to live in the remote locations of the training bases, such as Vance Air Force Base, Okla., Columbus Air Force Base, Miss., and Laughlin Air Force Base, Texas.
To alleviate that need to move, AETC is mapping out how to hire civilians to virtually lead simulator instruction. This could allow commercial pilots living near major airport hubs to teach on the side, Webb said.
In the interim, AETC pulls instructor pilots to fill gaps as needed.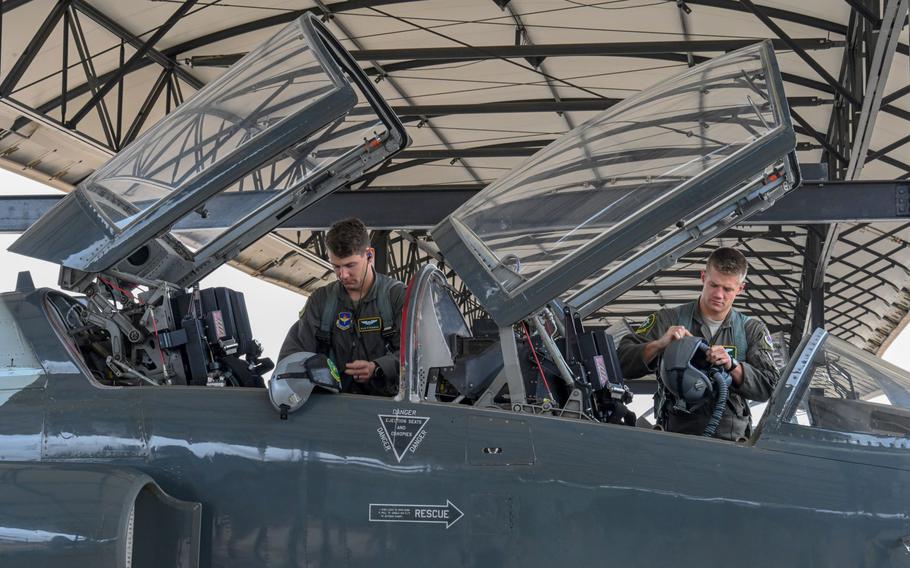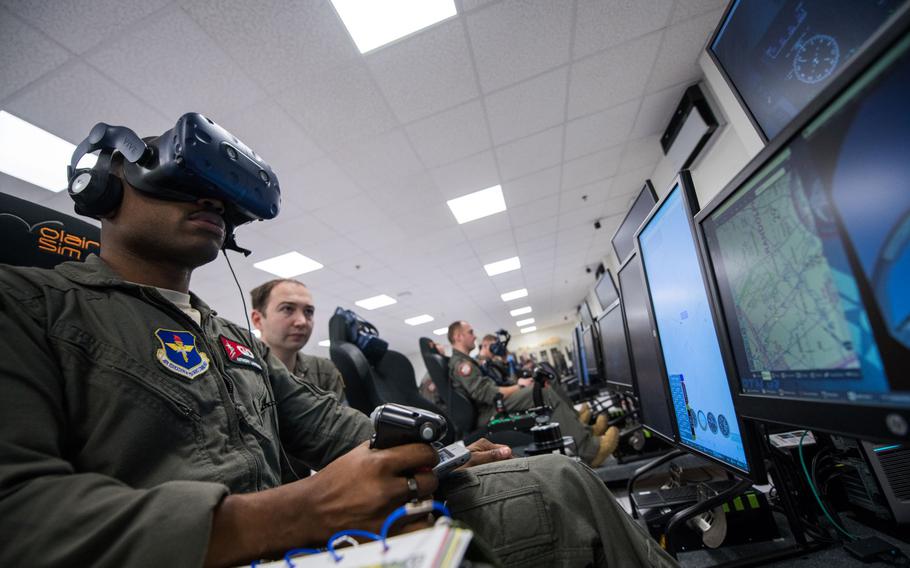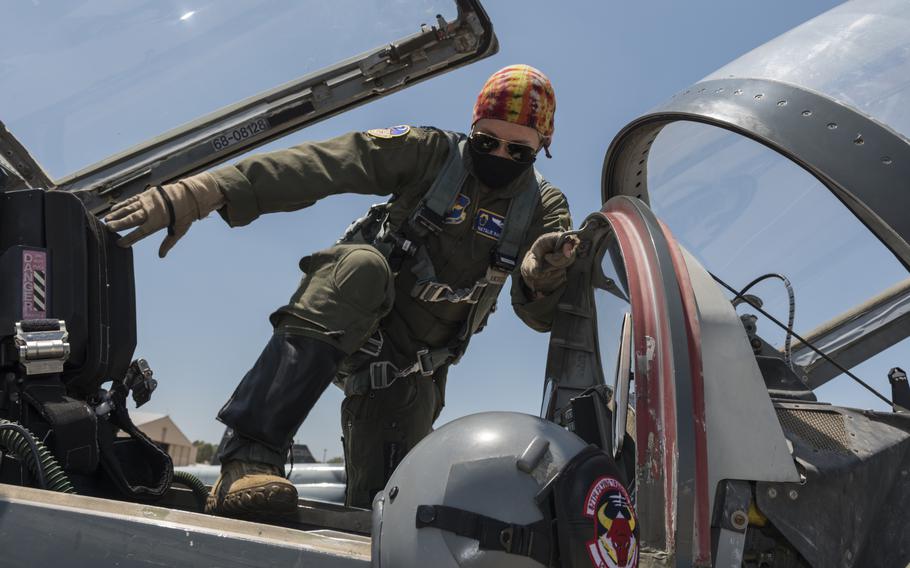 "That hurts production, obviously, because that [instructor pilot] should otherwise be out on a jet, doing a turn on the runway," Webb said.
He also said he anticipates a plan to hire civilians to run simulators virtually to be operational within the "next year or so."
He expects a new training program, known as Undergraduate Pilot Training 2.5, to be implemented across the board at about the same time. UPT 2.5 incorporates virtual reality and artificial intelligence platforms into a self-paced syllabus. It also uses just one training airplane, the T-6A Texan II, as the in-air training platform. These changes have allowed students to graduate and move into their next phase of training in seven months, instead of a full year.
Nearly 200 pilots have graduated through the new program since it began in July 2020, according to AETC. Once undergraduate training is complete, the future pilots move into training for the specific type of aircraft that they will fly.
Regardless of the new technology used in UPT 2.5, the need for a simulated cockpit environment is still important, Webb said.
"I think what we've learned over the course of time is, we're not going to be able to cut away from [simulators] … but augmenting that with [virtual reality] and live [flights] is really what's going to be successful for us in the methodology of 2.5," Webb said.
Increasing the candidate pool
However, implementing the new program "carries with it some drag," he said.
So far, only Vance Air Force Base has fully transitioned to the new training program and one squadron at Randolph Air Force Base has adopted the new method. It will launch this fall at Columbus Air Force Base and then Lackland Air Force Base in the spring, Webb said.
The program will be "the way we do pilot training lock, stock and barrel, by this time next year," he said.
With those changes expected to allow for more students to train, the Air Force is looking to increase the pool of candidates. It began a full review of its selection process for pilots, which hasn't been assessed "with any rigor" since the 1970s, Webb said.
With changes projected sometime next summer, a related policy change removed some barriers that might have blocked people without prior flying experience from getting accepted into pilot training. The Air Force now only considers up to 60 hours of flight time when scoring pilot candidates. In the past, it considered up to 200 hours, which is now seen as giving an unfair advantage to wealthier applicants.
"There is no evidence that more than 61 hours of flight experience poses a significant benefit to pilot training success," said Katie Gunther, chief of strategic research and assessment at the Air Force Personnel Center. "The probability of success in flight training increases substantially from 0 hours to 60 hours, then relatively plateaus."
Other programs, such as the Flight Academy, which takes ROTC cadets who might not have considered aviation and provides them free air and ground experience, target the same problem.
"It's to hopefully inspire a larger pool of candidates and potentially a much more diverse pool of candidates to apply for aviation duty in the first place," Webb said.
Overall, he said it's about "the aptitude to be able to learn, and not necessarily already have the skill."
Other initiatives to get more pilots through training faster are still in early stages, such as fast-tracking people with previous flying experience or nonmilitary training. So far, AETC has put 35 pilots through this program, known as Civil Path to Wings.