Super-sized airlifters provide a rare training opportunity at US air base in Tokyo
by
Juan King
Stars and Stripes
September 22, 2021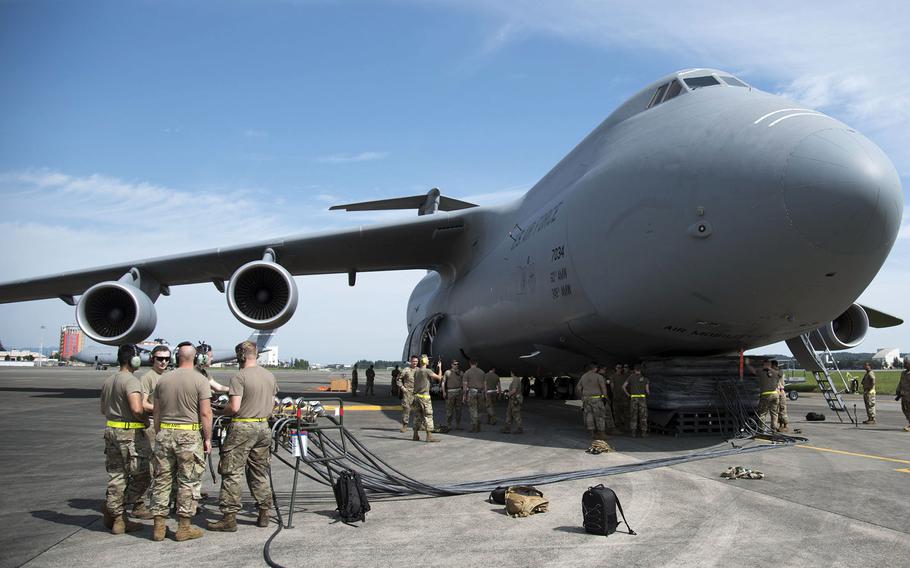 YOKOTA AIR BASE, Japan — The largest aircraft in the U.S. Air Force is a rare enough sight at this airlift hub in western Tokyo, but two together will turn heads.
A pair of C-5M Super Galaxies parked on Yokota's ramp for about a week served up training opportunities for maintenance airmen who don't often get to turn a wrench on the 200-ton behemoths.
One arrived as a "quarterly ground trainer," a regularly scheduled chance for airmen to train up on the aircraft. It happened to land here with a cracked windshield needing repair.
The second arrived on an undisclosed mission but served as another training platform while its crew rested, said Master Sgt. Robert Maughan, production superintendent for the 730th Air Mobility Squadron at Yokota.
"We don't have that opportunity for an extended ground time, so for the wing to send us these C-5 aircraft, logistically it's a big deal to get this aircraft out over here," said Maughan during an interview with Stars and Stripes on Sept. 13.
About four times per year, the 515th Air Mobility Operations Wing at Joint Base Pearl Harbor-Hickam, Hawaii, tries to send a C-5 ground trainer to bases in the Pacific region to get maintainers familiar with the aircraft.
Maughan's squadron is a tenant unit with the 374th Maintenance Squadron and takes care of transient aircraft, including the C-17 Globemaster III and the C-5M. The technicians under Maughan's supervision are qualified to work on either aircraft.
"Think of us as a gas station; we are a highly qualified Jiffy Lube," Maughan said.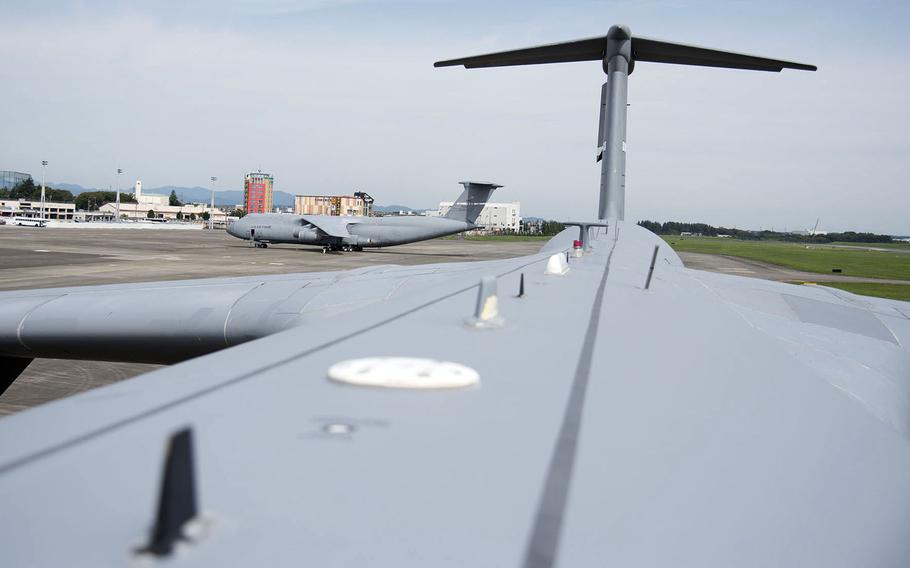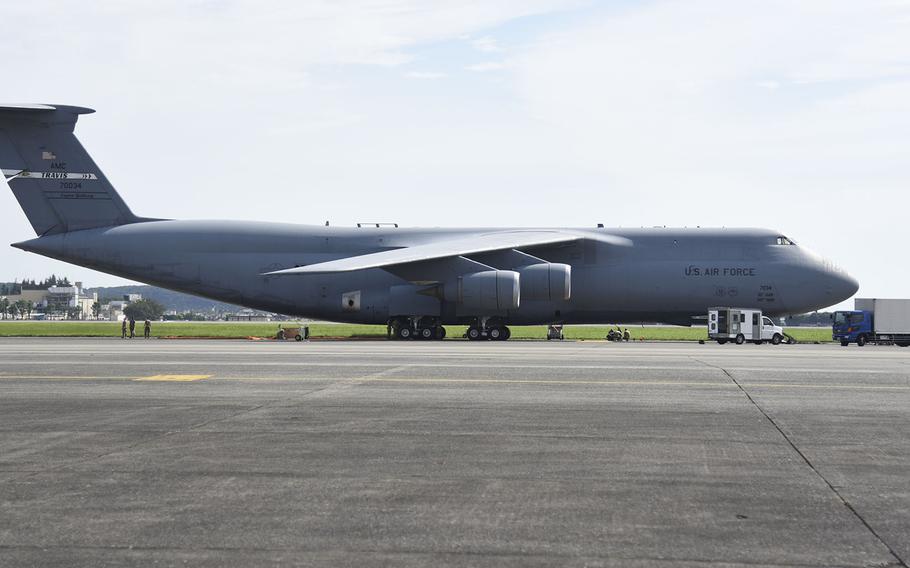 The C-5M is an improvement over previous C-5 models and entered service in December 2013. The Super Galaxy has less than half the failure rate and maintenance hours required by the C-5 Galaxy, and more than 70 improvements, according to its manufacturer, Lockheed Martin.
The Air Force has 52 of all models of the big airlifters, which can carry as much as 142 tons aloft at 518 mph, according to the Air Force. The C-5M has an 11-person crew, including two crew chiefs. It's expected to be around past 2040.
The two that stopped at Yokota are based at Travis Air Force Base, Calif., Maughan said.
While they were here, airmen could qualify on towing, refueling and defueling them, as well as overall servicing, he said.
Senior Airman Hunter Dunn, 730th Air Mobility Squadron maintenance crew chief, helps keep track of qualifications that maintainers receive while being trained on the C-5M. He also gets hands-on as a supervisor.
"I really like it; I like getting out there and getting involved," Dunn said. "It's a really awesome feeling, especially when something comes down broken and you fix it, and then that plane flies, and you know that that mission was because you helped [it] continue."