Michigan lawmaker presses Air Force to recover remains from Alaska 1952 plane crash
by
Melissa Nann Burke
The Detroit News
September 19, 2021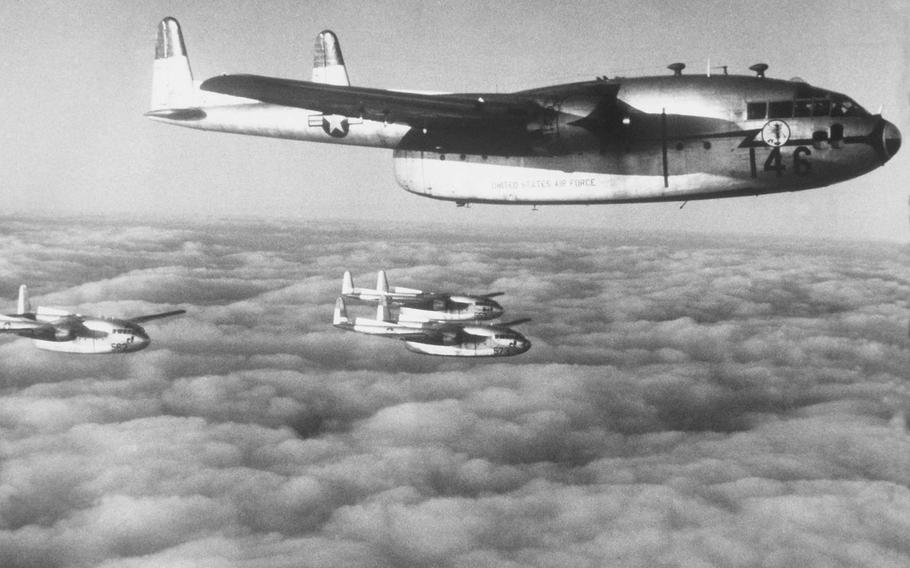 WASHINGTON (Tribune News Service) — Two Muskegon County, Mich., men were among 19 service members killed during a 1952 training mission in Alaska when their C-119 transport aircraft crashed into Mount Silverthrone at an elevation of roughly 12,000 feet.
Nearly seventy years later, their remains have never been recovered, though the wreckage of the flight, known by the call sign Gamble Chalk 1, was found five years ago on the Eldridge Glacier in what is now Denali National Park and Preserve.
U.S. Rep. Bill Huizenga, a Republican who represents Muskegon in Congress, is pressuring the Air Force to take action in an effort to bring closure to family members who never got to bury their loved ones — Army Cpl. Gail Daugherty of Muskegon and Pfc. Raymond Housler of Ravenna.
They say they "just want resolution to this before the rest of us are gone," said Huizenga, who is from Holland. "It really is about healing and just having some finality to it and knowing that their brother's not just on a mountainside in Alaska."
Huizenga has proposed an amendment to the annual defense policy bill that will be debated this coming week by the House Rules Committee.
It would require the Air Force to provide a written report with a status update on recovery operations for the C-119 "Flying Boxcar" crash on Mount Silverthrone, as well as detailed plans for recovery, a timeline for such an operation, and the rationale for any past operations that were delayed or cancelled.
The Air Force did not comment Friday on any planned or past recovery efforts related to the crash. Huizenga said the official response to his office has been that such an operation would be too dangerous, and that the agency don't have the resources for it.
"I was kicking this pretty high up into the Air Force to get some attention on this, and it just felt like they were not putting forth the maximum effort that I thought they should be to help these families," he said.
Gamble Chalk 1 crashed in November 1952 during the Korean War. The flight was a cold weather training mission in the Alaska mountains known as Warm Wind, with an Air Force crew of five and 14 Army men as passengers.
Charles Daugherty was 10 years old when officers came to the family home in Muskegon in the middle of the night to say his older brother, Gail, was missing.
"My parents assumed right away that he was already passed away," said Daugherty, now 79.
He's supportive of Huizenga's measure after "years and years that we've been trying to get this going," he said.
"It's always 'next year, next year, next year,'" he said of the Air Force. "And nothing happens."
The Rev. Leo Blasi, 58, of Plainville, Kan., is a former Army helicopter pilot whose uncle Daniel Blasi was among those who died in the accident. Blasi has worked for about 20 years toward trying to locate the crash site and push for recovery of his uncle's remains.
The military initially delayed the recovery operation in 1952 due to equipment and budgetary problems related to the terrain and elevation of the crash, Blasi said.
Part of the challenge of recovery, he said, is the weather in Alaska. There's only about six weeks of the year when it's possible to travel to the glacier and find the debris field clear of snow and ice, he said.
"In September, the snow starts to cover it back up, and the Air Force says, well, they can't remove that snow because that disturbs the natural aspect of the park," Blasi said.
Over the years, he's received conflicting messages from the Air Force and the National Park Service on this point. The Air Force has cited the policy of the Park Service not to disturb park lands, while the Park Service says that, at times, it allows exceptions to that rule.
"If you've ever had a service member lost, you know the importance of being able to bring them back and being able to do a proper burial for them," said Blasi, who served in Kuwait and is now a Catholic priest.
"And as a country, we've always placed great value on that. The issue is ... the Air Force has written this off as an operational loss. To them, it has no value. Well, to the families, it has immense value."
Blasi worked with a retired geologist, Michael Rocereta, who used his knowledge of glacial movements to discover the debris field in 2016 on top of the Eldridge Glacier, below the crash site
"That really opened my eyes to the possibility that we could actually be able to recover whatever parts of the airplane that are possible and, most importantly, any human remains that would be up there," Blasi said. "That's the reason I never let go. Because I realize that possibility is there."
That and a commitment to his father, Frank, who passed away in 2018 and who was close to his brother Daniel. Among the 17 siblings in their family, they were closest in age.
"Dad had always talked to me about Daniel and how much they missed him," Blasi said.
"He would have loved to have had an opportunity to have spent time with Daniel as an adult. That has always sat in the back of my mind."
(c)2021 The Detroit News
Visit The Detroit News at www.detnews.com
Distributed by Tribune Content Agency, LLC.