Advocates criticize Michigan, Air Force on PFAS during tour of old Wurtsmith AFB
by
Sheri McWhirter
The Record-Eagle
August 25, 2021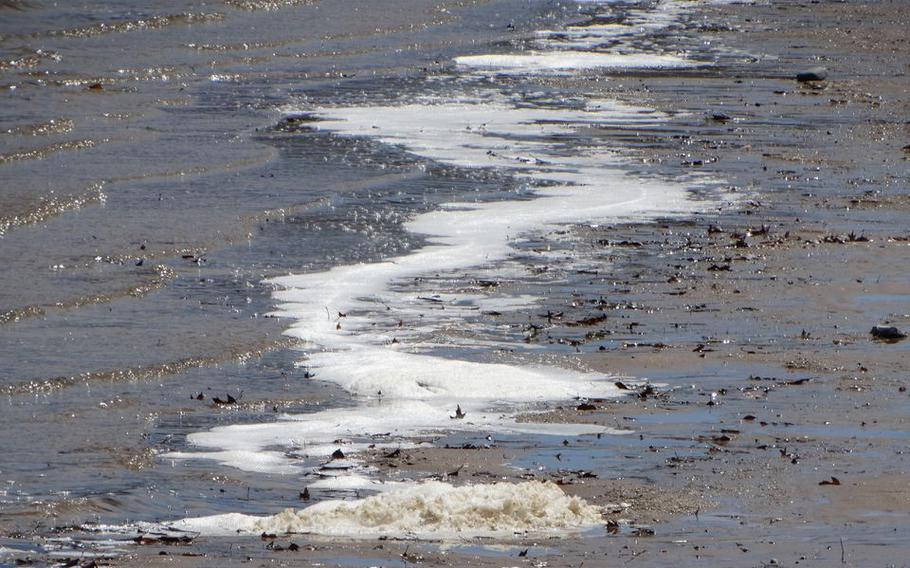 OSCODA, Mich. (Tribune News Service) — A group of environmental advocates accused state and military authorities of lackluster response to legacy PFAS contamination, and pointed to a former nuclear bomber base near Lake Huron as Michigan's prime example.
The group gathered Tuesday afternoon for a bus tour and explored the expansive grounds at the former Wurtsmith Air Force Base in Oscoda — Michigan's first confirmed PFAS contaminated site. The advocates scoped out the most heavily polluted spots on the former military base before they launched their collective allegations that military and state bureaucrats failed to prioritize public health ahead of government protocol.
But military officials long-said they've followed the law, while state agents said their efforts were hampered by less-than-stellar federal action and they continue to strive for cleanup at the old air base near Lake Huron.
Critics in Oscoda may not be convinced, though.
"No more lies and no more foot-dragging. It's time for action," said lawyer Tony Spaniola, who owns a home on PFAS-polluted Van Etten Lake situated between the old air base and Lake Huron.
Spaniola was among the group of advocates who met in a nearby park to accuse officials from both the U.S. military and state regulatory agencies of being slow to respond to the PFAS contamination crisis and not doing all they could when they did act.
"Sometimes I feel like a bomb was dropped in Oscoda," said Cathy Wusterbarth, co-leader of nonprofit Need Our Water, or NOW.
Oscoda served as the centerpiece of a new documentary film titled "No Defense: The U.S. Military's War on Water," which explores the Department of Defense's legacy of chemical contamination. The advocates hosted a film screening at the Shoreline Theater in Oscoda on Tuesday night.
NOW was one of the organizations that this week released a report filled with detailed criticisms of both military efforts in Oscoda, as well as state oversight of the investigation and cleanup goals. The other groups included the nonprofits National Wildlife Federation and the Great Lakes PFAS Action Network.
Jennifer Hill, NWF's associate director at its Great Lakes Regional Center, said the report offers tangible examples of what went wrong and what should have been done better in Oscoda, a community faced with toxic hazards to both people and the environment. She said regulators did "the bare minimum" and that wasn't nearly good enough.
Among the key condemnations was the failure of state authorities to act on a critical report generated in 2012 from findings at Wurtsmith.
Now-retired state scientist Robert Delaney submitted that report to his superiors at what was then called the state Department of Environmental Quality; the prognosis was grim.
"It's one of the worst sites anywhere. It's really horrendously bad," he said.
Delaney warned extremely high PFAS levels found in fish from the AuSable River and Clark's Marsh in Oscoda meant the bloodstreams of area residents likely were also tainted with the manmade substances that build up in human bodies. He and a consulting academic researcher also warned in their white paper about the possible extent of PFAS contamination statewide, calling it a "contaminant-induced health crisis."
But nothing happened for five years until Delaney said he disclosed his 2012 PFAS report to the public during a 2017 radio interview. The Michigan Department of Environment, Great Lakes and Energy then published the report online.
"I was always advocating within the state but now I'm free to talk," Delaney said. "I always wished the public knew. It was a burden on me that the public didn't know and I couldn't tell them."
Delaney said it may be true Michigan was already setting the pace in the U.S. for PFAS investigation and response, but argued the state could have done more sooner.
"We were already way out in advance of everybody else. If we'd started in 2012, we'd have even more been leading the nation," Delaney said.
However, Air Force representatives long-argued they followed federal law in the way they responded to the PFAS contamination at the former military installation and continue to do so. A spokesperson could not be reached for comment Tuesday evening.
State officials contend no state or federal agency has done more to address PFAS contamination, hold responsible parties accountable and educate the public about the class of pollutants than the Michigan PFAS Action Response Team.
"We agree with many of the findings made by NWF and NOW regarding the Air Force's response to contamination at the former Wurtsmith base," wrote Scott Dean, EGLE spokesperson, in an email.
Dean said the pace and scope of the Air Force's response has not been up to the standards that EGLE expects; but he argued the nonprofit groups' criticisms neglect to frame events in the larger context of the state's "steadfast and diligent efforts" to hold the military accountable through the slow-moving federal Superfund program.
PFAS — an acronym for manmade perflouroalkyl and polyflouroaklyl substances — are known to be harmful and exposure to them has been linked to multiple health problems, including blood pressure, cholesterol, thyroid and infertility issues, as well as certain cancers.
Officials suspect contamination at military installations was widely caused by the use of firefighting foam that contains PFAS chemicals called aqueous film forming foam, which is capable of smothering liquid-fuel fires and escaping fumes.
(c)2021 The Record-Eagle (Traverse City, Mich.)
Visit The Record-Eagle (Traverse City, Mich.) at record-eagle.com
Distributed by Tribune Content Agency, LLC.