Beale Air Force Base holds mock disaster training event
by
Diana Vasquez
Appeal-Democrat
August 17, 2021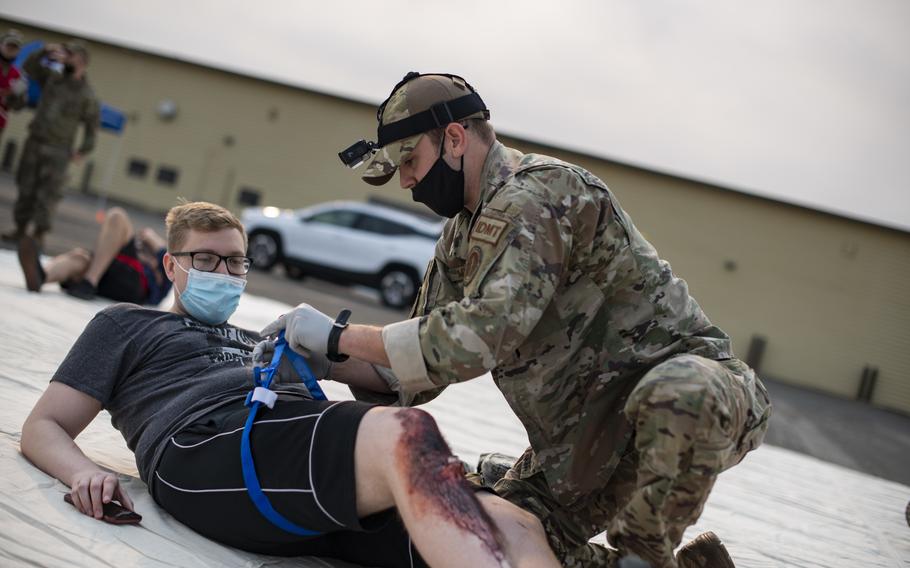 MARYSVILLE, Calif. (Tribune News Service) — Beale Air Force Base hosted a Ready Eagle Exercise event focused on potential biological, chemical, nuclear, radiological and explosive attacks on Aug. 2-6 with participation from Yuba County Emergency Services, the Adventist Health/Rideout clinic and 236 Beale officers and enlisted airmen.
According to Briana Haberman, emergency operations manager for Yuba County Emergency Services, civilian emergency managers and military partners reinforced their relationships to strengthen the operational capabilities and interactions of possible future disasters.
"This event was a great opportunity to partner with our local military folks that are such an integral part of our community," said Haberman. "It allowed our military partners to understand the structure and integration of our unique emergency management systems."
Agbabiaje Oluwaseun, U.S. Air Force medical readiness and section flight commander, said some of the core focus of the training included a simulated disaster scenario, team specific hands-on drills, improvement of response skill and annual required exercises to increase readiness.
John Stone, emergency operations planner for Yuba County Emergency Services, was on his first day on the job while taking part in the exercise. Stone participated in two days of the event along with Shawndel Meder, base hospital program coordinator, and Jennifer Crawford, trauma manager for Adventist Health/Rideout. Meder said she and Crawford observed most of the training but were very welcomed by Beale Air Force Base. They included their feedback on the event.
According to Meder, if a mass casualty event were to occur at Beale Air Force Base, in coordination with their leaders, patients would be distributed to hospitals throughout the region because Adventist Health/Rideout is the control facility for the area.
"It's always good to hope for the best but prepare for the worst," said Meder in an email. "We were very excited to participate with BAFB on this exercise, having the ability to simulate a mass casualty event and practice what we as a community would do is very important to the safety of our community."
(c)2021 the Appeal-Democrat (Marysville, Calif.)
Visit the Appeal-Democrat (Marysville, Calif.) at www.appeal-democrat.com
Distributed by Tribune Content Agency, LLC.