Northern Lightning returns to Volk Field in Wisconsin; sonic booms a possibility
by
Christopher Jardine
WiscNews
August 12, 2021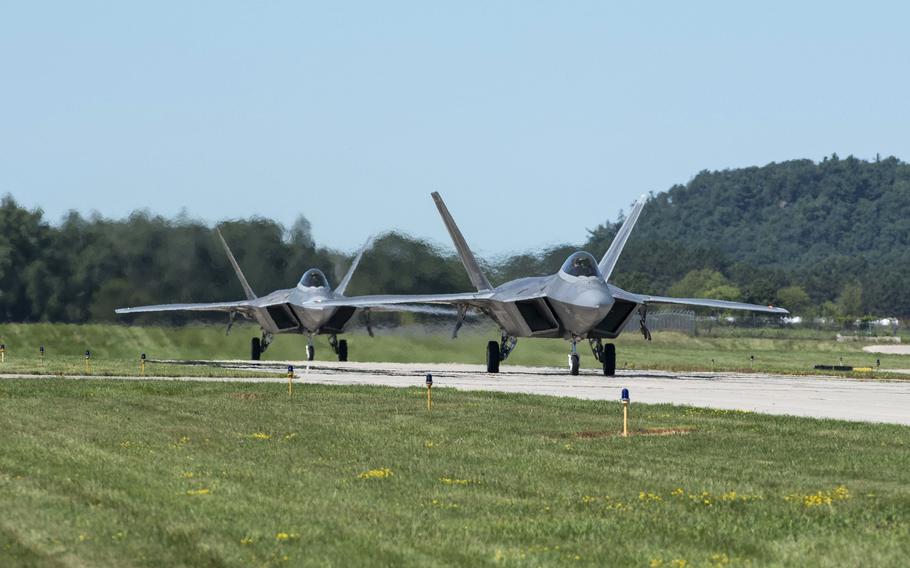 CAMP DOUGLAS, Wis. (Tribune News Service) — The annual Northern Lightning Counterland training exercise is now in progress at Volk Field near Camp Douglas, with military officials saying central Wisconsin residents can expect to see increased air traffic and should expect the possibility of supersonic booms as more than 1,000 military personnel and 60 aircraft participate in the exercise.
"We are thrilled to once again to host the annual Northern Lightning exercise at Volk Field," said Lt. Col. Ben Staats, the exercise director. "Northern Lightning has evolved into one of the finest exercises in the nation, simulating offensive counter-air and surface-to-air attacks. Our goal is to provide a joint environment where units from multiple branches of the U.S. military can work together to accomplish training that is essential to their operational readiness."
Held Aug. 9-20, the training exercise is a "tactical-level, joint training exercise replicating today's air battle space with current and future weapons platforms." The base is hosting units from Arizona, Colorado, Idaho, Minnesota, Oregon, South Dakota, Virginia and Wisconsin, with personnel from the Air Force, Army, Marine Corps, National Guard and Navy.
Juneau and surrounding counties can expect to see heavier aircraft activity than usual during the exercise, with some aircraft traveling at supersonic speeds during the mornings and afternoons. Aircraft will participate in exercises from 9:30 a.m. to 4 p.m., though Capt. Joe Travato of the Wisconsin National Guard said flight times are subject to change.
"We are grateful for the continued support and understanding of Central Wisconsin communities as we train to protect our nation and simulate combat conditions," Staats said. "Northern Lightning Exercise tactical maneuvering includes the occasional requirement for supersonic travel within FAA and military guidelines. This means that people in the military operating area — a 55 by 200 mile area over Central Wisconsin — may hear sonic booms during daily flying hours."
Held twice a year in 2018 and 2019, Northern Lightning returned to an annual exercise in 2020. The exercise began in the 2000s before growing into a large-scale training program with units from around the country in 2015. During last year's version of the exercise "aircrews flew 658 sorties and off-loaded more than 870,000 gallons of jet fuel. Thousands of ground tasks were executed simultaneously," according to Maj. Matthew Wunderlin of the Wisconsin National Guard. The exercise featured L-159, T-38, F-35A, F-16B30, UH-60, F-16B50, F/A-18, F-22, KC-10 and KC-135 aircraft, including F-35s from Madison's Truax Field.
Besides individuals living near the Camp Douglas area, residents in Adams, Brown, Calumet, Clark, Columbia, Dane, Dodge, Fond du Lac, Green Lake, Jackson, Marathon, Marquette, Monroe, Outagamie, Portage, Sauk, Sheboygan, Trempealeau, Waupaca, Winnebago and Wood Counties can expect to see increased military flight operations.
(c)2021 WiscNews
Visit WiscNews at www.wiscnews.com
Distributed by Tribune Content Agency, LLC.