National Guard chief impressed by Iowa's 185th Air Refueling Wing during visit
by
Nick Hytrek
Sioux City Journal
August 10, 2021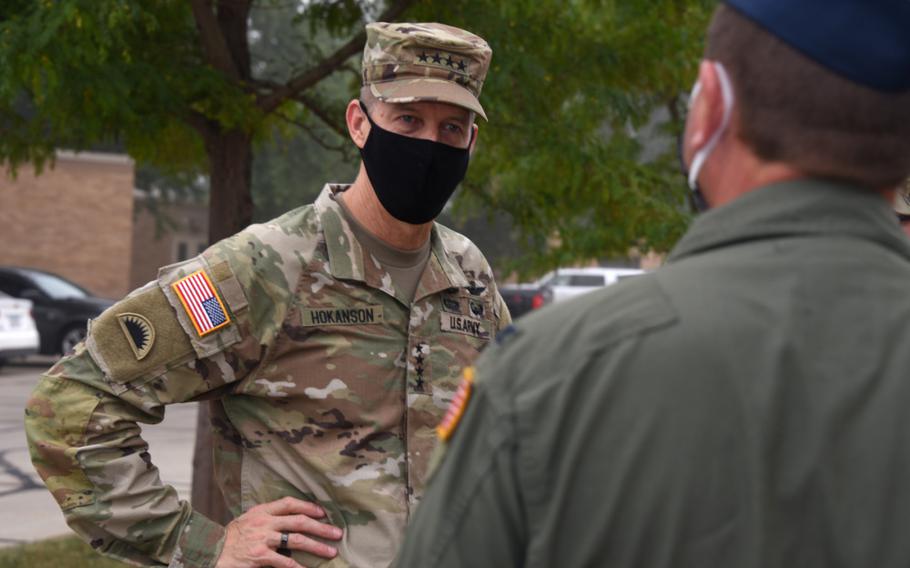 SIOUX CITY, Iowa (Tribune News Service) — Until Monday, the 185th Air Refueling Wing had never hosted the chief of the National Guard Bureau during its 75 years of existence.
Gen. Daniel Hokanson said the history-making visit likely wasn't his last trip to Sioux City.
"Boy, what a remarkable unit you have, and I was really struck by the involvement of the entire community here," Hokanson said. "To me, that really shows just how integral not only the wing is to the community, but the community is to the wing and all the great support that they get."
Hokanson, the senior-most member of the U.S. Army National Guard and Air National Guard, met with city and business leaders in addition to reviewing the base operations and observing its members in action. The first-ever sitting member of the Joint Chiefs of Staff to visit Sioux City's Air National Guard base, Hokanson said he was impressed with what he observed.
"To see the capabilities of this Air Guard unit was really remarkable," Hokanson said. "Across the board, it is just an exemplary unit from every level from the youngest airman to the family support program, and really to the senior leaders of this organization."
Pressed to get in the air to visit a National Guard unit in Wisconsin later in the afternoon, Hokanson kept his comments brief before departing.
But Wing Commander Col. Mark Muckey didn't limit himself when discussing the honor of having such a high-ranking officer visit the 185th. Unit leaders, Muckey said, stressed the involvement and support the 185th receives from Siouxland, and that fact was not lost on the four-star general.
"We wanted the general to be aware of what a great community Siouxland is," Muckey said. "It's another opportunity to show the amazing capability and the amazing talent at this unit."
Muckey invited Hokanson to visit the base. About six months ago, the visit was scheduled, setting off weeks of preparations to make sure the base was in tip-top shape. Making a good impression was important while the wing's command staff laid out plans for improvements and other needs. You never know how a successful visit might pay off in future support from the Pentagon, Muckey said.
"We have great facilities here, and we definitely showcased them," he said.
It also was an honor to have the general at the base during the unit's 75th anniversary.
"This was highlighted as a special event for him and his staff," Muckey said.
(c)2021 Sioux City Journal, Iowa
Visit Sioux City Journal, Iowa at www.siouxcityjournal.com
Distributed by Tribune Content Agency, LLC.
---
---
---