A-10s hit the highway in first-of-its-kind Michigan Guard training operation
by
Corey Dickstein
Stars and Stripes
August 5, 2021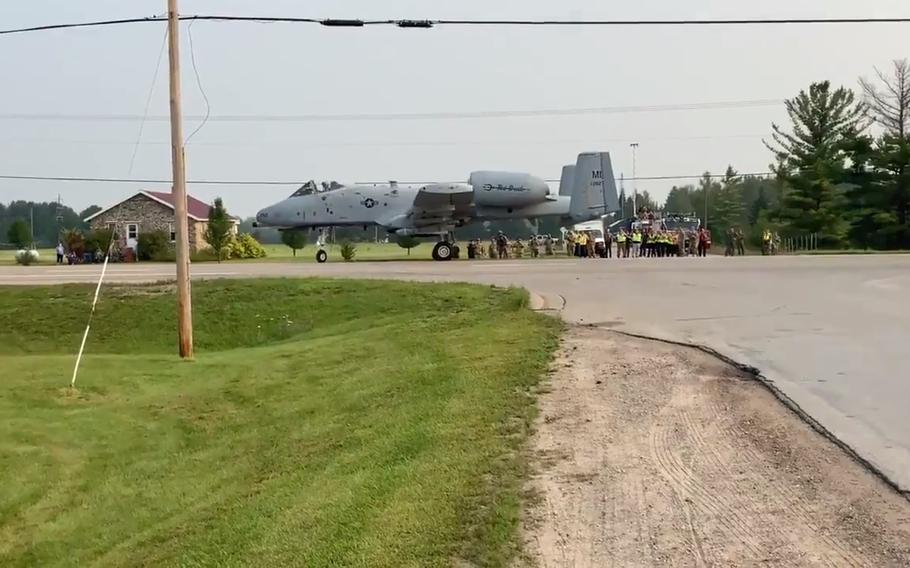 A-10 Thunderbolt II attack jets landed and took off from a remote stretch of state highway in the northern part of Michigan's Lower Peninsula on Thursday in a training exercise National Guard officials labeled a first for Air Force combat pilots in the United States.
Four A-10s, the popular close air support jets known among troops as Warthogs, took off and landed on a closed section of the civilian highway M-32 west of the town of Alpena, Michigan Guard officials said. A pair of C-146A Wolfhound turbo-prop special operations transport planes also participated in the operation, titled "Thunder Landing Zone," the Michigan Guard said in a statement.
"Thunder [Landing Zone] gave the pilots the opportunity to land in an austere environment that they're not used to," Air Force Lt. Col. Brian Wyrzykowski, the Michigan Air Force National Guard pilot who commanded the mission, said in a statement. "But it's also a first in the nation, as this is the first time that modern combat aircraft have landed on U.S. soil, on a highway."
The events saw two A-10s from Michigan National Guard's 127th Wing land on the highway and two A-10s from the active-duty 355th Wing from Davis-Monthan Air Force Base, Ariz., also land on the highway, officials said. The C-146 crew came from Air Force Special Operations Command at Duke Field, Fla.
The operation on Thursday was conducted as part of the Michigan National Guard's annual training event known as Northern Strike, which includes some 5,100 service members from several states and countries training to prepare for a potential conflict with a near-peer adversary, such as Russia or China, according to the Guard's description of the exercise. The training runs through Aug. 14.
The Thunder Landing Zone mission fits into preparations for major combat operations because pilots might need to be able to land and take off from unusual locations when facing an enemy with similar air defense capabilities as the United States, defense officials have said.
"Our adversaries have advanced weapons systems and advanced technology that they can use against us, so we need to be able to operate efficiently in austere situations and gain proficiency in those operations," Wyrzykowski said. "We are making sure we are ready for the high-end fight against a near-peer adversary."
Michigan State Police shut down about three miles of the four-lane highway for about five hours for the exercise. Videos posted by the law enforcement agency show civilians gathered along the highway to watch the military aircraft come and go.
Nearby homes went without power during the exercise as a safety precaution, Guard officials said.
Air Force Col. Jim Rossi, who commands the Michigan Guard's Alpena Combat Readiness Training Center near the location of Thursday's training event, thanked the local community for supporting the exercise.
"I'd like to extend our gratitude for the outstanding support we enjoy from our civil partners and the local community. Without them, this historic training event would not be possible," Rossi said in a statement. "They're such a patriotic group of Americans who are up here, willing to support and are as excited as we are to make this happen."