'One of the most inspirational': Airman dies in noncombat incident in Kuwait, Pentagon says
by
Chad Garland
Stars and Stripes
August 5, 2021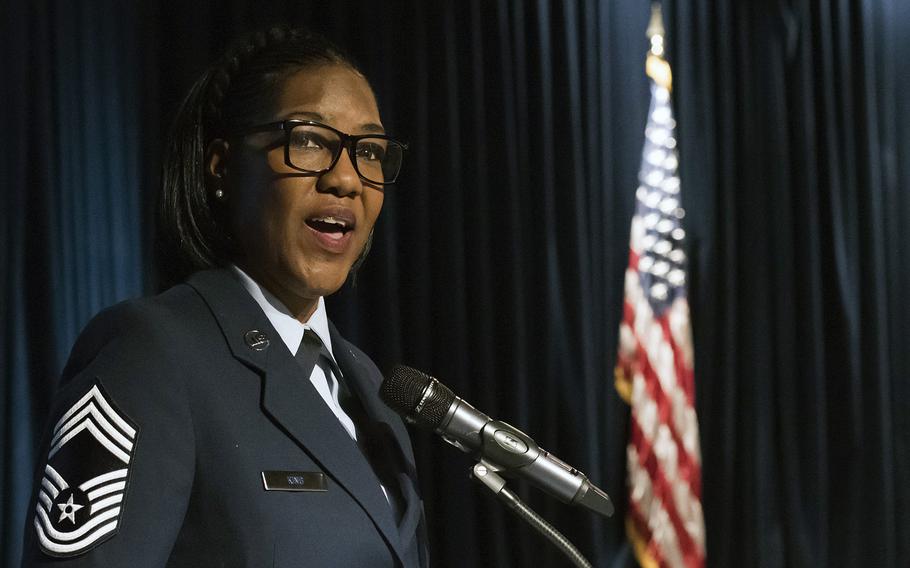 A mother of two with nearly 30 years of Air Force service died in Kuwait in a noncombat incident, military officials said Thursday.
Chief Master Sgt. Tresse Z. King, 54, of Raeford, N.C., died Tuesday at Ali Al Salem Air Base, the Pentagon said in a brief statement.
King was deployed in support of Operation Inherent Resolve, the U.S.-led mission battling the Islamic State group in the Middle East. She was the superintendent of the 96th Force Support Squadron at Eglin Air Force Base, Fla.
King's children include professional basketball player George McZavier King Jr., who played for the University of Colorado at Boulder and was drafted by the Phoenix Suns in the second round of the 2018 NBA draft. He signed with the Niners Chemnitz in Germany's Basketball Bundesliga in July 2020.
Her daughter, Jescia Anderson, played basketball for Wingate University and recently ran for public office in Hoke County, N.C.
King's son and daughter were at her promotion to chief master sergeant, which took place on Veterans Day 2016 on the basketball court at Boulder's Coors Events Center. A university statement at the time said it was the first of her many promotion ceremonies where both of her children were present.
Since joining the service in late 1991, King had deployed seven times, most often to the Middle East, the university said.
The squadron King was most recently deployed with is part of the 96th Test Wing. Ilka Cole, a wing spokeswoman, provided information about King's service history via email on Thursday, which showed that after an initial 1992 assignment to Pope Field, near Fayetteville, N.C., she went on to serve in South Korea, Texas, Virginia and Japan.
When she departed Japan's Yokota Air Base for her assignment to Eglin in 2019, the Facebook page for the Fightin' Fifth Air Force Command Chief Master Sergeant touted King as "one of the most inspirational" chiefs.
"She helped many Airmen 'Get Their Head Right', and reminded all that 'Not Everyone is Able but Everyone is Capable with the right Focus!'" the page said in a post that showed pictures of King, dubbed "TK," posing with fellow airmen and receiving various send-off gifts.
Her decorations indicate she also served in Kosovo, where she earned a campaign medal. Among her many other awards include four Meritorious Service Medals, one Joint Service Medal, five Air Force Achievement Medals and four Air Force Commendation Medals.
Friends expressed their shock over her death on Facebook, where King went by "Tango Kilo."
"TK, Tango Kilo, we miss you soooo much!" wrote Amy T. Davidson, sharing video of King's on-court promotion from five years ago. "You will never be forgotten. You made the world a better place! Your spirit, beautiful smile, mentorship, and unconditional love all made everyone love you!"