At Ramstein Air Base rodeo, airmen wrangle multiple skills
by
Karin Zeitvogel
Stars and Stripes
July 26, 2021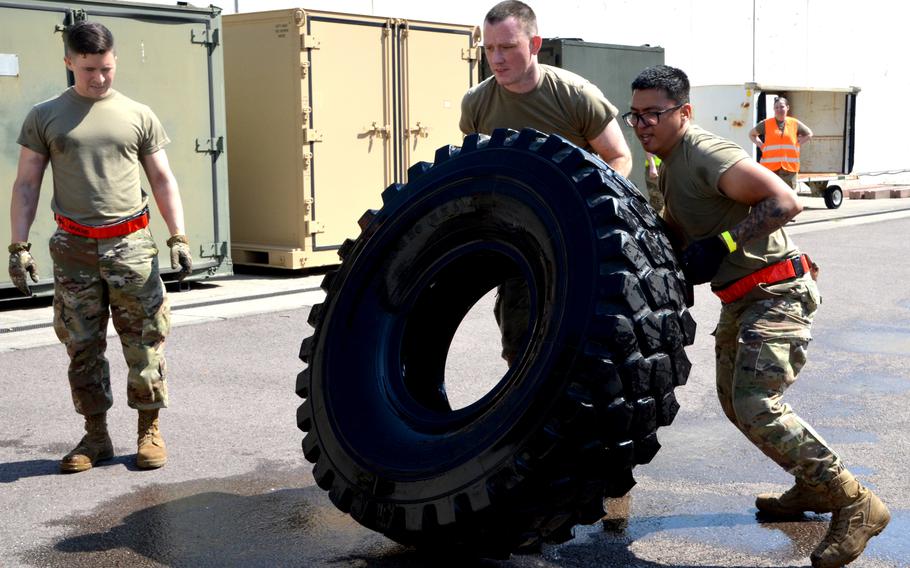 RAMSTEIN AIR BASE, Germany — Airman 1st Class Ryan Joy heaved the Tunner 60K aircraft cargo loader around the final curve of a tight figure eight on the ramp at Ramstein Air Base.
Joy is used to driving the Tunner, although "not as pedal-to-the-metal" as he was Friday, he said as he took part in the 721st Aerial Port Services Multi-Capable Airmen Rodeo.
The rodeo is designed to help airmen learn and master skills they don't use in their day-to-day work to help the Air Force achieve its mission statement: "To fly, fight, and win … airpower anytime, anywhere."
"Not some time in some places; it is anytime, anywhere," Air Force Chief of Staff Gen. Charles Q. Brown Jr. said during an all-hands meeting when he visited Ramstein earlier this month. "Every one of our specialties contributes to that."
Yards from where Joy had pushed the Tunner close to its maximum speed of 23 mph, airmen were reconfiguring a C-130H before another of the eight teams of five taking part in the rodeo loaded a Humvee and a pallet onto the aircraft within strict time constraints.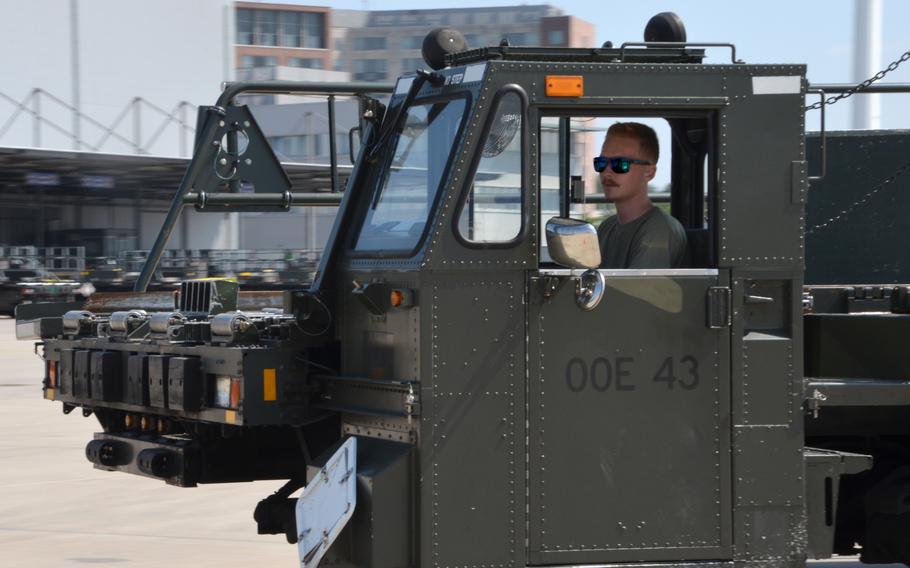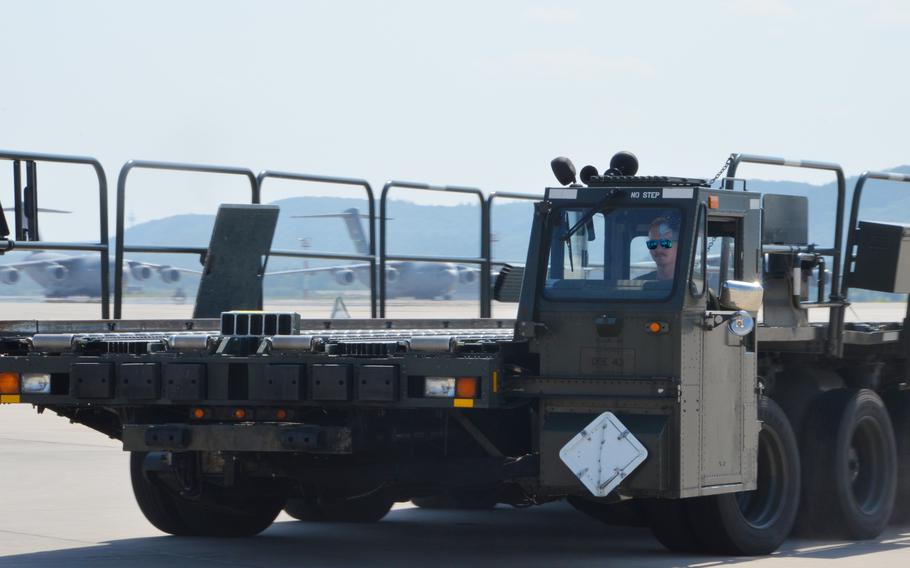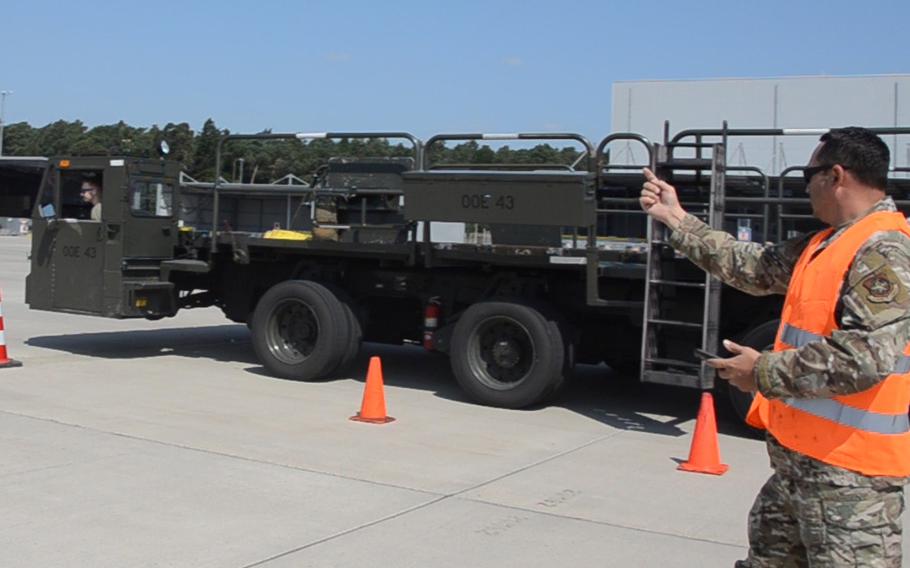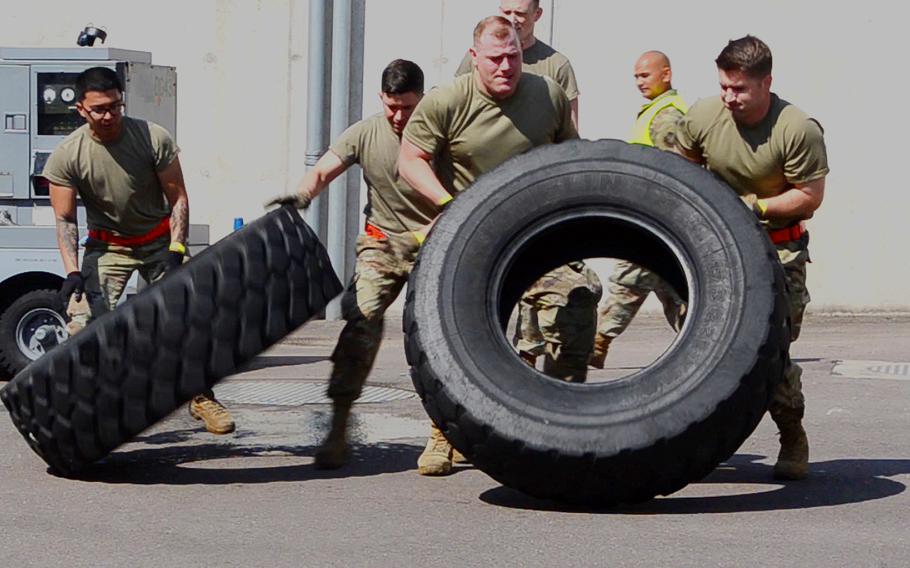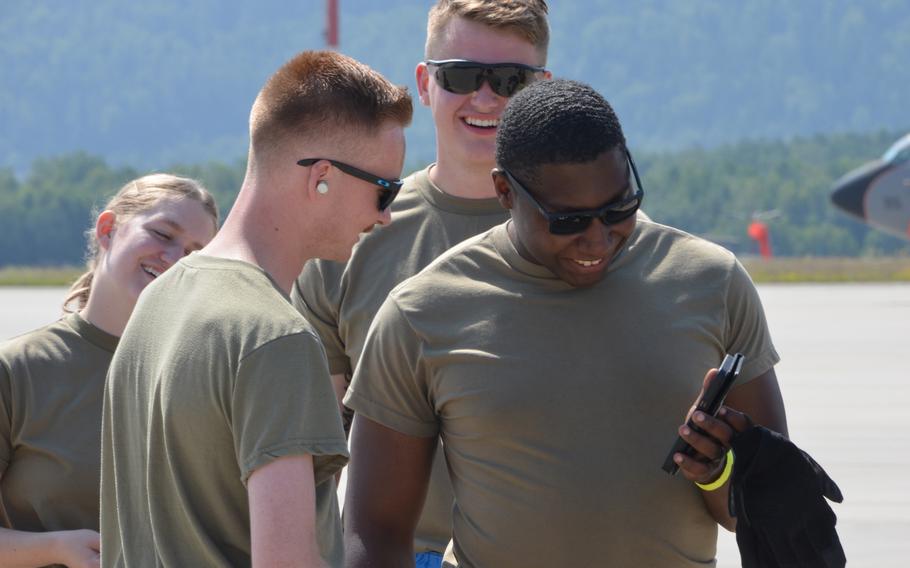 "In the real world, the engines would be running and the props would be on while we're trying to load the aircraft because we need to be able to get planes on the ground and off the ground as fast as possible," said Tech Sgt. Brandon Mabee, part of the only team out of Spangdahlem Air Base. "This is a pretty critical skill for our field because of all the austere locations we head to. Not having to shut down the engines and do a restart saves a lot of time."
But speed cannot overshadow safety, he said. "Although we try to be quick, we also have to be very safe — and that's the point of this exercise in the rodeo."
After the C-130 exercise, Mabee and his teammates crossed the ramp and kicked off an endurance exercise behind the Jawbone Flight Kitchen, with a visual memory test followed by 75 burpees. After that, they carried coolers filled with water around 30 yards, pushed a piece of machinery, flipped tires (one of which had water inside it to add to the difficulty), carried a team member on a stretcher, moved heavy chains from one cart to another about 25 yards away, and prepared a pallet.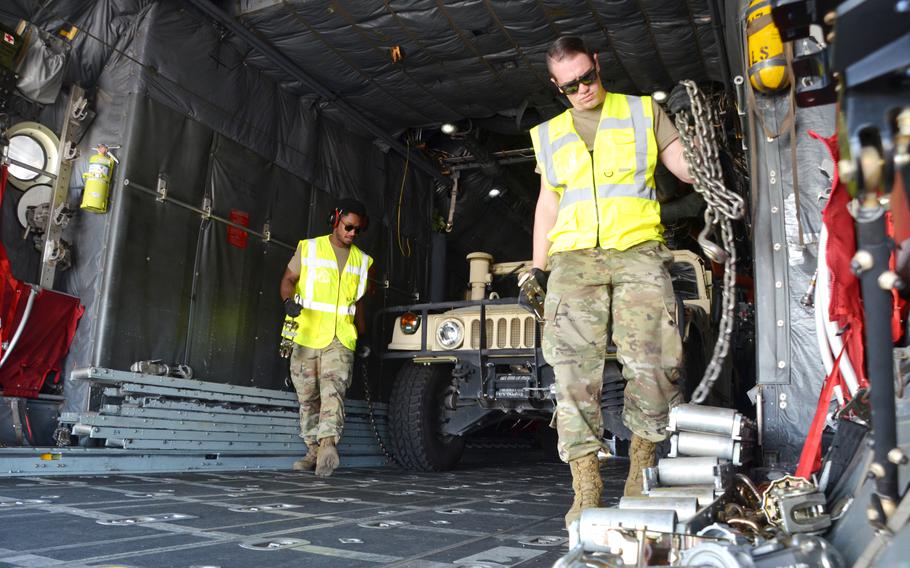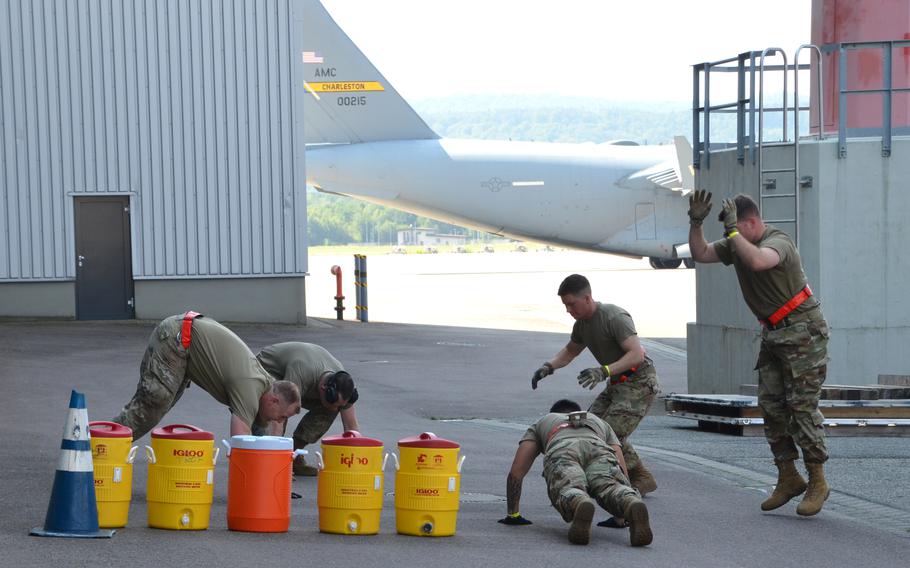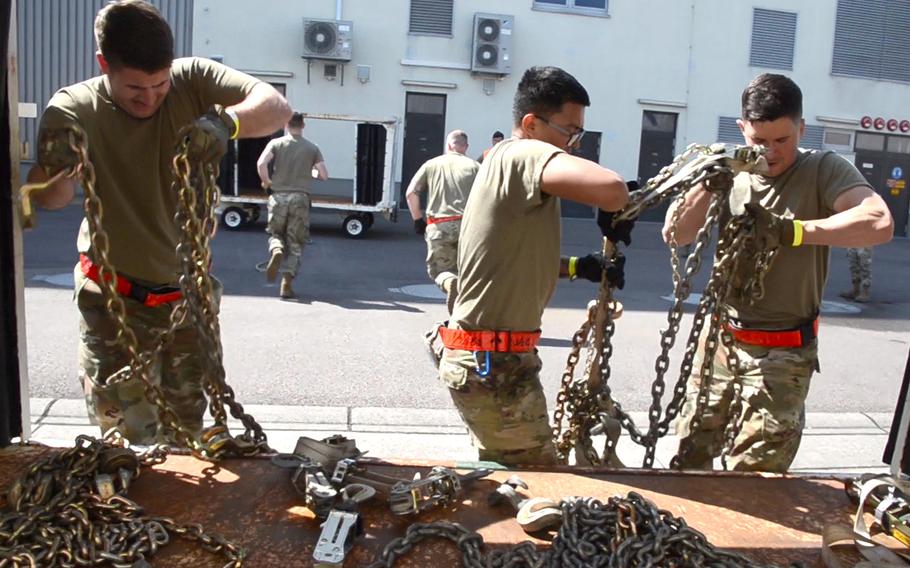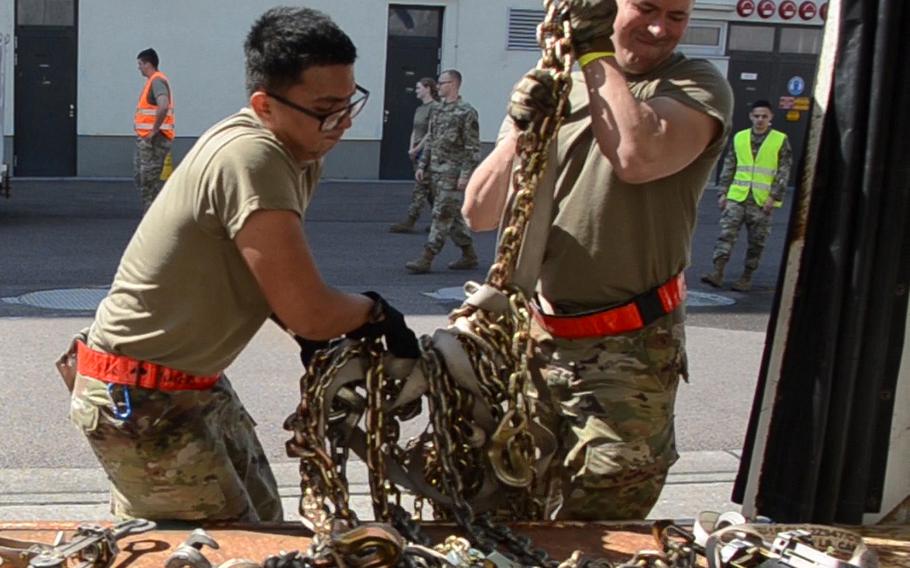 Every exercise was a race against the clock and a way to learn skills they might not be called on to use every day.
In the cargo grid area, Team PDLC — for Port Dawgs Learning Center — took weight and length measurements to determine the center of balance of a vehicle that was to be hypothetically loaded onto an aircraft. Port Dawgs is the nickname of the 721st APS.
"It's a big deal to make sure center of balance calculations are done correctly," said Tech Sgt. Edward Feilen, who was judging the exercise. "The information is used in load planning because the aircraft needs to be balanced correctly to make sure it doesn't crash."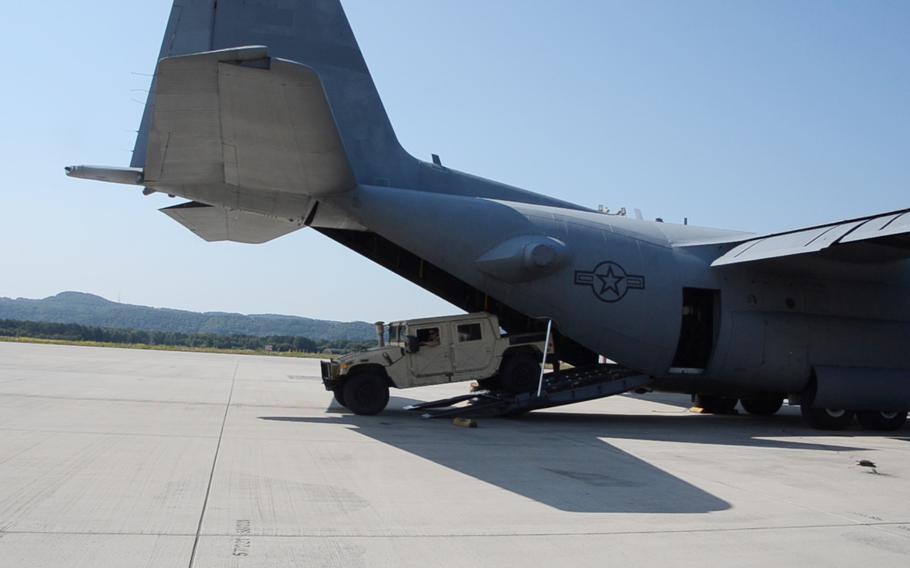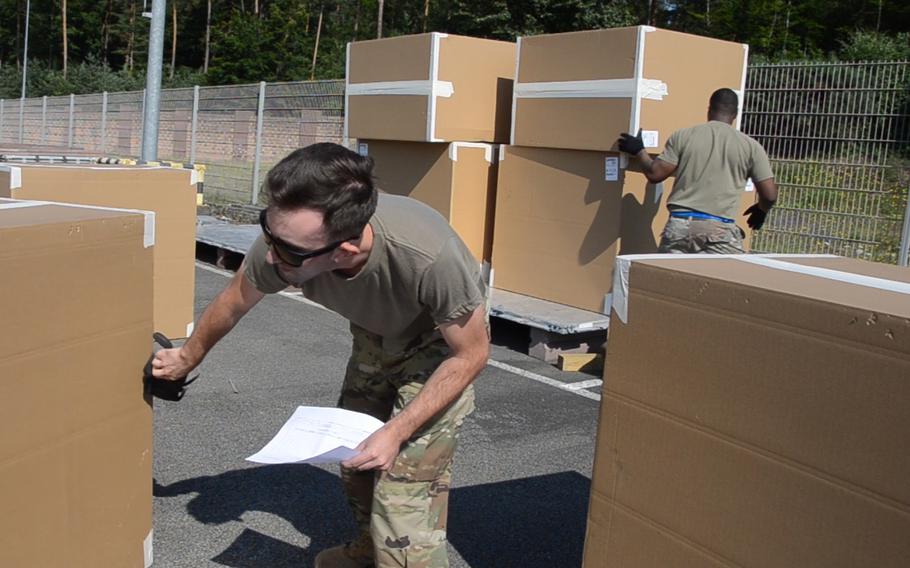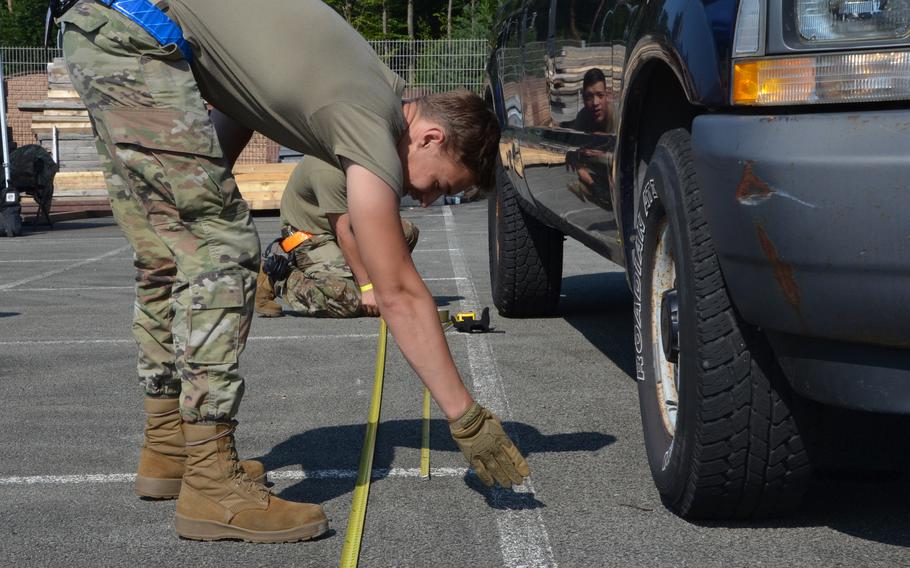 Other team members built a pallet nearby, ensuring the transportation control number and weight matched what was on a manifest, before securing the items that were supposed to be shipped onto a pallet, and covering them with a net.
"This is something they would do on a daily basis if they're in the cargo section," Feilen said.  "If they're in the ramp section, the guys who load the planes, they should know how to do it as well. Everyone should know everyone else's jobs, at least a little bit, so you can make sure everyone's doing it correctly" — which is what the rodeo is trying to achieve.