Air Force chooses Joint Base Langley-Eustis to host F-22 training
by
Corey Dickstein
Stars and Stripes
June 25, 2021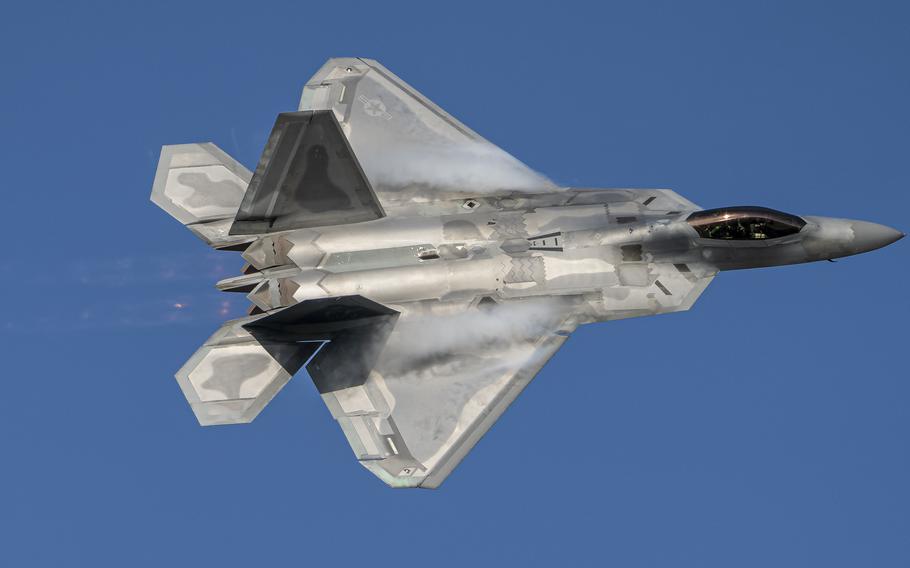 The Air Force plans to host F-22 fighter jet training at Joint Base Langley-Eustis, Va., the service announced Friday, almost three years after the program left its original home at Tyndall Air Force Base, Fla., after a devastating hurricane.
The Air Force said it signed a Record of Decision approving Joint Base Langley-Eustis as the eventual home for the F-22's formal training unit that teaches pilots to fly the stealthy fifth-generation fighters known as Raptors. However, Air Force officials said Friday that the service had yet to determine when the unit would move to Virginia from Eglin Air Force Base, Fla., where it was moved in the wake of Hurricane Michael, the Category 5 storm that devastated Tyndall in October 2018.
That decision will not come until the completion of a tactical air study ordered in February by the service's chief of staff, Gen. Charles "CQ" Brown. That study is meant to determine the best mix of Air Force aircraft for the future and is expected to be completed by early next year. Some service officials have suggested the study could lead the Air Force to retire the F-22 well ahead of initial plans to fly Raptors into the middle of the century.
The study could alter or halt altogether the service's plans to host Raptor training at the Virginia base, a service official said Friday.
The Air Force already has two active-duty F-22 combat squadrons at JBLE, the 27th and 94th Fighter Squadrons. It is also home to the F-22 Demonstration Team, which flies in air shows and other events.
"Consolidating the F-22 fleet at Joint Base Langley-Eustis would make use of existing force structure, which would increase aircraft availability and shorten training timelines," the Air Force said in a statement. "This, in turn, would improve pilot production rates and readiness."
The move would include 28 F-22s, 16 T-38 Talon training jets and about 600 airmen to JBLE, according to the environmental study the Air Force completed to consider the move.
The Air Force also has F-22 units at Joint Base Elmendorf-Richardson in Alaska and Joint Base Pearl Harbor-Hickam in Hawaii.
The Air Force stopped buying new F-22s in 2012, and it now has 186 in its fleet.
Twitter: @CDicksteinDC