377th Air Base Wing at Kirtland AFB welcomes new commander
by
Ryan Boetel
Albuquerque Journal
June 23, 2021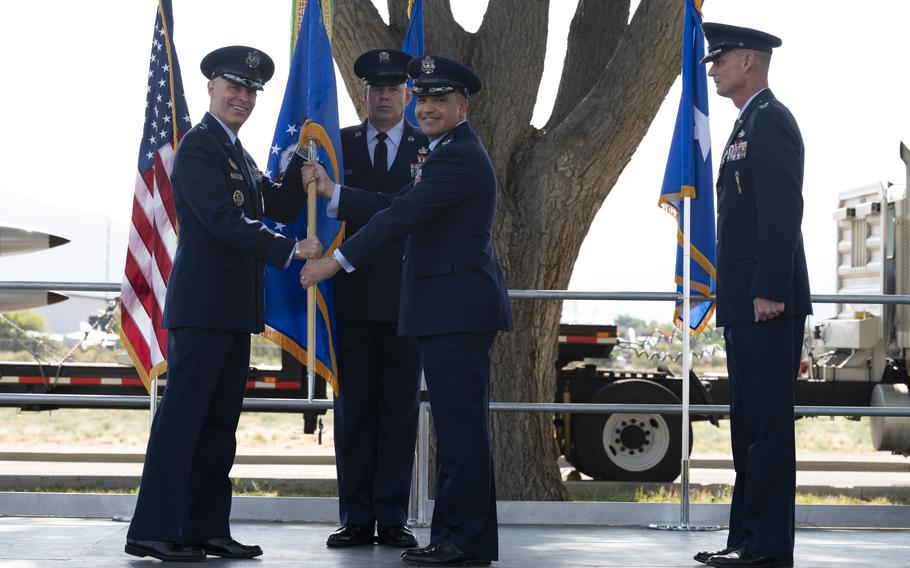 ALBUQUERQUE, N.M. (Tribune News Service) — Col. Jason Vattioni launched his Air Force career as a nuclear weapons technician in 1990. On Tuesday, he assumed command of the 377th Air Base Wing at Kirtland Air Force Base in front of four inert training munitions set up behind the stage as a nod to the base's role in the country's nuclear enterprise.
The Air Force held a change-of-command ceremony, a military tradition where a flag is ceremoniously transferred from one leader to the next, as Col. David Miller officially relinquished his command of the 377th wing.
Vattioni, previously vice commander of the 75th Air Base Wing at Hill Air Force Base in Utah, will now command the wing, whose mission is "to execute nuclear, readiness, and support operations for American air power."
As the host wing of KAFB, the 377th is also responsible for such base operations as security, medical care and facility maintenance.
"There are so many mission partners (at Kirtland) that bring together so many different capabilities ... for our nation, our allies and our partners. That is really exciting," Vattioni said in an interview.
Throughout his career, he said he has trained and attended several courses at Kirtland, such as nuclear weapons orientation, and munitions and missile training.
"It really is the heartbeat of the Air Force's (nuclear) enterprise," he said of the Albuquerque base.
Miller, immediate past commander of the 377th, is being assigned to Tinker Air Base in Oklahoma. He was awarded the Legion of Merit for his work over the past two years, which included guiding Kirtland through the COVID-19 pandemic.
Kirtland's response to COVID included isolating nearly 300 critical troops for six weeks in the early days of the pandemic, and other strategies, Miller said.
"Our approach allowed us to continue to contribute to the nation's defense," he said.
(c)2021 the Albuquerque Journal (Albuquerque, N.M.)
Visit the Albuquerque Journal (Albuquerque, N.M.) at www.abqjournal.com
Distributed by Tribune Content Agency, LLC.