'It's going to make life a lot easier': Air Force authorizes coveralls for maintainers
by
Kyle Alvarez
Stars and Stripes
June 15, 2021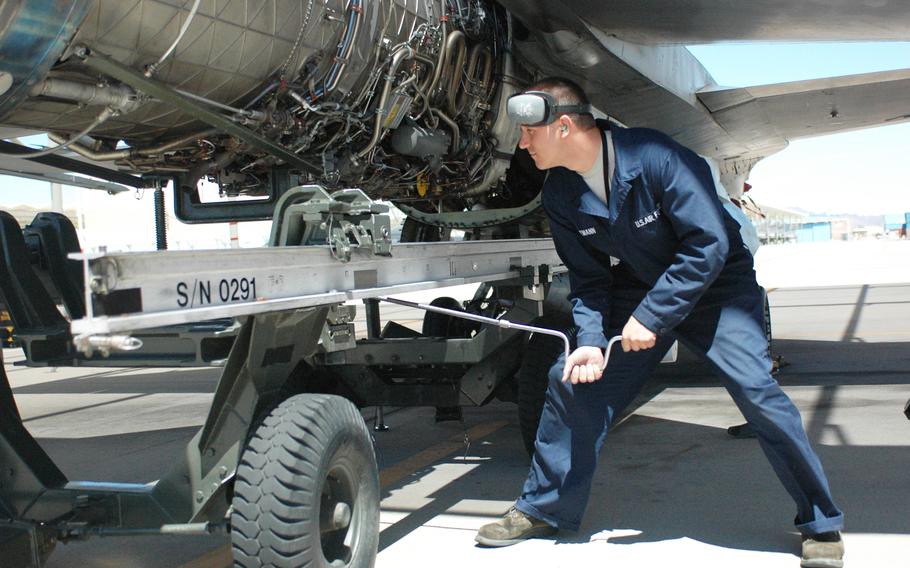 RAF LAKENHEATH, England — Airmen working in maintenance and other labor-intensive jobs will soon be able to wear grey-green, service-issued coveralls on the job, the Air Force said this week.
The new maintenance duty uniform is expected to be available by August, the Air Force said in a statement published Monday.
It's hoped it will "instill a sense of culture and inclusivity for our maintainers who work to keep the mission going 24/7," Chief Master Sergeant of the Air Force JoAnne S. Bass said.
Christian Santiago, a maintainer with the 493rd Aircraft Maintenance Unit out of RAF Lakenheath, said the new uniform is "going to make life a lot easier for us maintenance folk who wear coveralls the majority of the time."
"We won't have to change our uniform two, three, four times a day and we can just focus on what we are doing," he said.
Airmen can wear the new uniform item between their home and work and at all installation locations, but not in an office or non-industrial setting, the statement said.
Local coverall variants will continue to be allowed, but only in the workplace and on the flight line.
Tactical caps with an operational camouflage pattern, or OCP, can be worn starting immediately, although the Army & Air Force Exchange Service does not yet have them in stock, the statement said.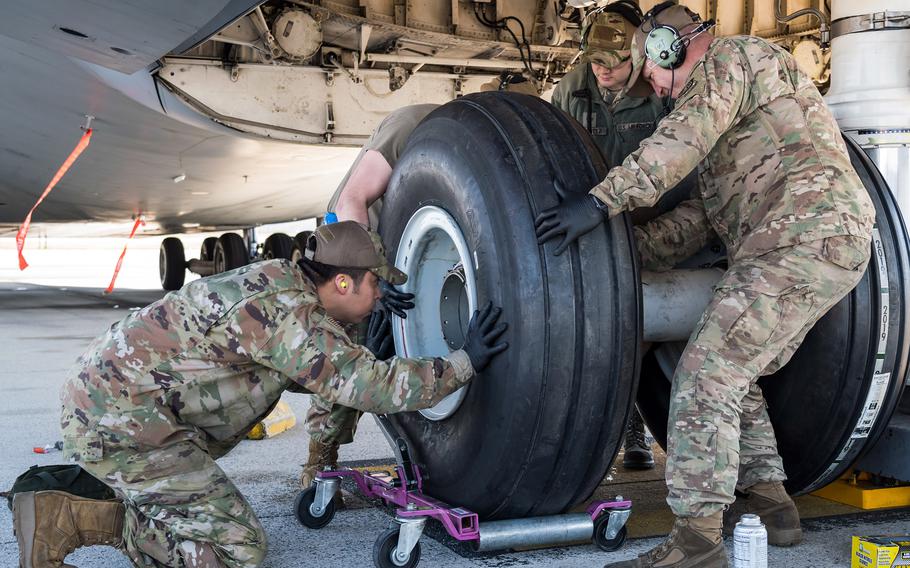 The caps must be made entirely of camouflage material or of camo fabric with a coyote brown mesh back. A Velcro or sewn-on name tape will be centered on the back of the caps and the only item authorized for wear on the front of the caps is the rank of officers. Only a name tape on the back of the cap is authorized for enlisted members — they will not wear rank insignia or a subdued flag on the caps.
Women are authorized to pull their bun or ponytail through the back of the cap.
Once the acquisition process for the camouflage caps has been completed, all other caps will be unauthorized, the statement said.
The coveralls will be worn with a coyote brown T-shirt, green or brown socks and boots, and a camouflage patrol or tactical cap, the statement said. They will have a name tape, service tapes and rank along with the higher headquarters patch on the left sleeve and a subdued U.S. flag and organization patch on the right sleeve.
The career fields authorized to wear the coveralls are 2A, 2F, 2G, 2M, 2P, 2S, 2T, 2W, 3E, 3D, and 1P. Commanders have to authorize the new uniform piece, which will be funded by individual units.
Guardians will follow Air Force uniform rules until the Space Force develops its own policy.
The Air Force changed over to the Army's uniform pattern starting in 2018, replacing its gray, blue and green tiger stripe uniforms. The new OCP became mandatory for all airmen as a utility uniform starting April 1.
Twitter: @Kal2931