Fuel leak forced Air Force to down costly drone over Africa, report says
by
Karin Zeitvogel
Stars and Stripes
June 10, 2021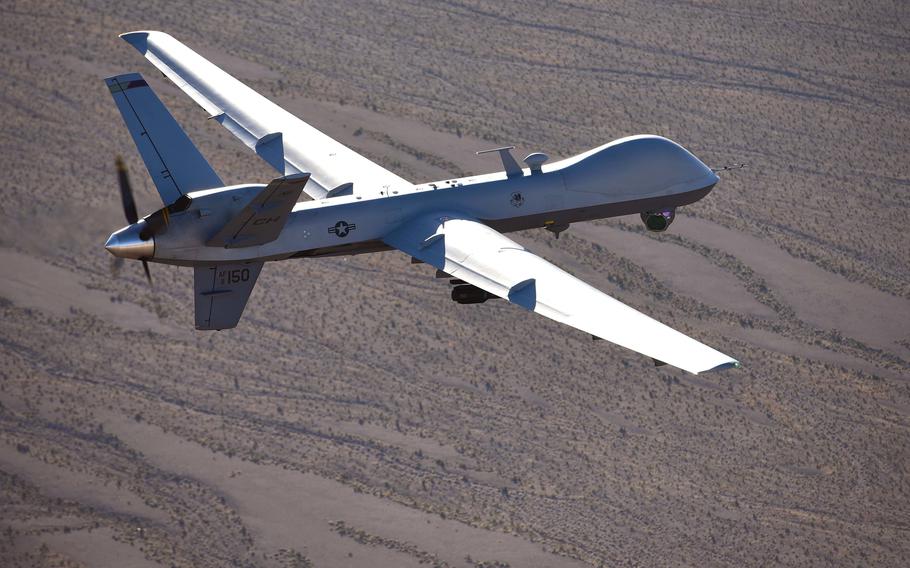 The Air Force destroyed a multimillion-dollar MQ-9 Reaper in June last year by deliberately crashing it somewhere in Africa after the drone had a "catastrophic" fuel leak during a mission, an accident report said.
The drone, assigned to the 162nd Wing of the Arizona Air National Guard and operated by the 214th Attack Squadron Mission Control Element at Davis-Monthan Air Force Base in Arizona, began to display warnings that its fuel levels were low about three hours before the crash, said the report, released Tuesday.
The remote flight crew initially thought they had enough fuel to return the Reaper to base, but an hour after the initial alert the pilot and mishap mission crew commander determined that the leak was catastrophic and began planning to crash the Reaper "in a way that would minimize chances of a successful recovery effort" by hostile parties.
MQ-9s are used by the Air Force to attack targets, gather intelligence and conduct search operations, among other roles. They can be equipped with laser-guided bombs and air-to-ground Hellfire missiles.
The pilot "controlled the glide of the aircraft to optimize the impact point" after the MQ-9 ran out of fuel, roughly three hours after the first alert that it was running low. Airspeed was increased until impact around a dozen minutes later, Air Force investigators said, and the drone was completely destroyed in the crash.
The monthslong probe into the accident found that fuel was leaking from the forward electric fuel heater. The problem was not new: another MQ-9 was nearly lost six months earlier due to a similar leak. In the nine months prior to the deliberate crash of the Reaper in Africa, eight electric fuel heater leak incidents were reported, the accident investigation found.
Two months after the accident last year, General Atomics - Aeronautical Systems, Inc., which developed the MQ-9, released a technical order explaining how to bypass the fuel heater on the MQ-9. The proposed fixes would cost approximately $37,000 for the entire Air Force fleet of MQ-9s, the accident report said. The June 2020 crash carried a tab of more than $11 million, it said.
There was no reported damage to civilian property, injuries or fatalities when the MQ-9 was brought down, the report said.
The exact location in Africa of the crash has not been made public, although the report said the drone came down somewhere in U.S. Africa Command's area of responsibility. That includes 53 African nations and islands off the coast of the vast continent, which is three times the size of the continental United States, AFRICOM said on its website.
Twitter: @StripesZeit