Hundreds of vehicles are going unused at Ramstein after the Air Force cuts repair funds worldwide
by
Jennifer H. Svan
Stars and Stripes
June 4, 2021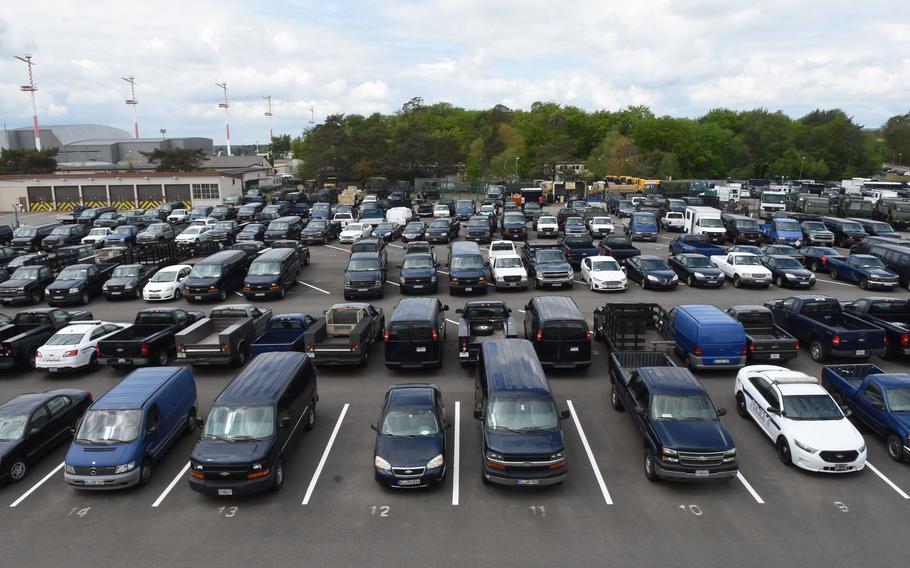 Hundreds of government vehicles are parked indefinitely at the U.S. Air Force's largest base in Europe and delays to services are expected after the Air Force unexpectedly slashed vehicle maintenance funds servicewide.
Emergency response, base defense and airfield operations — services considered essential — have not been affected but could be in the future, Ramstein Air Base officials said.
"Our mission here is to sustain the flight line and if we can't do that, that will create significant issues within the entire Continent and the world," said Capt. Elizabeth Gentine, 86th Vehicle Readiness Squadron vehicle management flight commander.
"We're doing everything we can to make sure that doesn't happen and if it comes to that, we'll definitely seek out other avenues of funding to maintain at least those priority one assets," she said in an interview late last month.
The base so far has about 500 vehicles parked "with no date to return back to service," Gentine said.
Ramstein acts as a key hub for aircraft transiting between the U.S. and global hotspots, including in the Middle East, Afghanistan and Africa.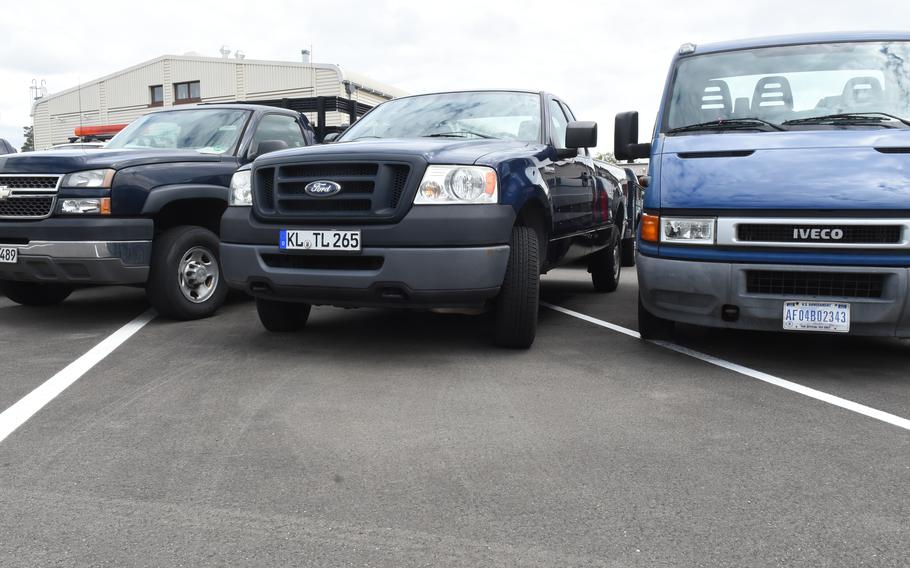 Air Force bases were notified this spring that funding to maintain and repair government vehicles would be cut for the remainder of the fiscal year.
It wasn't immediately clear how many facilities have been affected. In Europe, most bases lost whatever funds remained in their budgets for vehicle maintenance, officials said.
Incirlik Air Base in Turkey was not affected because their vehicle sustainment operations are contracted, U.S. Air Forces in Europe said.
"These vehicle sustainment cuts impact wings across the Air Force," said Capt. Rachel Salpietra, a spokeswoman for USAFE and Air Forces Africa. Units in Europe and Africa lost about $2.8 million, she said.
Ramstein parted with about $1.3 million, or just over half of its $2.5 million vehicle maintenance budget. The next largest reductions were at Aviano and Spangdahlem air bases, which lost about $475,000 and $336,000, respectively, according to USAFE.
"Mission impacts vary from base to base but could include decreased ability to maintain the full vehicle fleet (and) decreased ability to support family housing work orders," Salpietra said.
USAFE-AFAFRICA plans to request money in fiscal year 2022 to offset the rollover effect of the cuts, she said, "but at this point in the fiscal year, we are unable to get additional funding."
The funds were taken from Air Force base vehicle maintenance budgets to cover a $33 million shortfall incurred after the General Services Administration fleet leasing program was centralized under one logistics wing, officials said. Units previously had managed their own leasing contracts.
"A lot of units had some debts to pay off in order to maintain the GSA fleet contract," Gentine said.
The 86th Vehicle Readiness Squadron learned of the cuts in late March.
"We had no warning," Gentine said.
Ramstein base taxi and shuttles have already reduced services. Construction projects could be halted and delays in responding to nonemergency work order requests are also expected.
The squadron recalled more than 200 vehicles from units on base, adding to the 300 or so that were already down for maintenance.
Quality assurance inspections when household goods are moved, security forces response times and coronavirus disinfection work could also see delays at Ramstein.
The 31st Logistics Readiness Squadron at Italy's Aviano has told units they can pay for parts out of their operating budgets, while all non-mission essential purchases for vehicle maintenance have been delayed, said Staff Sgt. Valerie Halbert, a base spokeswoman.
At RAF Lakenheath in England, "our plan is to try everything in our power to not have to park vehicles," said Lt. Col. Sarah Bowles, 48th Logistics Readiness Squadron commander, in an email.
The squadron is looking to the wing and other resources to supplement maintenance.
The plan is to prioritize maintenance "based on cost of the repairs and direct mission impact," Bowles said.
At the end of this budget shortfall, "we may have some 'not so pretty vehicles,'" she said.
Twitter: @stripesktown