Ellsworth's B-1B fleet is flying again after mandatory grounding
by
Nathan Thompson
Rapid City Journal, S.D.
May 25, 2021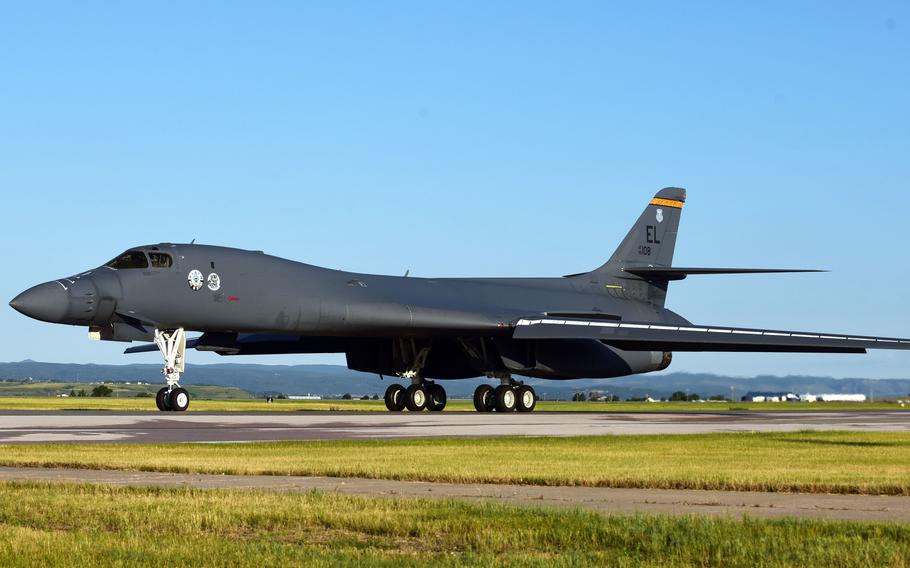 RAPID CITY, S.D. (Tribune News Service) — The B-1B bomber fleet at Ellsworth Air Force Base near Rapid City will participate in training missions this week, causing airfield operations to be extended into the early morning hours and increased night flying, the U.S. Air Force announced Sunday.
According to a news release, the extended operating hours will go through Wednesday. Residents in and around Ellsworth can expect to hear noises associated with the flying aircraft and maintenance activities during unexpected hours.
The training missions follow a mandatory grounding of the B1-B bombers after an April 8 emergency incident at Ellsworth involving the aircraft's fuel pump filter housing. Gen. Tim Ray, the Air Force Global Strike Command commander, ordered a "safety stand-down" of the entire B-1B fleet on April 20.
The first B-1B Lancers resumed flight operations May 3, a news release from Global Strike Command said. Individual B-1B aircraft returned to flight as inspections and maintenance directed during the stand-down were completed on each aircraft, the Air Force confirmed.
During the safety stand-down, maintenance depot personnel disassembled the Augmenter Fuel Filter Housing and performed a series of inspections. After each unit was determined to be free of defects, it was reassembled, pressure checked, and returned to service.
"We are proud of the tremendous efforts of our maintainers and B-1 partners in identifying, inspecting, and remediating any potential issues with the B-1B fuel filter housing," said Maj. Gen. Mark Weatherington, 8th Air Force commander, who is responsible for the Air Force bomber force. "The aircraft are still safe to fly and we are confident that this stand-down has resulted in increased safety within the B-1B fleet."
Last week, a B-1B Lancer aircrew from the 37th Bomb Squadron at Ellsworth flew into history as the first operational unit from the base to conduct a refueling mission with a KC-46A on May 17.
According to the Air Force, a KC-46A from the 344th Air Refueling Squadron at McConnell Air Force Base, Kansas, refueled the B-1B in a training area near Rapid City.
The KC-46A is the first phase in recapitalizing the U.S. Air Force's aging tanker fleet. With greater refueling, cargo and aeromedical evacuation capabilities compared to the KC-135 Stratotanker, the KC-46A will provide next generation aerial refueling support to Air Force, Navy, Marine Corps and partner-nation receivers, a news release said.
"The systems on the KC-46 helped smooth out the airflow as we approached ... which helps (us) to get established in the contact position," said Maj. Tim Jarrell, an Ellsworth B-1B instructor pilot who participated in the mission.
"Refueling with the KC-46 was very similar to my other experiences I've had with KC-135s, and KC-10s, but in general seemed very stable and was an easy platform to refuel from," Jarrell said.
Aircrew in the KC-46A during the historic flight for the Ellsworth B-1B crew said the refueling mission couldn't have gone any better.
"The Ellsworth crew was incredible," said Capt. Steven Strickland, 22nd Operations Support Squadron flight commander assigned to McConnell. "Aircraft stability was excellent, allowing the booms to evaluate the concerns that had been raised during initial testing, and mitigate them with experience gained over the past two years."
"The positive impact for IOT and E (Initial Operational Test and Evaluation), and for the enterprise as whole, will continue to push the KC-46 further as we enter our limited operational capability in AMC (Air Mobility Command)," he said.
Jarrell said after talking with the KC-46 crew, both teams are interested in doing more training together.
"Our crew felt lucky to be able to get to train with the KC-46," he said. "Anytime we get to practice air refueling it is great training, and getting to see a new tanker was a fun experience on top of that."
Along with the refueling portion of the mission, the B-1 crew also conducted a full tactical training scenario in the Powder River Training Complex, which overlies portions of Montana, North Dakota, South Dakota and Wyoming.
The PRTC allows aircrews to plan realistic training scenarios directly applicable to current operations and potential future conflict. It is used for combat training by the Ellsworth B-1B fleet and the B-52 bomber crews based at Minot Air Force Base in North Dakota.
nathan.thompson@rapidcityjournal.com
(c)2021 Rapid City Journal, S.D.
Visit Rapid City Journal, S.D. at http://www.rapidcityjournal.com
Distributed by Tribune Content Agency, LLC.