Nominee for Air Force secretary says his desire for the job is fueled by competition with China
By
Stars and Stripes
May 25, 2021
---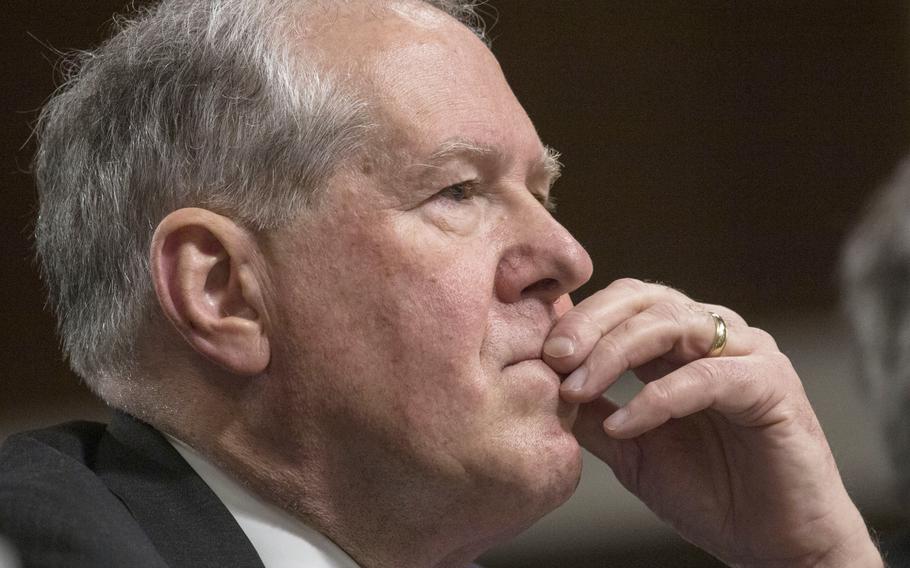 Frank Kendall, President Joe Biden's nominee for Air Force secretary, told senators on Tuesday that he was driven to return to the Defense Department by concerns over China's improving battlefield technology.
Kendall, who served as the Pentagon's top weapons buyer under former President Barack Obama, listed ensuring the Air Force and Space Force retained military advantage over any potential foe among his top priorities, if confirmed. He recalled a "highly classified" 2010 Pentagon meeting in which he first learned of China's push to improve its military capabilities in an eye-opening effort "to defeat the ability of the United States to project power near China."
"We have made progress against these threats, and our adversaries should never doubt the United States, but there is still much to be done," Kendall told the Senate Armed Services Committee. "My hope is that, if confirmed, I will be able to lead the Department of the Air Force in organizing, training and equipping our nation's aerospace forces so that the United States can continue to deter, and if necessary, fight and win against all adversaries."
Kendall, 72, testified in support of his nomination before the Senate committee alongside Heidi Shyu, Biden's nominee for undersecretary of defense for research and engineering, and Susanna Blume, the president's nominee for director for the Pentagon's Cost Assessment and Program Evaluation Office. Like Kendall, Shyu and Blume served in high level Pentagon positions during Obama's administration.
Senators on Tuesday appeared poised to confirm all three, with several praising their selections by the Biden administration and committing to support their nominations, including committee chairman Sen. Jack Reed, D-R.I.
"Previously, you [each have] demonstrated the thoughtfulness, and the integrity, and the commitment that is essential to being a part of the Department of Defense," Reed said. "I look forward to your confirmations."
The committee also voted Tuesday to advance Biden's nominee for Army secretary, Christine Wormuth, to the full Senate for a confirmation vote. If confirmed, she would be the first woman to serve as the Army's top civilian.
Like Kendall, Wormuth in a Senate Armed Services Committee hearing earlier this month listed competition with power rivals China and Russia and the Pentagon's ongoing modernization efforts among her top priorities. Wormuth is also a veteran of the Obama administration, serving previously as the Pentagon's civilian policy chief among other Defense Department and National Security Council jobs.
If confirmed, she would replace acting Army secretary John Whitley, who has held that role since Biden's Jan. 20 inauguration. Kendall, if confirmed, would become the 26th Air Force secretary and replace acting Air Force Secretary John P. Roth, who also began that role Jan. 20.
Beyond competition with China and Russia, Kendall said his other top priority would be to take care of his personnel, which includes some 697,000 Air Force and Space Force troops and civilian employees. He committed to working with senators to improve on-post housing and other quality-of-life issues, including looking into command climates throughout the service.
He also endorsed the need for change to the military's approach to solving its longstanding problems with high rates of sexual assault and harassment in its ranks. Kendall called efforts spearheaded by Sen. Kirsten Gillibrand, D-N.Y., and Sen. Joni Ernst, R-Iowa, to remove military commanders from the sexual assault prosecution process potentially "very beneficial in this area."
"Change is necessary," Kendall told Gillibrand. "Hopefully we can move forward."
But Kendall also committed to pushing back against across-the-board cuts to defense spending, which some liberal Democrats have pressed Biden to propose. Budget cuts have the potential to derail a number of critical Air Force modernization programs, including the development of its new nuclear bomber, the B-21 Raider. It could also slow the fielding of advanced F-35 Joint Strike Fighters, which despite well-documented and expensive problems, remains the "best tactical aircraft of its type in the world and will be so for quite some time," Kendall said.
Sen. Dan Sullivan, R-Alaska, said he was worried the Biden White House would not follow the 2018 advise of a congressionally mandated panel, the National Defense Strategy Commission, which recommended the Pentagon's budget increase 3% to 5% annually to compete with China and Russia, as the 2018 National Defense Strategy prioritized.
"I can commit to you to fight for the budget that's necessary to fulfill the National Defense Strategy, whatever that [number] may be," he said. "So, if it's 5% or it's 10%, I will try to get the money that is needed by the Department of the Air Force, if I'm confirmed, so that the Air Force can support combatant commanders however they need to carry out that strategy."
dickstein.corey@stripes.com
Twitter: @CDicksteinDC
---
---
---
---