Kanto area DODDS students vie for title of lord of the beads
by
Tim Wightman
May 25, 2011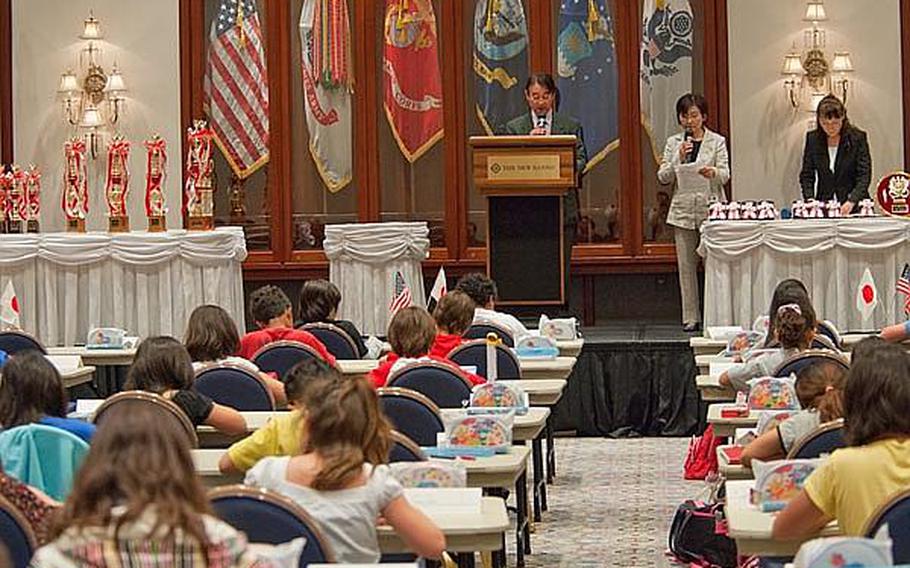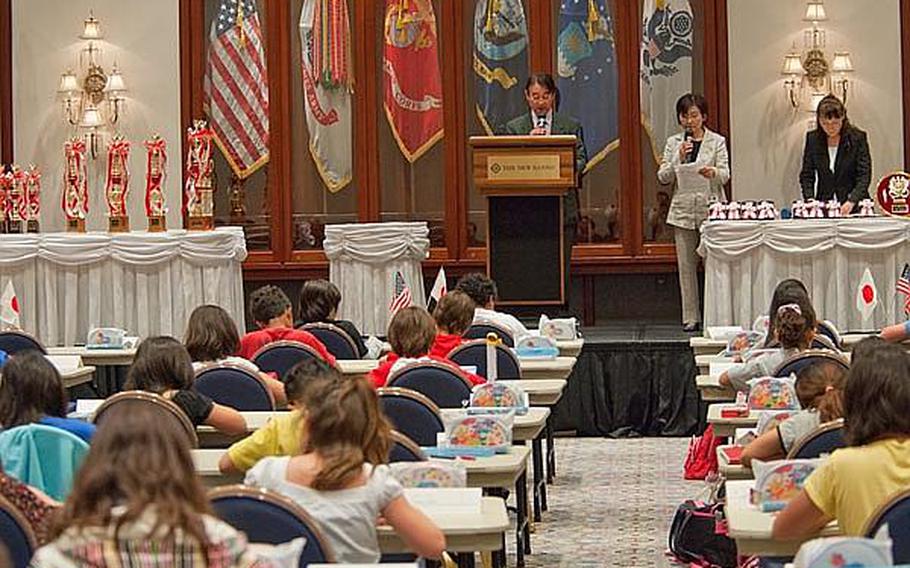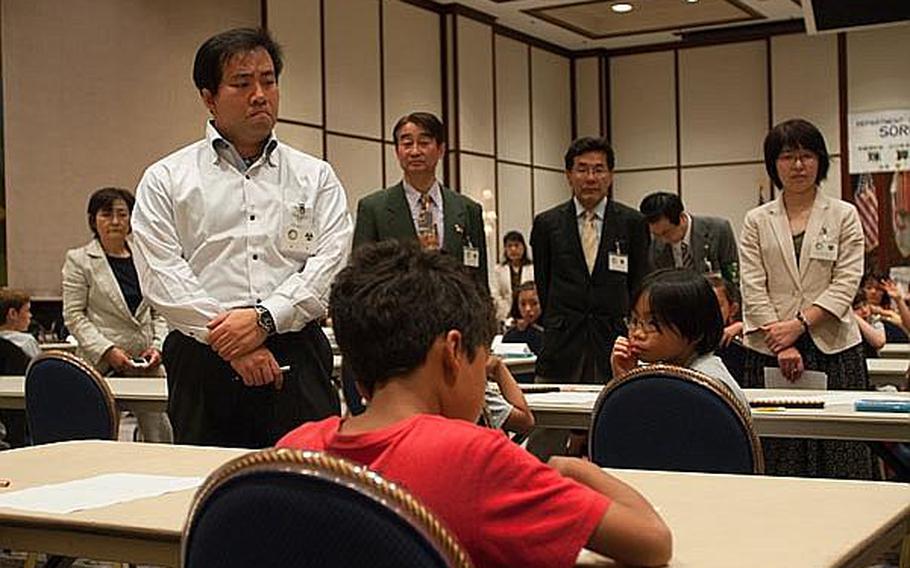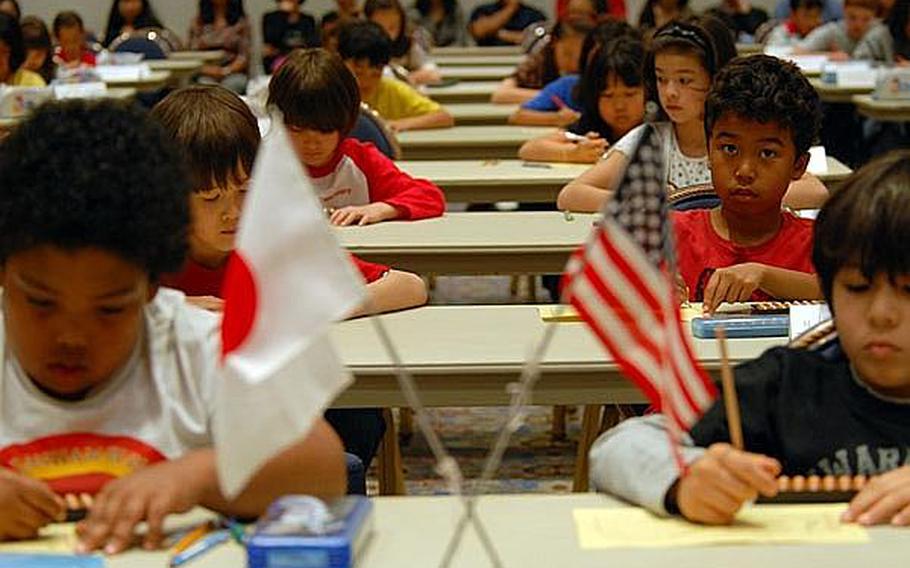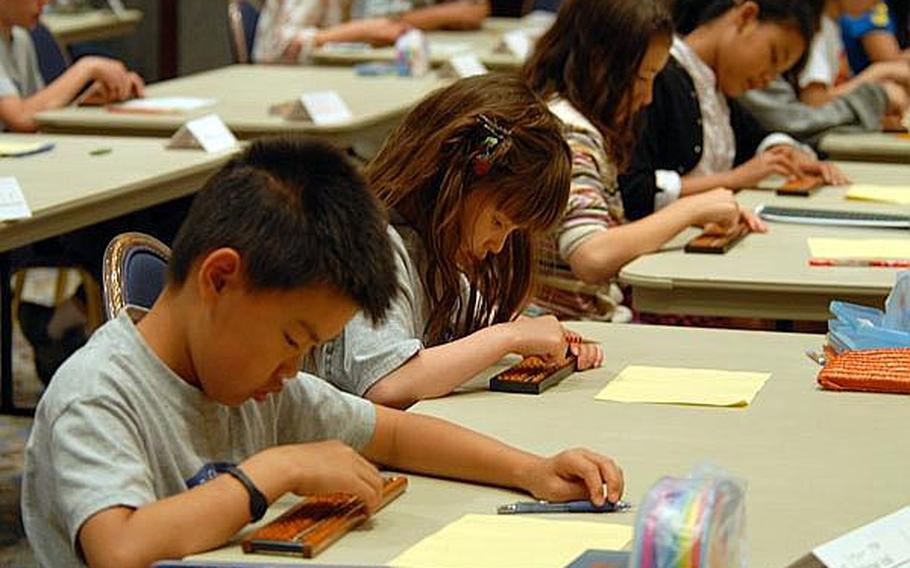 TOKYO — Parents and teachers sat silently in chairs set up against the walls of the New Sanno ballroom Wednesday. Their demeanor said they were taking the proceedings seriously, even as many of them couldn't tell you exactly how a soroban works.
Sitting in the middle were 78 elementary and middle school students from Department of Defense Dependents Schools in Japan – also making seldom a noise apart from the sound of thousands of tiny beads sliding across sorobans sitting on the desks in front of them. Only the occasional giggle or sigh of relief as students composed themselves between rounds of announcers bellowing out math problems broke the tension.
This sort of scene has become standard over the last 29 years of the Kanto Area DODDS Soroban Contest, a math competition for students that has them solving oral and written math problems using a Japanese version of an abacus.
Steve Fernandes, a chief petty officer stationed at Yokosuka Naval Base, was on hand to watch his 9-year-old daughter, Julia. He said that for a while he was able to figure out the answers to the oral portion on his own.
"I was good up to about problem five," Fernandes said. It was his first time seeing Julia compete. Both Julia and her sister took part in last year's competition.
"Her sister taught her a lot, and she practices at home quite a bit. I think it's awesome," Fernandes said. "After this, I am going to learn (how to use a soroban)."
Others in attendance were more experienced, like Kouzi Suzuki, a soroban champion in college who taught the soroban at DODDS schools for 12 years and even has "SOROBAN" written on his license plate. He said one reason he likes the soroban is it puts everyone on an equal playing field.
"I hate math, and young children usually hate math, but sorobans make it fun and easy for everyone," Suzuki said. "And after you use the soroban you can start to see the beads in your head and be able to solve problems very fast."
Two fifth-graders from Yokota Air Base, Matsurika Palmer and Sara Means, were able to solve problems fast and efficiently during the contest as both finished in the top three in the oral and written portions. Both were nervous beforehand but each was happy with their result.
"I like the beads," Palmer said of her affinity for the soroban. "I've been doing the soroban for three years and it's sort of a unique way to work math problems."
Means said because of the soroban she's able to "calculate things much faster in my head." But she cautioned that it doesn't just take a patient mind, but patient hands too.
"My mom knows how (to use a soroban) but she doesn't want to break a nail," Means said laughing.
Winners
Grades 2 - 4
Written: Kanako Palmer, Yokota West Elementary School
Oral: Kevin Maltezo, Arnn Elementary School
Grades 5 - 8
Written: Kate Yamauchi, Shirley Lanham Elementary School
Oral: Hanano Brown, Arnn Elementary School
---
---
---