DODDS-Pacific leader weighs in on first year
by
Travis J. Tritten
June 9, 2010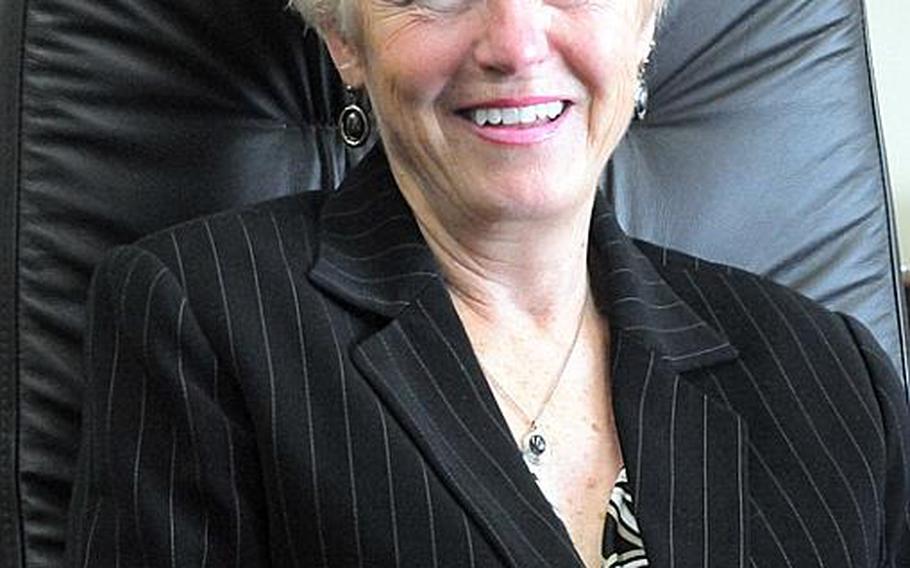 With her first year behind her as director of Department of Defense Dependents schools in the Pacific, Diana Ohman says she has tackled a number of issues, from aging facilities, shifting student populations, budget constraints and teacher concerns about new changes and procedures.
Ohman, who oversees about 24,000 students and 47 schools across mainland Japan, Okinawa, South Korea and Guam, sat down with Stars and Stripes this week to discuss the school system and the challenges it faces. Following are excerpts from the interview:
You transferred from Europe as director there and have had a long career in education. Is there anything that surprised you about the Pacific?
I can tell you a big difference. In Europe, they are bringing down bases, and I closed 41 schools in 10 years. Here, when I go to Korea, a huge topic is transformation and an influx of military families. That means a buildup of schools. We talk about Guam, and we talk about moving many Marines. That too is a buildup. There is a huge difference with schools building up instead of closing down.
The move to Guam is a big issue for the U.S. military. What is the school system doing to prepare?
Actually, it is not on our front burner right now. They had several setbacks that put them a year or two behind. … Physically, we want to be sure we have schools located in the proper places in those Guam communities. We have to think about construction and how that will work. We have to think about having an influx of teachers when we get them built. But that is down the road.
There is also a lot of new construction planned in South Korea. What are schools doing to ensure facilities are kept up to standards during the transition?
You need to be prudent with taxpayer dollars — how much money do you put into facilities when you know that you are going to be moving out? Nonetheless, if you are going to have students in a building for three or more years, it needs to be safe, and it needs to be a good place to go to school. We are determined to ensure our facilities are ready and still suitable for educating youngsters. We are going to be spending $600,000 this summer just on [Seoul American] Middle School.
Poor conditions at that school have raised concerns. Has that prompted a review of schools in the Pacific?
Our engineering group in headquarters and our engineers here in my office have done a thorough review. It was a discussion on the quality rating of each one of our schools and each separate building in each one of the schools. There are four different conditions marking the buildings — quality 4, quality 3, 2 and 1. One is the very best and four is the worst. We have schools in all four categories.
Are there efforts underway to fix those buildings?
We have a [Facilities Sustainment, Modernization and Renovation] pot of money that headquarters forwards to us. It is earmarked, and we cannot spend it on anything else. We have downloaded those monies to the districts, so now the superintendents and principles can say: This is my first priority, and this is what needs fixed first. … Each district has some major projects that they are working on this summer.
Budgets are tight all over. Do you see any belt tightening in the future?
I believe we have heard Secretary of Defense Robert Gates and the person who is in charge of us, Dr. [Clifford] Stanley, [undersecretary of defense for personnel and readiness], say everyone in DOD is going to have to tighten their belts, because the taxpayers are going to run out of money. The federal government cannot be as big as it is. I believe we will see some tightening measures, but I don't know what it will look like. I am not worried, and, no, I am not thinking of cutting programs.
Schools have been looking at the numbers of teachers compared to students, especially for kindergarten classes. How is the Pacific doing on hitting the right balance?
We are pretty close to being on the mark. Through the last two years, we have said if you have space, you may add however many kindergartens you need to get that ratio down to 18:1. We added some last year, we added some this year, and we will add some next year. Eventually, we will get to the point where all of the schools are at that ratio for their kindergarten groups. I wish I could be definitive about that [date], but I'm not sure we can add kindergartens in places we know we have to move anyway. I'll just give you Seoul as an example.
First Lady Michelle Obama has made childhood obesity a priority. What are the schools doing to ensure students have access to healthy lunches?
One of the things we've done in the last few years in all of our schools is take out the vending machines that have pop and candy bars and things like that. Also, if somebody wants to sell something at lunchtime, it has to be comparable and just as nutritious as if it were being served in our school lunch line. Sometimes, we have a campus where you cannot serve all of the students because the kitchen is too small, or the cafeteria where they eat is too small, so certain groups of students are usually given rights to go off grounds. We are not going to follow them down the street to see what they purchase. … They can buy a salad at Subway instead of something terrible, but do they? I can't guarantee that.
At the beginning of the school year, there was a lot of dissatisfaction among teachers. How did you deal with that, and how is the attitude of your staff now?
Change is not easy, especially when you've done things the same for a long time. Our organization is in the midst of a lot of change right now. We have not in the last couple years done teacher training like we've always done it in the past. That is kind of a hard pill to swallow. The training we have done is much more focused. This year in particular that focus has been on differentiated instruction [in which methods take individual student needs and abilities into account]. Teachers in all our school buildings have received that training. They are not being sent to a conference or being sent to take a class somewhere. That is a huge difference for our teachers. [But] I think we are ending the year on a high note. When it was all said, and done and we are here at the end of the year, I believe there are smiles on people's faces.
---
---
---
---