Nonprofit launches financial assistance program to help military, veteran caregivers
By
Stars and Stripes
April 5, 2022
---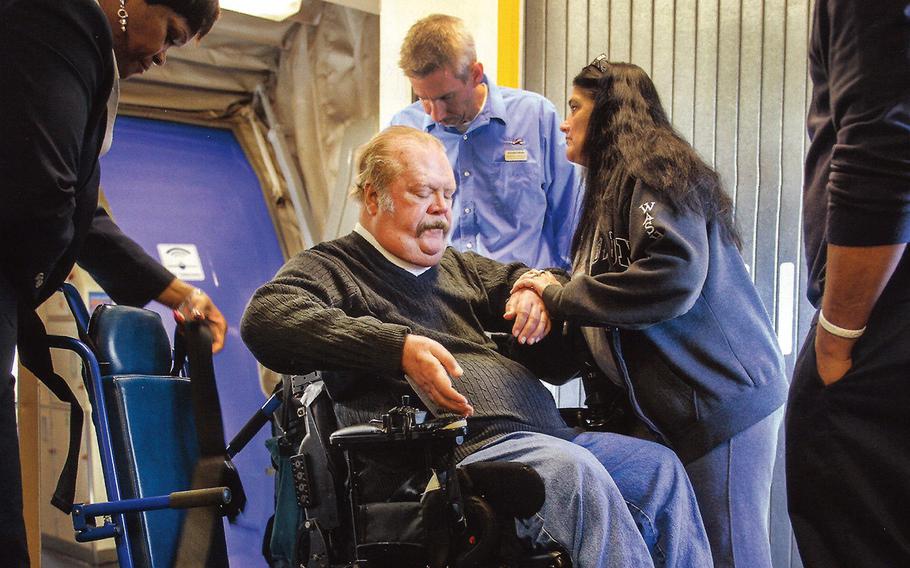 WASHINGTON — A national nonprofit has launched a financial assistance program to help military and veteran caregivers cover unexpected expenses that could jeopardize their financial security and help them get back on their feet.
The Bob & Dolores Hope Foundation provided a $500,000 gift to the Elizabeth Dole Foundation to launch The Hope Fund for Critical Financial Assistance on Monday. The Hope Fund comes at a time when the Department of Veteran Affairs announced in recent weeks that the agency would not remove or decrease support for certain participants in its caregivers program, and lawmakers and VA leaders are working to enhance support for veterans and their caregivers.
Shawn Moore, the program manager of financial wellness for the Elizabeth Dole Foundation, said the organization wants to fill a gap for what might not be there for veteran caregivers. For one, the caregiver is the one who benefits from the grant instead of the veteran or service member. The Hope Fund will help the caregiver with their immediate financial needs such as the loss of income or natural disaster assistance.
Caregivers do not have to be part of the VA's Comprehensive Assistance for Family Caregivers program or any VA caregiver support program to apply for The Hope Fund. Moreover, the program is open to all caregivers of all veterans.
There is no limit on the amount a caregiver can apply for, it depends on their expenses.
The deadline is Dec. 31 at midnight, Eastern Standard Time, and funds come on a first-come, first-serve basis. To be eligible, applicants must provide care for a wounded, ill, or injured veteran or service member and must submit their proof of service, such as their DD214 or VA benefits letter.
Additionally, applicants must seek financial support for services within the U.S. and its territories.
"My father Bob traveled the world to show his unending support of our servicemen and women, and my mother Dolores devoted her life to helping the most vulnerable among us," said Linda Hope, CEO of the Bob & Dolores Hope Foundation. "The Hope Foundation is pleased to carry on their legacy by partnering with the Elizabeth Dole Foundation to extend a helping hand to hidden heroes who care for our veterans."
Another criterion is The Hope Fund will pay the vendor, not the caregiver, so applicants must provide the organization with an invoice receipt, Moore said.
At first, applicants could only receive one grant through the program. However, the Elizabeth Dole Foundation modified the criteria due to the expected demand and will now allow caregivers to apply for assistance more than once. However, the nonprofit said it cannot guarantee second requests will be filled.
"Too often caregivers and their wounded veterans are one crisis away from being homeless, putting a meal on the table, or holding a job because of the unexpected care costs and the unpredictable benefits that come with military caregiving," said Steve Schwab, CEO of the Elizabeth Dole Foundation. "There are all types of different crises. And a crisis to me may not be a crisis to you."
Moore, who is a caregiver for her Army veteran husband, said they returned from a baseball game a few years ago to find their air conditioner was broken. As a result, the inside of their home was hotter than outside, but they did not have the funds to buy a new unit.
She had left her job as a police officer to take care of her husband, who is diagnosed with chronic post-traumatic stress disorder, depression, anxiety, and at risk of suicide.
After reaching out to a few national organizations, Moore said they received the funds to buy a replacement air-conditioning unit.
In addition to financial assistance for caregivers, Moore said The Hope Fund will also provide additional support such as employment opportunities, referrals and access to other benefits. Moreover, they will ensure employers are well-versed and educated on who caregivers are and what they need to get back into a job to support their families. This service is provided regardless whether a caregiver receives a grant.
"The Hope Foundation wanted these grants to really change the course of a caregiver and veteran's life," Moore said. "Put them on the next best track so maybe not have to come back and get finance financial assistance again."
She said if the funds are depleted, it doesn't mean it's the end for The Hope Fund.
"We don't want the program to end," Moore said. "We are actively engaging others to make sure that this program is sustained. Our intention is this is a long-term financial assistance program."
A Senate Committee on Veterans' Affairs hearing held in March focused on the challenges of the VA's caregiver support programs, particularly the program of Comprehensive Assistance for Family Caregivers.
Additionally, a Senate bill called the Elizabeth Dole Home and Community-based Services for Veterans and Caregivers Act and a House bill called The Elizabeth Dole Act could increase the expenditure cap for noninstitutional care programs from 65% to 100%, establish partnerships for alternative care programs within the community and require the VA to coordinate with its other programs, and also expand home and community-based services for aging and homebound veterans residing in the U.S., among other initiatives.
---
---
---
---