For Pacific servicemembers, holiday vacation choices run hot and cold
By
Carlos Bongioanni Tim Flack Jennifer Svan
December 12, 2002
---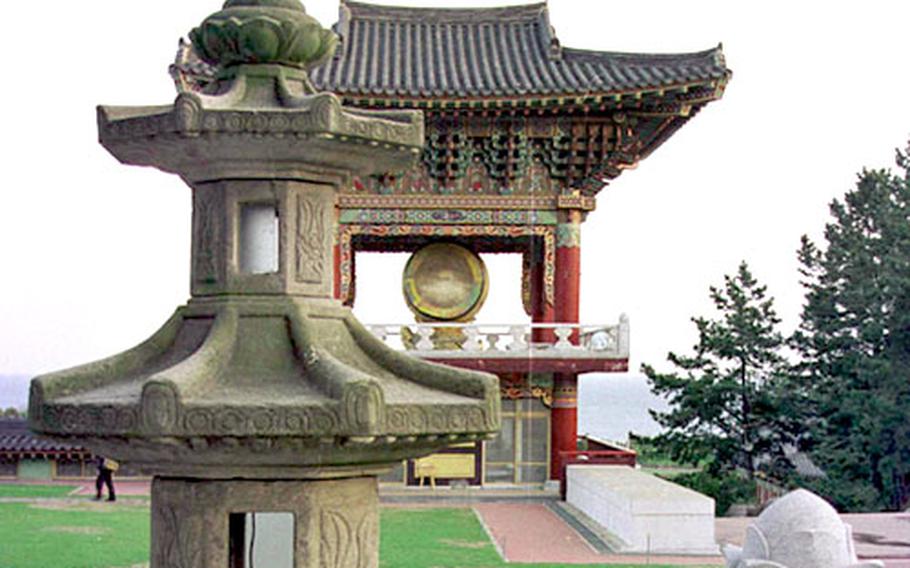 Okinawa: sunny weather, festive lights lift spirits
¶ Jump ahead to stories on winter getaways in Japan and Korea.
Okinawa, Japan's southernmost prefecture, offers winter skiing of a different kind: jet ski and water skiing. On this subtropical island, the average high temperature for December dips to the low 70s with some days peaking into the 80s. People who dream of white Christmases must visualize sandy beaches as snow-covered lakeshores.
Okinawa runs 67 miles long and 17 miles wide. Beaches are accessible from any direction.
About 50 miles north of Kadena Air Base, the Air Force runs Okuma Recreational Facility. Situated on a peninsula surrounded by ocean on three sides, the site has cabana rooms, cabins and campground sites for rent.
Cabana rooms with shared bathrooms run $30 per night, Monday through Thursday and $40 Friday through Sunday. Cabana rooms with private bathrooms run $35 per night Monday through Thursday and $45 Friday through Sunday; cabana suites run $45 per night Monday through Thursday and $55 per night Friday through Sunday. Log cabins cost $15 per night Monday through Thursday and $20 per night Friday through Sunday (patrons must bring their own bedding). Camping sites are $6 per tent
Amenities include a restaurant, lounge, convenience store, boathouse, miniature golf as well as a very short nine-hole, par three course, starting at $5. Miniature golf is also available at $1.50 per person ages 5 and up.
During December, local base tour offices offer package tours to various sites and events that cater to the Christmas season theme.
Marine Corps Community Services Tours office sponsors the Kokusai Street Christmas Tour that takes groups to Naha's popular downtown shopping district.
That office also offers Christmas sunset dinner cruises as well as tours to popular sites in northern Okinawa in and around Nago visiting popular beer and pineapple factories.
The Kokusai Street Christmas Shopping Tour costs $15 per adult and $9 per child. The West Marine Christmas Sunset Dinner Cruise cost $81 per adult and $39 per child and $153 per couple. The Northern Highlights Tour to popular sites in northern Okinawa costs $30 per adult and $17 per child.
The Southeast Botanical Gardens, just outside Kadena's Gate 3, will sponsor a Christmas Light Show Dec. 21 to 24.
The garden will be illuminated with numerous lights, inviting visitors into the winter wonderland. Events include a parade of the Queen of Flowers and five floats, a light pageant, butterfly exhibit and canine acrobatic show.
The fireworks show and illumination is from 6 to 11 p.m.
The Southeast Botanical Garden Christmas Light Show Tour costs $25 per person ages 12 to adult, $13.50 per person ages 6 to 11 and $6 per person ages 3 to 5, if buying through MCCS Tours, Kadena ITT or Kadena USO. At the door, the cost is 2,000 yen (about $16) per person 12 and up, and 1,000 yen (about $8) for children ages 6 to 11. Contact the Southeast Botanical Gardens at 939-2555 for more information.
On Christmas Day, MCCS tours office gives a special battle sites tour, including the Peace Prayer Park, the Peace Prayer Museum and the Japanese Navy underground headquarters.
The Cornerstone of Peace in the park is etched with the names of more than 200,000 soldiers and civilians who died in the World War II Battle of Okinawa. A tour bus leaves Camp Foster at 9 a.m. The tour fee is $18 for adults and $9 for children ages 3 to 11. For more information, call MCCS Tours at 646-3502.
———
Japan: Warm up to snowy Nagano
For those looking for traditional winter scenes, a trip north might be more appealing.
The snow-capped Japan Alps provide a perfect backdrop for Christmas in Japan, and perhaps the best place to enjoy one of Japan's most famous mountain ranges is Nagano.
In central Japan, Nagano prefecture is called the "Roof of Japan," since it's surrounded by 16 mountains more than 9,000 feet tall, which puts them above the tree-line of the Rocky Mountains.
Only about 120 miles northwest of Tokyo, Nagano is a convenient weekend getaway by train, car or bus.
Among its attractions in winter are skiing — Nagano hosted the 1998 Winter Olympics — famous temples and shrines, rustic villages, hot springs and snow monkeys — wild macaques that live in the mountains.
The Shiga Kogen mountain area boasts one of Japan's largest ski resorts, with 21 ski slopes. For winter sports lovers with a wild hair, Kanbayashi Snowboard Park is one of the most popular snowboarding parks in Japan. It was the venue for the halfpipe events during the 1998 Olympics.
Near Kanbayashi one may spot Japan's famous snow monkeys. At Jigokudani park, wild monkeys bathe in their own natural hot spring. Nagano prefecture also abounds with hot springs for the human variety of bather.
Yamanouchi town, in northeastern Nagano prefecture, features one of Japan's largest supplies of hot spring water. Shibu onsen consists of nine public baths. Japanese believe that bathing in all nine washes out worries and wards away evil. The baths also are said to bring good health, safe childbirth, healthy children and longevity. It costs 400 yen (about $3.30) to bathe in one of the hot springs at Shibu Onsen for one hour.
The most famous attraction in Nagano is Zenkouji Temple, which is on a hill above Nagano-city. The temple was built to house the first image of Buddha brought to Japan more than 1,300 years ago. The temple is near Nagano train station; look for signs.
¶ To get to Shiga Kogen:
By car, from Hachioji Interchange outside Tokyo, take the Chuo Expressway to Joshinetso Expressway, then take Exit No. 15, the Shinshu Nakano exit. That puts you on Highway 292; look for signs in English and Japanese for Shiga Kogen. Driving from the Hachioji Interchange takes four to five hours. The phone is 0269-34-2404. Call ahead about road conditions in the winter.
By train, take the Nagano Shinkansen (bullet train) from JR Tokyo station. It's about a one-hour, 30-minute ride. Approximate cost for one-way fare is $32. The Shiga Kogen area is 40 minutes by train (Nagano Dentetsu Line Express) from Nagano Station to Yudanaka Station, and then 30 to 40 minutes by bus to Shiga Kogen.
¶ To get to Jigokudani monkey park:
In the wintertime, accessing the park requires a 30-minute walk in the snow. It's a 10-minute bus ride or five-minute taxi ride from Yudanaka Station. Admission is 500 yen (about $4.25) for adults, and 250 yen (about $2) for kids.
¶ To get to Yamanouchi Town:
It's a 40-minute train ride from Nagano Station by the Nagano Dentetsu Railway express or 70 minutes by local train.
More information is available at base tour offices and www.outdoorjapan.com
———
Korea: Chejudo offers chance to beat the chill
Troops stationed in Korea are getting an early look at the holiday season, with frigid mornings and frosty windshields.
Temperatures have dropped into the low double-digits and the northern part of the country was hit with its first snowfall in mid-November.
For many, a Christmas escape to a warm area would be ideal before the long, frozen winter.
The base travel office offers specials to one South Korean paradise getaway: Chejudo.
Cheju Island, or Chejudo, is only an hour's flight south of Seoul. The island has a mild climate, with average yearly temperatures of 60 degrees. Base travel agents can arrange trips, including air and hotel, to the Hyatt, Crowne Plaza or Robero hotels. Now is the peak season, so the prices range from $269 to $529 per person, based on double occupancy for a weekend trip. Meals are not included and rooms do not include a kitchen.
The island offers hiking and shopping and is a favorite with tourists. The most popular souvenirs are handcrafted items, including leather goods and clothes.
Seafood is the specialty on Chejudo, including the abalone and shellfish collected by the island's famous women divers. Favorites include: chonbokchuk (abalone porridge) and oktomgui (broiled fish).
Mount Hallasan National Park boasts an extinct volcano that rises nearly 6,000 feet above sea level, dwarfing the island. The park offers great hiking and a view of villages, hotel resorts and white, sandy beaches.
Chungmun Resort is a 20-minute drive from Sogwip'o, the primary city on the south coast. Chungman is an integrated tourism and recreation center, with clean white beaches and waterfalls. The resort also offers an oceanarium, golf course, shopping center and tourist information center.
Call your base travel office for more information.
---
---
---
---