Top administrators at Navy Postgraduate School relieved of duty
by
Erik Slavin
November 28, 2012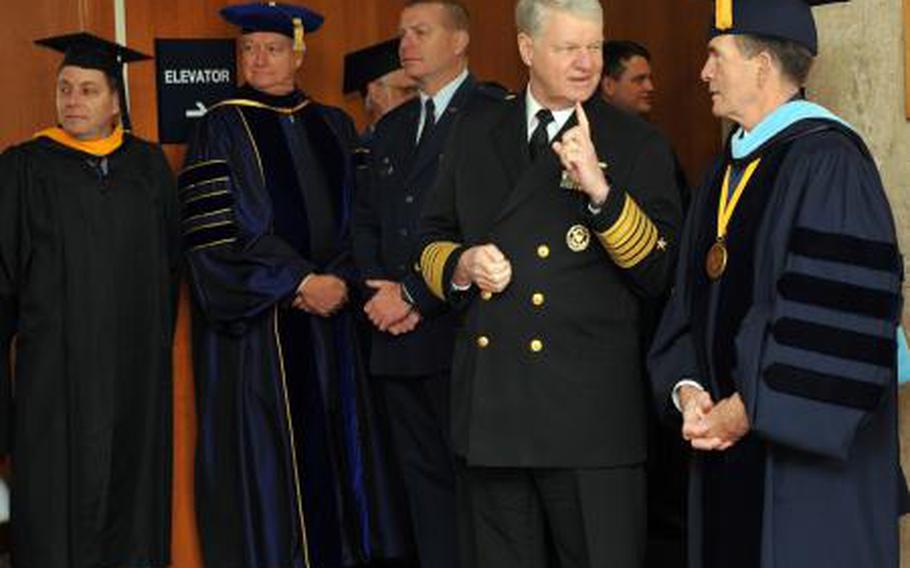 YOKOSUKA NAVAL BASE, Japan — A retired vice admiral and his subordinate were relieved Tuesday from the top two positions at the Navy Postgraduate School after an investigation found evidence of mismanagement and other improprieties.
School President Dan Oliver misused regulations to skirt federal hiring and compensation guidelines, according to an Inspector General's office report.
Oliver and Provost Leonard A. Ferrari also wrongly accepted gifts from a foundation set up to support the school, the report concluded.
The "President's Gift Fund" and similar accounts were mismanaged and used for unauthorized expenses, according to the report. The gifts included reimbursements for wine at receptions, patio furniture and a $10,000 honorarium payment to a Nobel laureate that exceeded a regulatory $2,000 payment cap.
"The overarching problem, as our report demonstrates, is that NPS chooses not to follow governing Navy rules, regulations and laws in the conduct of the majority of its programs, because it will not reconcile its academic philosophies and ideals with the governing standards," according to a letter signed by Inspector General Vice. Adm. James Wisecup.
Wisecup noted that the school's refusal to change policy after the inspector general's initial warnings reflected "an atmosphere of defiance of statutory requirements."
The 18-day inspection and investigation conducted by the inspector general's office cost $249,000 and included subject matter experts from at least nine different major commands within the Navy, according to the report.
Navy Postgraduate School officials told inspectors that the school could not operate like a typical Navy command because doing so conflicted with the common business practices of a university. The report argued that the school extended valid concerns over academic freedom to justify noncompliance with Navy rules.
The 127-page investigation report makes dozens of recommendations to reform the school's practices. Mabus has appointed Juan Garcia, assistant secretary of the Navy, to head a working group that will oversee the changes at the Monterey, Calif.-based school, according to a Navy statement Wednesday.
Rear Adm. Jan Tighe will serve as interim postgraduate school president until a permanent replacement is appointed, the statement said. O. Douglas Moses, currently vice provost of academic affairs, will serve as acting provost.
Oliver had been school president since April 2007, while Ferrari had been provost since July 2006.