Poll: Support for Obama drops in Muslim nations
by
Stars and Stripes Leo Shane III
June 17, 2010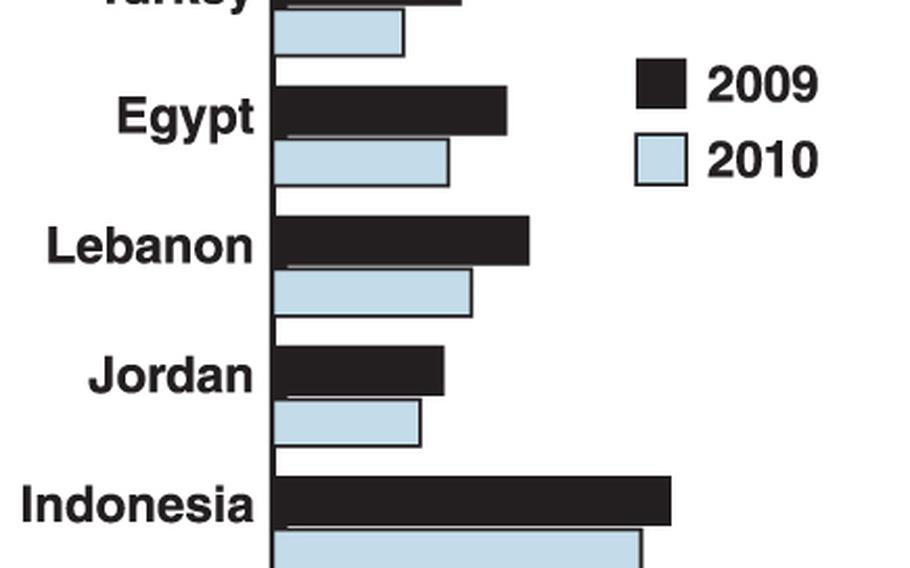 WASHINGTON — U.S. popularity in Muslim nations dipped over the last year along with President Barack Obama's own approval ratings, a trend that researchers say is disappointing at best and troubling if it continues.
Data from the Pew Research Center's Global Attitudes Project shows public support for Obama dropped to less than a third of respondents in countries such as Turkey, Egypt, Jordan and Pakistan. Only 8 percent of Pakistanis interviewed said they support Obama's policies, the lowest of any country surveyed.
The study showed that the U.S. president still enjoys strong support among western European nations and even grew in popularity among Russians.
But Andrew Kohut, president of the center, said the results from the predominantly Muslim countries remain unsettling.
"The problem is that he [Obama] didn't get a build off of last year," he said.
Following Obama's speech last June in Cairo, Egypt, where he pledged a "new beginning" between the United States and Muslims throughout the world, researchers noted a dramatic increase in favorable opinions toward American policy from the George W. Bush presidency.
But the decline this year indicates that some of that positive attitude may have been short-lived. Former Sen. John Danforth, co-chair of the project, said Muslims worldwide may have been more enamored with "anything that wasn't Bush" than Obama's actual policies.
If negative attitudes towards the U.S. continue to rise that could mean a backlash against U.S. troops currently serving in Iraq and Afghanistan, but Kohut said it's too early to predict that. In nearly every country surveyed — including the United States — respondents had slightly less confidence in Obama's foreign policies than in 2009, but the numbers remain significantly higher than in Bush's final year in office.
"What Obama has done, at least temporality, is caged the 800-pound gorilla with respect to how the United States is viewed," he said. "The great underlying concern throughout the world is American power. What we see now is that concern isn't gone, but it's less salient."
Former Secretary of State Madeleine Albright, also a co-chair of the project, noted that a more positive trend is the dropping popularity of suicide bombers and of Osama bin Laden among Muslim nations surveyed.
In 2002, 74 percent of the public in Lebanon said suicide bombing was sometimes justified. This year, 39 percent of those surveyed agreed with the statement. Bin Laden's popularity has dropped by 34 percentage points in Indonesia since 2003, by 42 points in Jordan, and by 28 points in Pakistan.
The poll included more than 24,000 interviews of citizens in 24 countries during April and May. Poll officials said the results were completed before the Israeli flotilla raid that left nine people dead last month, and conceded some Muslims approval of Obama may have dropped further since then.
Pollsters also saw a dramatic change in U.S. popularity among Mexican citizens following Arizona's passage of its controversial new immigration law. Before the law was passed in late April, nearly two-thirds of Mexicans surveyed offered a favorable view of the U.S. After its passage, the number dropped to 44 percent.
---
---
---
---