Air Force jumps into esports with new Twitch series
By
Stars and Stripes
September 23, 2020
---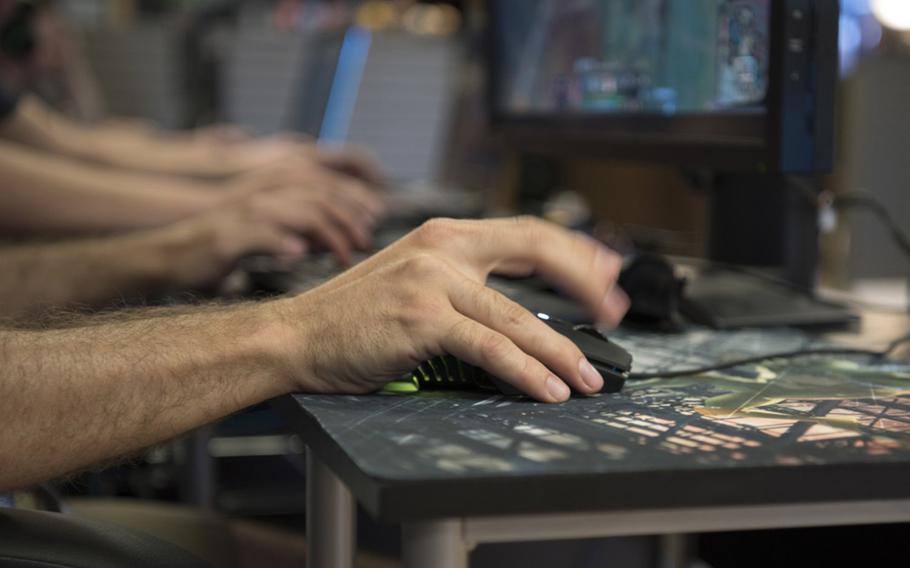 WASHINGTON — The Air Force is the latest branch jumping into esports, where service members livestream themselves playing video games, as the Pentagon increasingly looks to the gaming community as an outreach and retention tool.
On Saturday, the service will launch Command Clash, a six-part esports series on Twitch that pits 29 airmen, male and female, across multiple bases in competition playing Call of Duty: Modern Warfare. The series will also feature celebrities such as NFL free agent Clay Matthews and former NFL running back Ahman Green. Jeff Leach, the voice actor for the Call of Duty character Ghost, commentates on each match. In the final episode, one base will be declared the champion.
Unlike the Army, the Air Force does not have big recruiting goals with esports as a core component. They are also not in a hurry to mold gaming into a high-profile recreation or sport, such as Navy football, Army Combatives or the Marine Corps Band. Richard Cooper, a civilian spokesman for the Command Clash series, said the branch is putting its toes in the water.
"This is the future, gaming and esports are not going away anytime soon," Cooper said. "The Air Force absolutely sees the potential of what this can be. This is us really dipping our toes in the kiddie pool of esports and gaming."
Cooper said that recruiting is not the focus. "While each branch has its own objectives, we decided to focus our program on entertaining our Airmen and providing a place for them to connect. This is not a recruitment tool for us," he said.
But in one prerecorded two-hour episode shared with Stars and Stripes, there was a break in the Call of Duty matches to show a video of a pilot with the F-22 Raptor Demonstration team showing viewers the inside of the plane and aerial maneuvers.
The Air Force moved forward after a survey this year of more than 377,000 airmen — male and female — between the rank of E1-E6 and O1-O4 to gauge the branch's interest in gaming and esports. Nearly 35,000 service members responded globally across all installations, marking one of the greatest response rates for any internal survey, according to an Air Force press release.
The survey also found that video games is a top hobby for Air Force men and women. Of those who participated in the survey, 98% said they spend at least three hours gaming per week, with more than 54% playing over 10 hours. Of that, 81% of men and women surveyed said they spend at least three hours a week watching gaming or esports content on Twitch and YouTube.
The most popular games in the Air Force are first-person shooters such as Call of Duty, Overwatch and Halo. A quarter of troops prefer battle-royal games such as Apex Legends and Fortnite.
The first and last episodes of the series are live shows. A new episode streams on the Air Force's esports channel each Saturday through Halloween. Episodes two through five focus on Air Force men and women at a different base, which was picked by the number of troops who participated in the gaming survey. The bases that showed the most interest in esports are Nellis Air Force Base in Nevada, Lackland Air Force Base in Texas, Davis Monthan Air Force Base in Arizona, and Joint Base Langley Eustis in Virginia.
"Based on those responses, we were able to highlight the top four installations," Cooper said. "Those are the installations we did the series on."
More than 3,100 airmen, male and female, were interested in competing in esports and game streaming for the Air Force, according to a release. Officials narrowed the list to 103 eligible participants based on skill and who "embodied what it means to be an Airmen"; the final 29 were selected after meeting skill requirements and schedule availability. The ages range from 19-35, but the average service member participating is under 25, according to a roster of participants.
The Air Force sought to field its first esports team at EVO 2020, the largest and longest-running fighting-game tournament in the world, where players compete in games like Tekken 7, Street Fighter V and Dragon Ball FighterZ. However, the tournament was canceled in July after sexual misconduct allegations involving the organizer.
Many service branches are turning to esports as a recruiting tool. In March, the Navy launched a video-gaming team called Goats & Glory that practices, streams and competes from a specially designed facility in Tennessee. The Army started its esports team last year and credited it as one of the reasons the service met its 2019 recruiting goal.
The military's push into the online gaming space as a recruitment and branding opportunity has hit snags, ranging from social media scandals to an attempt by Congress to squash the Pentagon's streaming efforts altogether.
This summer, the Army esports team went on a five-week hiatus after it banned spammers and trolls from its Twitch channel for bringing up U.S. war crimes in the chat, which sparked concerns of First Amendment violations.
Courts have ruled that government-run social media cannot exclude people, because those accounts are considered public forums. Last year, a federal appeals court ruled that President Donald Trump could not block people on Twitter for criticizing or mocking him.
The issue caught brief attention on Capitol Hill. Rep. Alexandria Ocasio-Cortez, D-N.Y., introduced a measure to block funding for military recruitment efforts on Twitch, arguing that many users of the platform are too young to be eligible to enlist or commission. The effort was crushed on the House floor in a 292-126 vote.
Last year, the Navy esports team had to pause streaming on two occasions. A sailor was kicked off Goats & Glory, the Navy's official esports team that streams on Twitch. Personnel Specialist Second Class Brandon Chandler streamed himself playing with "close friends" who had offensive users names. Two of them — "Nagasaki" and "Japan 1945" referenced the U.S. atomic bomb attacks against Japan. The other person the sailor hosted on his stream was "Gamer Word," a reference to offensive, derogatory language.
Earlier this month, a National Guard soldier said an anti-Semitic phrase after being baited by a troll. Axel "ZexsOG" Torres was streaming Call of Duty: Modern Warfare when he called a user by an online handle, thanking him for following the channel. Thanking users for a follow is common practice on Twitch. The issue was the new follower went by the name of "6millionwasnt_nough," referencing genocide by the Nazis against the Jews during the Holocaust.
It is also a common practice of Twitch trolls to make their usernames offensive, but spell them in a way that might not be immediately obvious, to get the streamer to say something offensive.
The Air Force is encouraging gamers not to engage trolls and is concerned about the especially venomous online harassment female troops might encounter.
"It's unacceptable," Cooper said. "Our Airmen are encouraged to ignore the trolls and focus on their passion for gaming and esports."
---
---
---
---