Weekly radio call-in program is a hit in eastern Afghanistan
---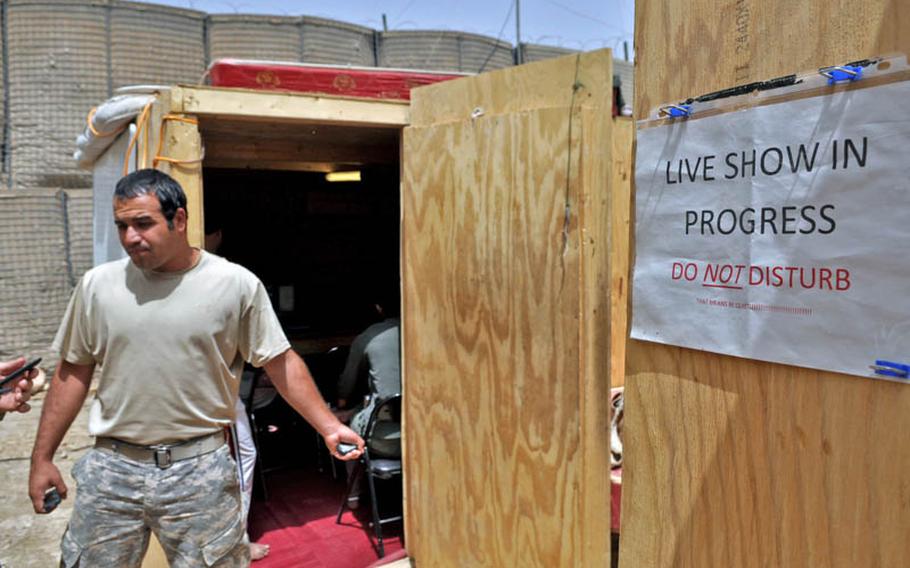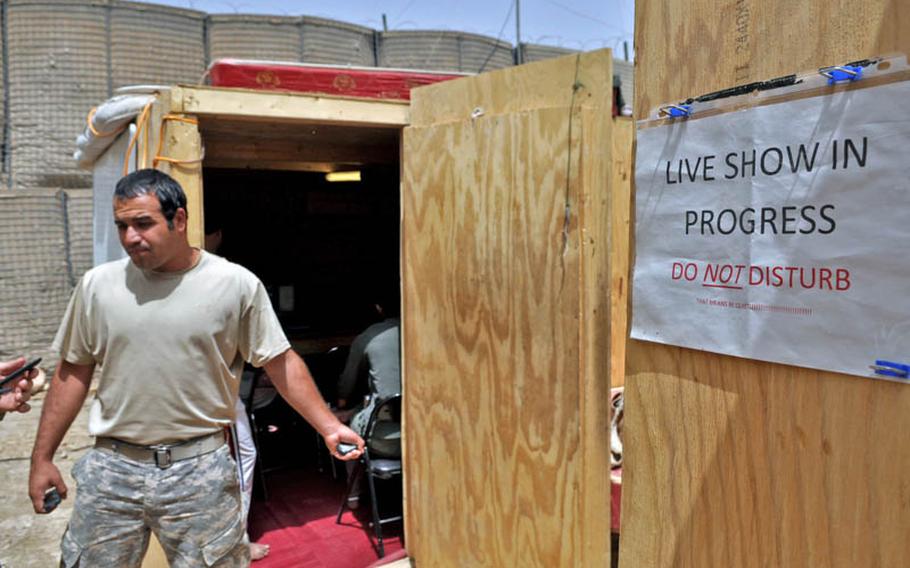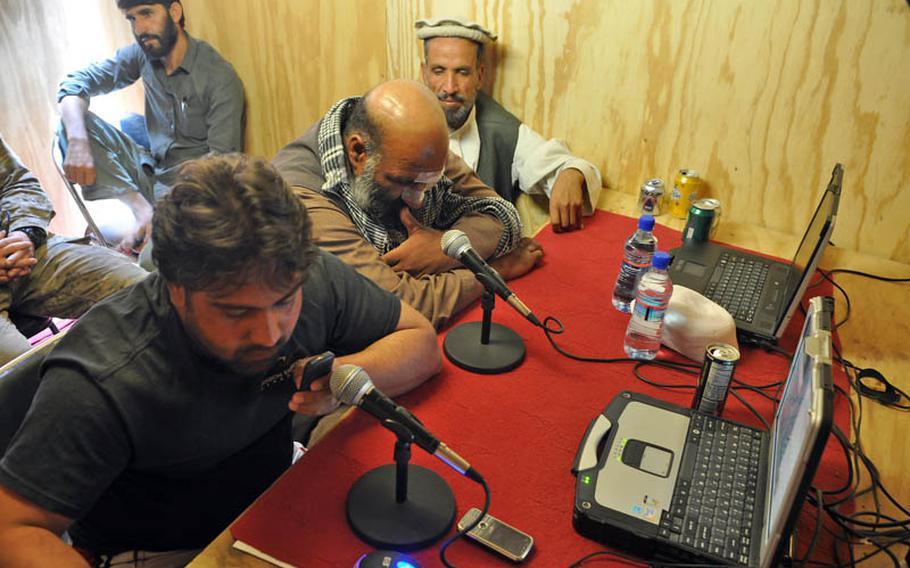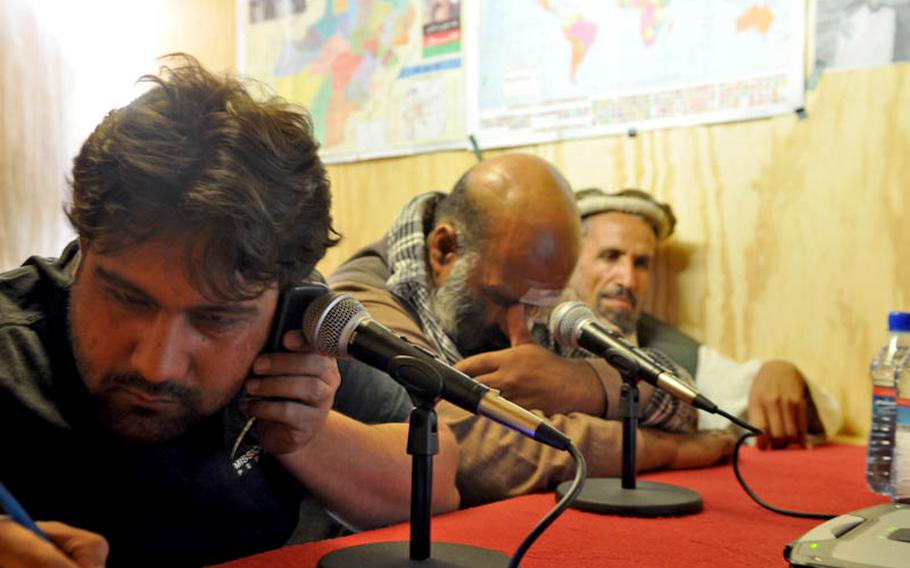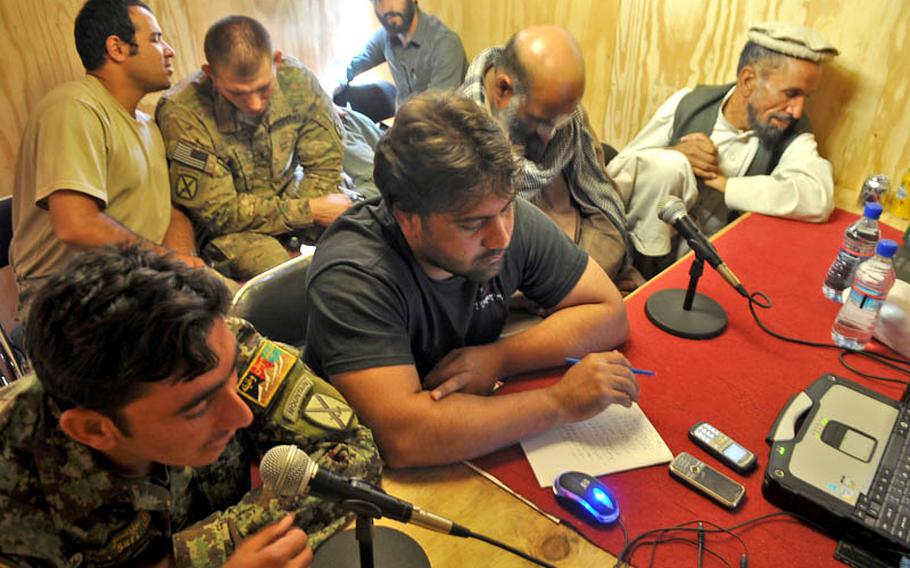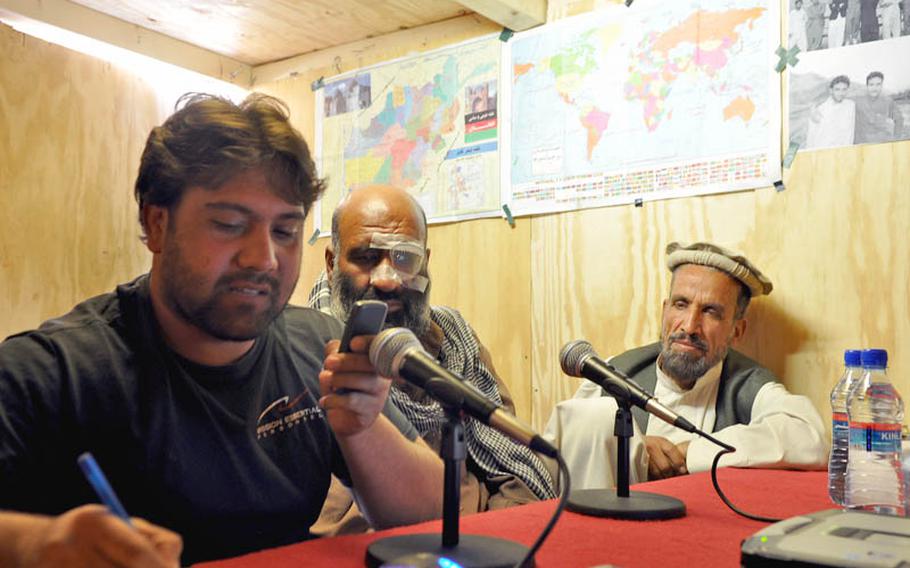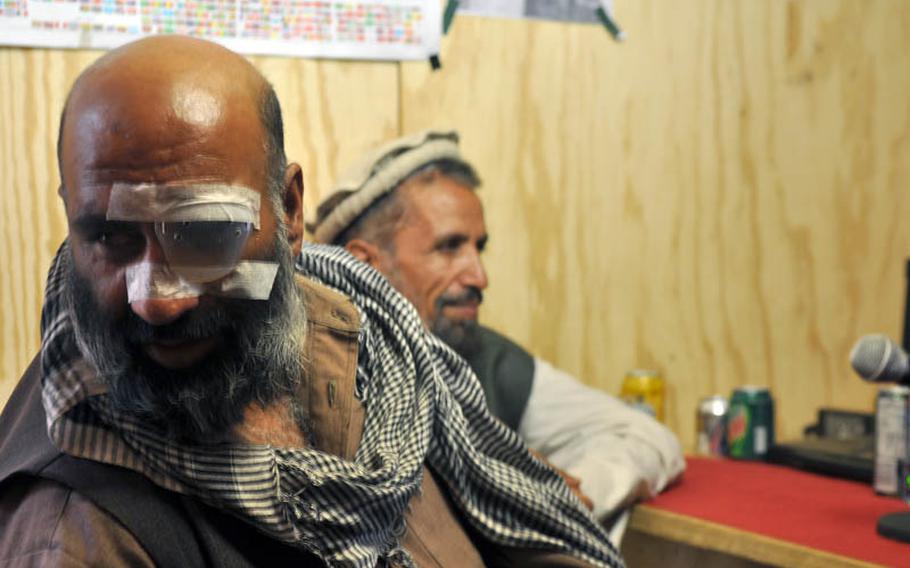 NERKH VALLEY, Afghanistan --On Friday morning, not long before the call to prayer, Commander Mohammad Gul Torkai pulled a microphone close to his shattered face and began answering the villager's question. He was blunt, almost abrasive, emphasizing his point with thick, scarred hands.
"Once you bring security to your area, then we can pave the road," the bear-sized policeman said. "If you tell us who the enemy is, we can arrest them or kill them." Until then, he added, "we can't help you."
Torkai spoke as if the villager stood before him. But this was Shamla Voice, one of the few radio programs in Afghanistan — and possibly the only one outside Kabul — where residents call in with questions or comments addressed to a panel of government officials, in this case from the police and army.
Listeners throughout this valley in Wardak province could not see the white tape and plastic shield covering Torkai's left eye, or the burst blood vessels in his right, wounds received in a roadside bomb attack last month.
But they could understand his answer, his directness. After all, he is one of them, a former mujahedeen fighter and former member of the insurgent group Hezb-i-islamia, who joined with the Afghan government as part of the "reconciliation" program.
This homegrown presence is part of what makes the weekly, hourlong Shamla program successful, said Capt. Andrew Miller, the man who initiated this experiment six months ago when he began taking calls himself — sometimes even from insurgents.
"It's been very interesting," said Miller, commander of Company A, 2nd Battalion, 30th Infantry Regiment of the 10th Mountain Division, and of Combat Outpost Nerkh, where Shamla Voice is produced. "Back at the beginning of this, we'd take 30 calls in an hour, and we'd miss like 80 more calls. It's definitely made a mark."
The 29-year-old from Baton Rouge, La., never planned to step into direct media. Miller said the station was originally set up to play music and broadcast public service announcements and bulletins from coalition forces.
Miller also used the station to deliver prepared statements after every battle involving his troops. He was on the air often.
Nerkh Valley is known for apple crops, remoteness and violence. Walled in by mountains and serviced by a few poorly maintained roads, the territory is home to the Taliban and Hezb-i-islami insurgents. Both attack the Americans, and they also regularly battle each other for control and influence.
When Miller arrived some nine months ago, his men began fighting the Taliban and the HiG (as Hezb-i-islami is called here) almost immediately. One night this past spring, as he was reading a statement on-air after a battle, a cell phone normally used to take music requests started ringing.
Miller looked at his interpreter. "Let's answer the phone," he said.
And so it began.
Miller saw potential in the format. He spoke with members of the Afghan National Police, the Afghan army, and the local police, and invited them to join him on the air. Each Friday morning, the men would tackle questions and respond to comments.
For the first three months, the volume of calls was overwhelming, Miller said. In the beginning, he took most of the questions himself, partly because callers addressed him directly, and partly because his Afghan colleagues had no idea what talk radio was.
"I was pretty nervous at first," Miller said, "that we might say something that we later regretted, or that the enemy would have a 'gotcha' question. But they didn't."
Miller and the Afghans planned talking points, they drew up lists of possible questions and discussed how they might answer. Nerkh residents called to ask about subjects ranging from construction projects to American intentions in Afghanistan.
Occasionally, the Taliban or the HiG would call. Often they would make statements about their heroism or the purity of their cause. Sometimes one group would insult the other over the air.
Most popular were questions along a theme: "Why is America here?"
Miller would sometimes field the question; sometimes he tossed it to the Afghans.
"Some people would call in and say, 'America is here to stop Islam,' " Miller said. "The ANA would step in and say 'No, they're here to help us.' "
The program reached locals in a way that prepared statements could not, Miller said. It was interactive, and it cultivated a sense of relationship.
It's impossible to know how many households Shamla Voice reaches. The volume of calls has leveled off just as the violence has moved deeper into the mountains. Valley residents are something of a captive audience — Miller said he didn't know of any other stations in the area.
But Miller believes the program has given Afghans degrees of transparency and connection with security officials that were absent. It also made him a minor celebrity.
Out on patrols, or when meeting local leaders, sometimes people would approach him and say, "You're the guy on the radio!" It put a face to the voice, Miller said, a face to the coalition.
From the start, Miller involved Afghan officials, and slowly began removing himself from the discussions. Recently, his brigade commander ordered him to turn the program entirely over to the Afghans.
"It needed to be done. It needed to be an Afghan thing," he said, grinning. "I enjoyed it, though."
This Friday, in the dim, cramped broadcast booth, Mohammad Gul Torkai, the local police commander, tugged his chair close to the microphones and listened to the calls roll in. Beside him were Col. Mohammad Faroq Sidiqi of the Afghan National Police, and 1st Sgt. Ajmal Safi of the Afghan National Army.
Callers asked about road construction, education and an illegal checkpoint recently set up by the HiG. A man claiming to be a HiG member called in to claim the checkpoint hadn't been set up by HiG but by thieves. Then another man called to denounce HiG and ask listeners to support the government.
The three officials took turns addressing listeners. Occasionally they laughed, usually they were straight, blunt. One caller deplored the relationship between the ANA and the Americans.
"They're not Muslims," he said. "So Muslims should not work with them."
Safi took the mic.
"If coalition forces patrol alone, they can't understand your language," he said. "So how can they understand your needs?"
After the show ended, Sidiqi walked outside into the blinding sun and declared it a success.
"It does much good, because the people aren't able to talk to us face-to-face," he said. "So they can call us and tell us what they want."
Safi agreed, saying that Nerkh residents used the program to learn what was happening in the valley. But he acknowledged there was still a wildness to the medium, and limits to what the panel could handle.
"We try to avoid politics," Safi said. "For example, sometimes people call in and say, 'Americans should leave.' "
He shrugged.
"Well, what do you say to that?"
---
---
---
---