Three servicemembers killed by roadside bomb blast in Afghanistan are identified
By
Chad Garland Phillip Walter Wellman
November 28, 2018
---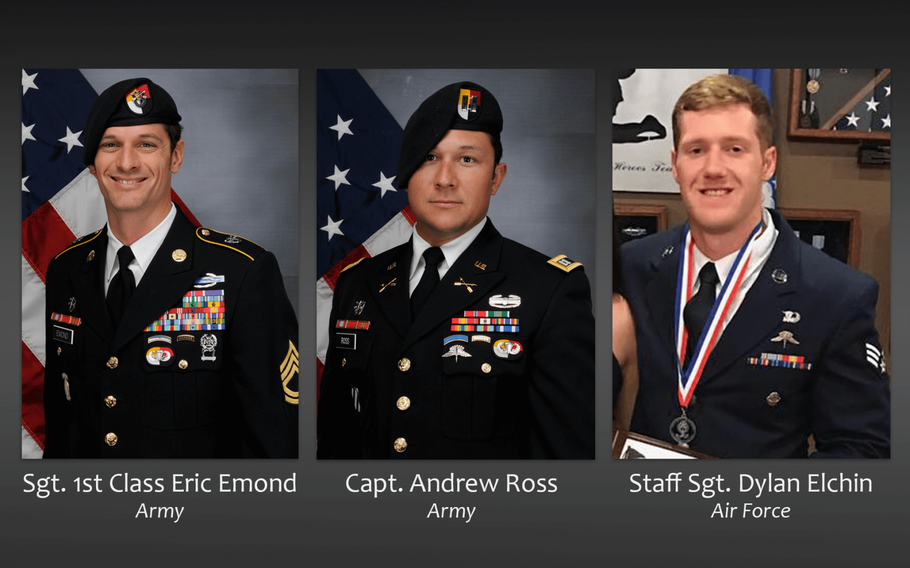 KABUL, Afghanistan — Described as a daredevil who was driven to succeed in the Air Force and the toughest person his family knew, Staff Sgt. Dylan Elchin was planning to marry his fiancée when he returned home from Afghanistan in January.
"They had their whole life ahead of them," Dawna Duez, Elchin's mother, said Wednesday, fighting back tears in a phone interview from her home in Pennsylvania.
Her son, a 25-year-old combat controller assigned to the 26th Special Tactics Squadron at Cannon Air Force Base, N.M., was one of three American servicemembers killed Tuesday in a roadside bomb blast that struck a convoy of U.S. and Afghan forces en route to battle Taliban fighters in southeastern Afghanistan.
Green Berets Capt. Andrew Patrick Ross, 29, a newlywed from Lexington, Va., and Sgt. 1st Class Eric Michael Emond, 39, father of three young girls from Brush Prairie, Wash., also died after being wounded in the attack in Ghazni province, about 100 miles south of Kabul. Both were assigned to 1st Battalion, 3rd Special Forces Group (Airborne) at Fort Bragg, N.C.
Three more troops and a contractor were wounded in the attack, which was the deadliest this year for Americans. The wounded were evacuated and were being treated, officials said.
Ross had served more than seven years in the Army and was on his second tour, said Lt. Col. Loren Bymer, Army Special Operations Command spokesman. He was posthumously awarded the Bronze Star Medal, Purple Heart, Meritorious Service Medal and the Combat Infantry Badge.
James Hasson, an Afghanistan veteran and lawyer, prepared for Ranger school with Ross and went through the grueling course in the same company with him, he said on Twitter.
"He was born to be a soldier and motivated the rest of us when we wanted to quit," Hasson wrote.
Ross' wife, Felicia, called him "the most perfect man, love of my life," in a Facebook post.
"You made me the happiest woman in the world and I'm so glad to have known you," she wrote. Later she posted a video of their February 2018 wedding. "Looking back on the most perfect day on some really tough ones!"
A soldier who helped veterans
Emond, a Boston native, had served more than two decades in the Army and Marine Corps and was on his seventh overseas tour when he died. He was posthumously awarded the Bronze Star Medal, Purple Heart and Meritorious Service Medal.
The husband and father of three was remembered by friends as lighthearted, smart and tough with a strong desire to help others. He had helped found the Massachusetts Fallen Heroes, which supports veterans of Iraq and Afghanistan and Gold Star Families from his home state.
"He was the bedrock of the organization," Dan Magoon, the foundation's executive director and an Army veteran of Iraq and Afghanistan, told WCVB news in Boston.
The nonprofit raised funds to build the Beacon of Honor, a memorial in Boston's Seaport Common recognizing the sacrifice of the state's servicemembers who have died in America's wars since 2001. Glass panels list the names of 272 fallen troops in chronological order of their deaths.
Both Ross and Emond were invaluable leaders, Col. Nathan Prussian, 3rd Group commander, said in a prepared statement.
An elite airman
Elchin, who was on his first deployment, was the first airman killed in the country this year. His awards and decorations include a Bronze Star Medal, Purple Heart, Army Commendation Medal with Valor, Air Force Commendation Medal and Air Force Combat Action Medal.
"He's the whole family's hero," said his brother, Aaron. "He was the strongest man I've ever known, not just physically, but mentally. And the part that hurts me the most is that I'll never know what he could have become."
The Taliban quickly claimed credit for the deadly attack, saying it was targeted at the foreign invaders. The group has waged a 17-year insurgency and, despite a short-lived holiday cease-fire this summer, continues to mount attacks while U.S. and Afghan officials have stepped-up efforts to negotiate peace.
Relatively few of the 15,000 American troops in Afghanistan go into combat or serve near the front lines, but special operations troops are among those who regularly accompany their Afghan counterparts into battle.
The Special Operations Warrior Foundation estimates special operations forces and their support personnel make up about five percent of the military but half of the casualties, including those who die or are wounded in training and line of duty incidents.
Last year, the charity began supporting 90 children of fallen troops, the most since their founding in 1980, said Aly Olson, the organization's business relations manager.
This week has especially hard for elite units, with four U.S. special operations troops killed in as many days. On Saturday, Sgt. Leandro Jasso, a member of the 75th Ranger Regiment, was shot accidentally while battling to clear al-Qaida fighters from barricaded positions during an assault in the southern province of Nimruz.
The latest deaths bring the number of Americans killed in Afghanistan this year to 13 — seven from special operations. Rangers and Green Berets accounted for five of 11 U.S. combat fatalities in 2017, and special operations soldiers constituted half of that year's four noncombat deaths.
As a combat controller, Dylan Elchin was among the Air Force's elite, trained in air traffic control, parachuting, diving and rappelling, so he could work with Army Special Forces teams to direct guided munitions, strafing fires and other air-to-ground weaponry. Less than 25 percent of airmen who take the rigorous training complete the two-year pipeline.
Elchin had wanted to join the Air Force from a young age and enlisted as a special tactics combat controller on Aug. 7, 2012, shortly after graduating from Hopewell High School in Pennsylvania. While he faced setbacks during his training, he pushed his way through, his brother recalled.
"When he did his first parachute jump, he broke his foot," Aaron Elchin said. "He rehabilitated himself, went back, redid the course and continued and finished it. He was determined he was going to do it."
But Elchin's mother said she didn't want him to deploy to Afghanistan, she said.
"I was so afraid, but he said, 'Mom, I'll be OK, I'll be fine, I'll be back in January,'" she recalled. "We were getting so close to him coming back."
Elchin's death marks the first in combat for an airman in Afghanistan since 2015. Seven airmen died from enemy actions that year, including two special tactics airmen who were killed in an insider attack in Helmand province, and eight died in aircraft crashes.
Last week, Elchin's mother reached out to let him know how much she admired him.
"I just sent him a text sometime last week and I told him, 'You're just awesome,'" she recalled. "He just amazed me. He's my hero. My son is my hero."
garland.chad@stripes.comTwitter: @chadgarland
---
---
---
---