State Department issues travel alert for Bahrain
by
Geoff Ziezulewicz
August 22, 2011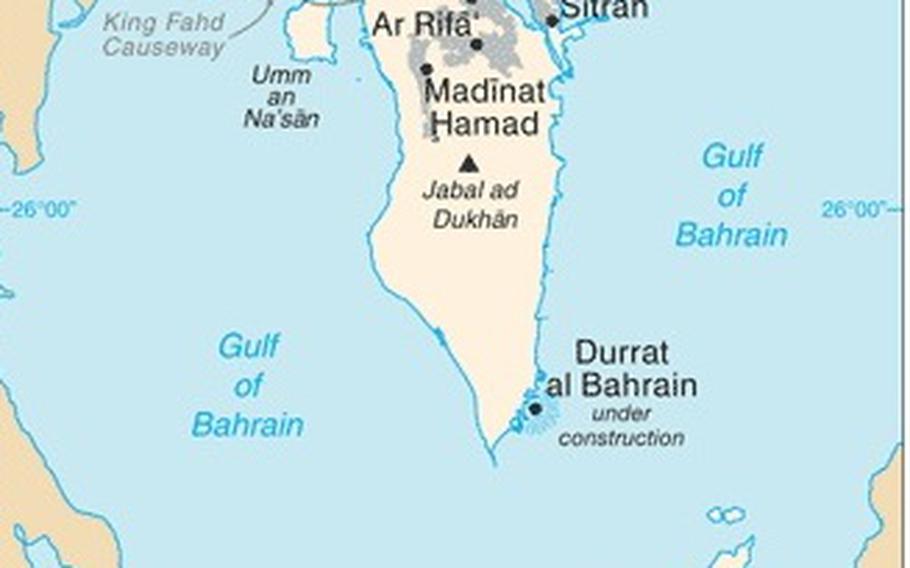 NAPLES, Italy — The State Department has issued an updated travel alert for Americans traveling to Bahrain, a tiny island nation in the Middle East that hosts a sizable U.S. Navy presence and has seen a series of protests and crackdowns since early this year.
While the presence of Bahraini security forces on the streets has diminished since the "State of National Safety" was lifted by the government June 1, "the potential for spontaneous civil and political unrest continues," according to the alert, issued Friday by the Bureau of Consular Affairs.
Clashes between Shiite protesters — Bahrain's majority ethnic group — and security forces of the the ruling Sunni al Khalifa family have simmered in recent months after reaching a fever pitch in March.
These days, all travelers to Bahrain are facing increased scrutiny from authorities, and the government has refused entry to some U.S. citizens, according to the State Department.
Bahrain is home to the U.S. Navy 5th Fleet, the sea service's arm in the Middle East.
Roughly 3,300 troops, 900 civilians and 650 family members make up the American military community in Bahrain, according to 5th Fleet spokesman Lt. Frederick Martin.
Martin said in an email Monday that the fleet is not aware of any military personnel, civilian employees or dependents being denied entry into Bahrain since the unrest began.
While Bahraini armored vehicles and personnel withdrew from the streets of Bahrain earlier this summer, "security operations continue in various parts of the country," according to the State Department.
"Spontaneous demonstrations occur in some neighborhoods, particularly at night and on weekends, and often result in violent clashes between security forces and demonstrators," according to the alert. "Travel in and around Bahrain could become dangerous without advance warning."
There no indications that westerners or U.S. citizens are being threatened or targeted as part of the demonstrations, according to the State Department.
Fifth Fleet operations and community life in Bahrain remain normal, Martin said Monday.
"Family and community life has not been affected by the civil unrest," he said. "Our families have been directed to avoid sites where protests are occurring, and notification systems are in place to alert them to potentially unsafe areas."
As clashes flared in March, the Defense Department closed the on-base American Bahrain School and authorized voluntary departure of family members and nonessential civilian personnel assigned to Naval Support Activity Bahrain. The school has since reopened.
Martin said Monday that off-base housing policies had not been changed in light of the unrest.
Twitter: @Stripes_GeoffZ