Reporter's Notebook: Nabbing the non-Mensa insurgent, cell phone surprises and a bit of bitterness
by
Martin Kuz
June 7, 2011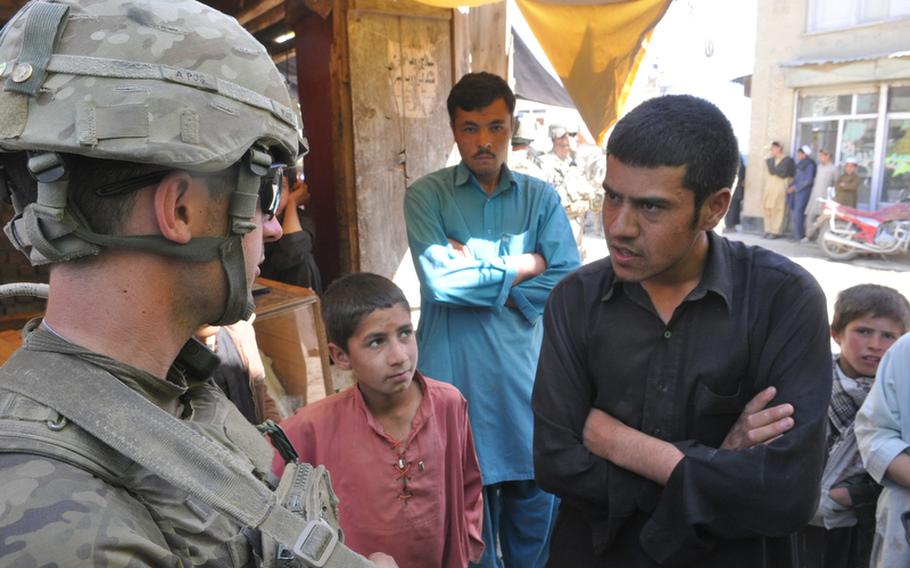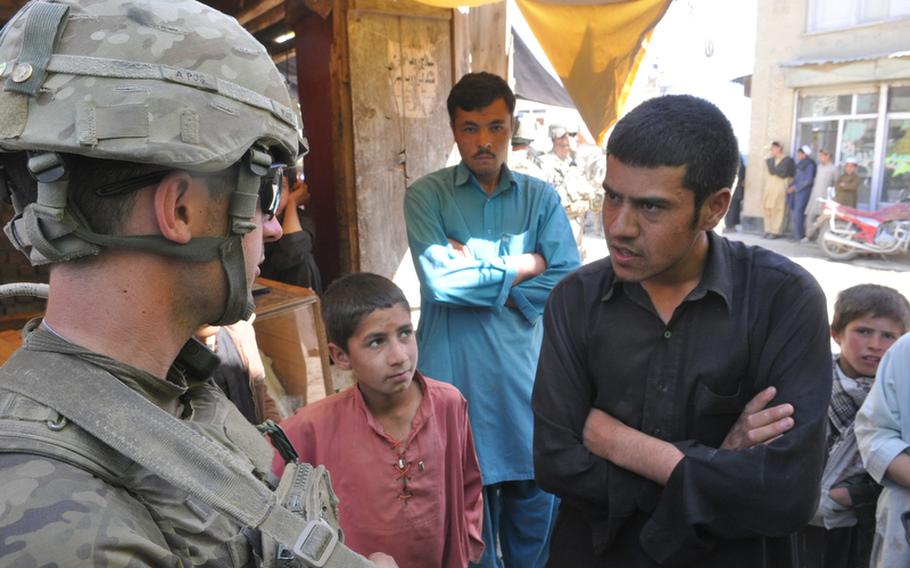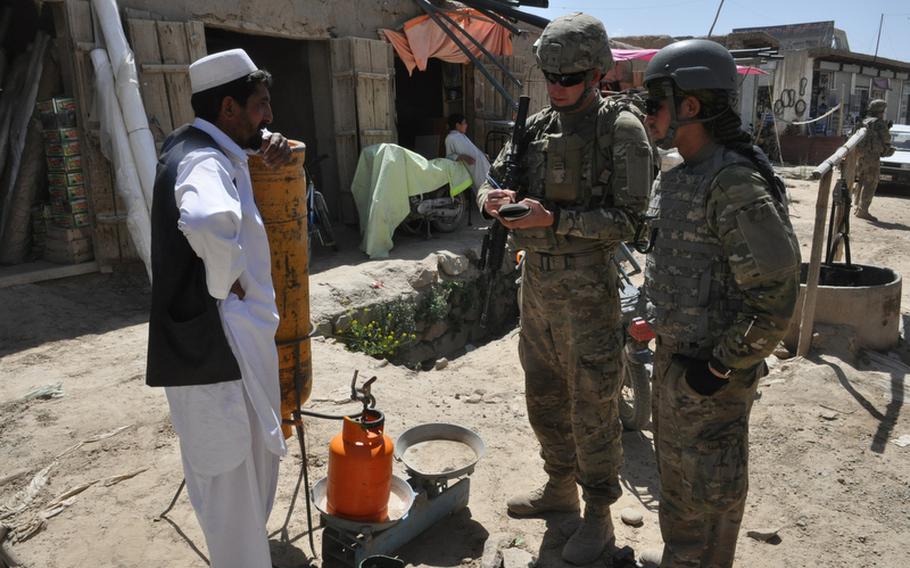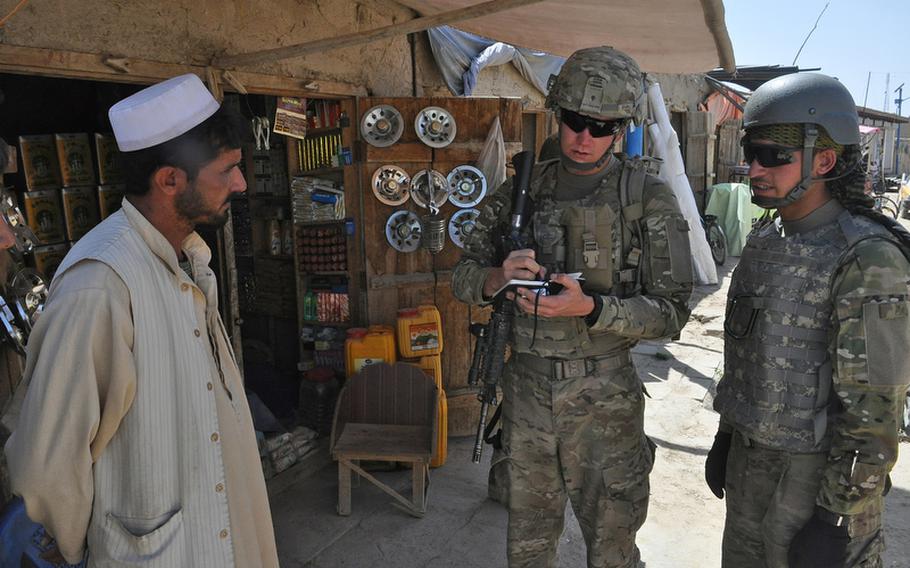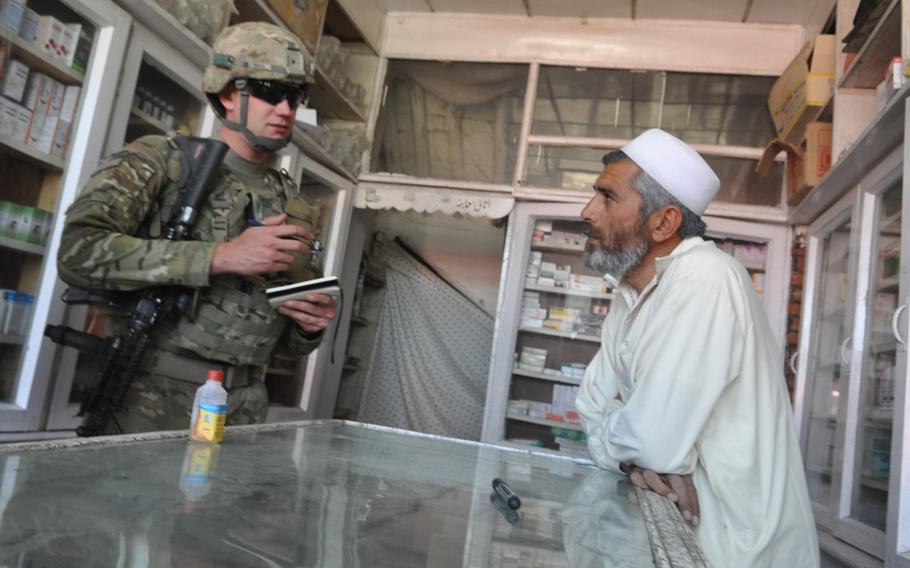 BARAKI BARAK, Afghanistan — The shoot-and-run tactics of insurgents make them difficult to catch. But not all of them are graduates of the Osama bin Laden School of Evading Capture.
Consider the suspected combatant detained last week soon after the attack on a U.S. military convoy that killed Spc. Richard Emmons III in this town about 40 miles south of Kabul.
Emmons, 22, of North Granby, Conn., died when a rocket-propelled grenade punctured the Mine Resistant Ambush Protected truck he was driving along Route Georgia, the primary road through Baraki Barak in western Logar province. The communications specialist belonged to Headquarters and Headquarters Company, 4th Brigade Combat Team, 10th Mountain Division.
A platoon from the brigade's Company C, stationed at a combat outpost less than five miles from the site of the RPG strike, responded to the scene to secure the area and set up a traffic checkpoint in hopes of ensnaring the culprit.
Less than 48 hours later, a teenager driving a motorcycle approached the checkpoint; a man who soldiers said appeared to be in his 30s sat behind him. The man sported rings and bracelets, accessories seldom worn by the farmers who prevail in Logar — a tip-off he might be someone worth investigating.
Under questioning by U.S. and Afghanistan soldiers, the man kept changing his story about why he was in the area. Other soldiers talked to the teen, who said the man had asked for a ride a short time earlier but started shouting at him to turn as the motorcycle neared the checkpoint.
"He wanted the kid to get off the main road," said Spc. Darren Boerl, of Portland, Ore. "But the kid didn't understand what was going on and just went straight. He's not one of the smartest insurgents we've seen."
A soldier used a portable HIIDE device (Handheld Interagency Identity Detection Equipment) to photograph and fingerprint the man, and scan his irises. The biometric information produced a match in a military database.
The mystery man goes by the lone name Shafiullah, and intelligence reports link the 21-year-old to several attacks on military vehicles along Route Georgia.
Suspicion of Shafiullah deepened when soldiers examined his cell phone — he had slipped it into the boy's pocket as they pulled up to the checkpoint — and found photos of Quari Hedron, a midlevel Taliban leader in the area. There were also shots of a known insurgent, killed by U.S. forces a few weeks earlier, lying in a casket with a flower wreath around his head.
As the interrogation continued, Shafiullah wilted and admitted to firing the RPG. The confession brought a small degree of closure for Emmons' Army brethren.
"A lot of what we're trying to do here in Afghanistan, you don't always see the tangible results," Boerl said. "So when you're able to say, 'Hey, we got that guy,' and avenge a fallen comrade, it feels very good."
*****
Speaking of cell phone photos: Anyone in Afghanistan who would prefer to avoid being mistaken for an enemy combatant will want to think twice about buying a phone from one particular shop in Baraki Rajan, a village near Baraki Barak.
The store's owners have been known to sell phones preloaded with Taliban propaganda photos. Unwitting customers may be less than thrilled to find pictures of the Islamic militia's local leaders and supporters, some of them brandishing weapons.
"We go to the shop every so often because we think they have ties to insurgents," said Boerl, a specialist in information operations. "They say they don't, of course."
*****
An open market dominates Baraki Rajan's central district, with hundreds of small shops lining the village's main thoroughfare and adjoining alleyways. On a recent weekday, 1st Lt. Patrick McGrath and his platoon patrolled the bazaar, talking with merchants and buying Popsicles to stay cool in the afternoon heat.
As the soldiers moved along, a frowning teenager accosted McGrath. Perhaps 16 years old and speaking relatively fluent English, he demanded to know why non-Muslims were in his country.
"We're here because we want to help provide security in Afghanistan," said the 25-year-old McGrath, of Lexington, Ky., in a genial tone. The teen was unappeased.
"We don't want the American people here," he said. "You are not Muslim. We don't need you to help with anything."
"Is it OK that I'm not Muslim but I want to help?" McGrath said.
"You don't help," the teen replied. He then asked if "bad things" had happened to Muslims as a result of the U.S. military presence in Afghanistan.
"It's a war," McGrath said, his tone still even. "Yes, sometimes, bad things do happen. But —"
Before he could finish, the teen pushed past the lieutenant and headed down an alley. McGrath smiled in a what-can-you-do? way. "First time that's ever happened," he said.