Reporter's Notebook: Learning patience in eastern Afghanistan
by
Martin Kuz
June 3, 2011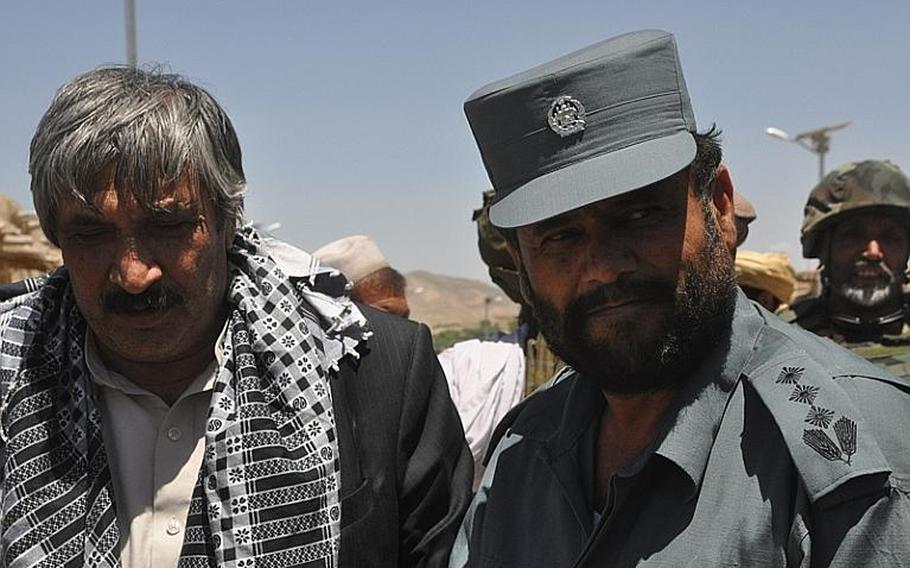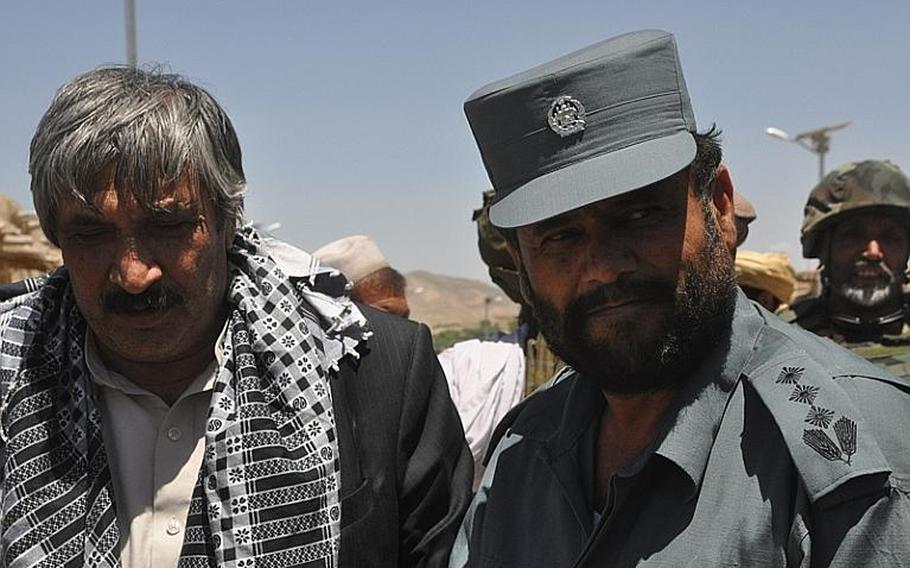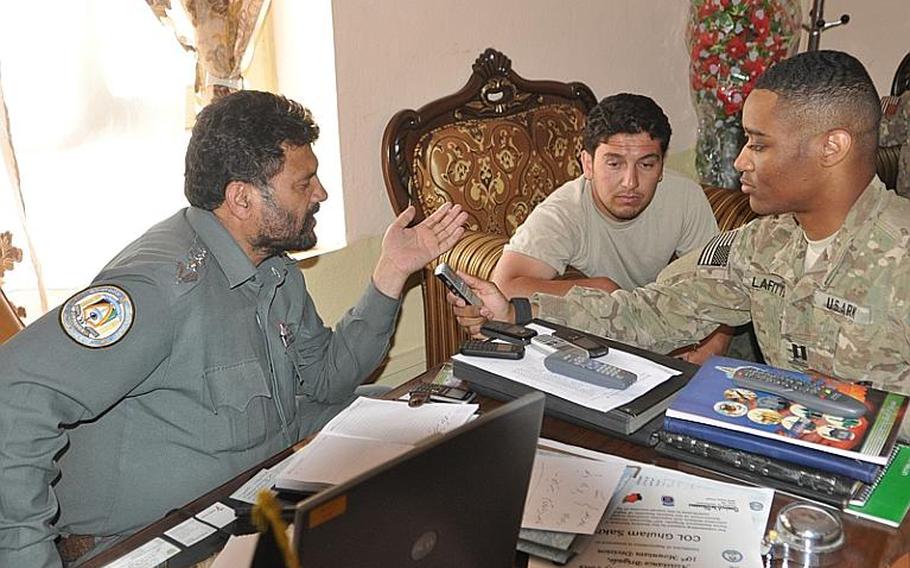 PUL-I-ALAM, Afghanistan — A television in the corner showed Jack Bauer doing his sweaty best to save the world on "24." A dozen people, including U.S. military officers and civilian employees, occupied overstuffed chairs and love seats along the walls.
Most ignored the screen so they could talk with Ghulam Sakhi, the police chief of Logar province, in his Pul-i-Alam office. One problem: It appeared Sakhi was ignoring them.
He hadn't forgotten the meeting on Monday to discuss plans for building a new police station in southern Logar. In fact, he was there, moored behind a dark-wood desk covered by a Dell laptop and stacks of papers, folders and books.
But showing the type of excess that could make him an honorary Kardashian, Sakhi owns five cell phones, and one had chirped moments earlier. He took the call, and with his voice drowning out the TV, his guests were left to nibble on the assortment of nuts and raisins the chief's staff had laid out.
Bauer, for his part, continued to furrow his brow with white-hot intensity.
The pattern repeated throughout the morning, pushing what could have been a 30-minute exchange past the hour mark — and thus providing a glimpse of the stop-start, tolerance-testing nature of diplomacy in Afghanistan.
Those uninitiated in such matters might have found the disruptions maddening; no doubt Bauer would have started waterboarding Sakhi's phones.
Lt. Col. Mark Nadig and the rest of the group, meanwhile, looked utterly unperturbed. "That's Afghanistan," said Nadig, deputy commander of the 4th Brigade Combat Team of the 10th Mountain Division, after the meeting.
"Their customs aren't the same here as in the West. You have to have patience."
No kidding. Still, say this much for the voluble Sakhi, who, minus a bit of facial hair and a few pounds of paunch, could pass for Omar Hassan, president of the fictional Islamic Republic of Kamistan on "24": He never lost his place in the conversation.
Without fail, after each call ended, he resumed his train of thought, at one point requesting the construction of blast walls around the new police station to provide fortification against mortars.
Following the discussion, Sakhi invited everyone into a nearby room for a large lunch of flat bread, rice, beef kabobs and yogurt soup. He didn't bring his phones.
-----------
Sakhi's office in Pul-i-Alam, Logar's provincial capital, lies within two miles of the well-guarded compound of Atiqullah Lodin, the provincial governor.
I visited Lodin there on Monday, less than 48 hours after six people were killed by a suicide bomber who infiltrated a meeting held by Takhar's provincial governor at his … well-guarded compound.
Despite that attack, and recent suicide bombings at a Kabul military hospital and the police headquarters in Kandahar, Lodin insisted he's unconcerned about his safety.
"I was a general with 20,000 soldiers fighting against the Taliban in 2001," he said. "I'm not afraid of anything."
But Lodin, who pegs his age at "about 57," realizes his countrymen feel less secure, fearful of an insurgency that has killed far more civilians than coalition officers and soldiers.
"Unfortunately, there is no address for our enemy," he said. "The enemy isn't a nation. It is suicide bombers and people shooting rocket-propelled grenades. So who do we go after, who do we kill?"
-----------
Mortars pose an obvious threat to soldiers. But plain old mortar? That's a danger only to the troops at Combat Outpost Charkh in southern Logar.
Or, more specifically, too little mortar, which, along with a few other construction flaws, was blamed for the collapse of a new chow hall on base in late May. The previous one had been damaged earlier in the month by — what else? — a mortar.
The good news: No one was inside the building when it fell. The debris has since been cleared, and there are plans to build a larger MWR facility and gym on the site.
Some members of the 4th Brigade Combat Team, 10th Mountain Division stationed at the outpost might keep clear of the new structure after it's completed.
"Bad things happen on that spot," said Spc. Stephen Judd, who suffered shrapnel injuries from the mortar strike in early May. He smiled. "Maybe we should just leave it empty."