Memorial in Afghanistan stirs soldiers' emotions as they grapple with combat deaths
by
rauchl@estripes.osd.mil Laura Rauch
August 20, 2011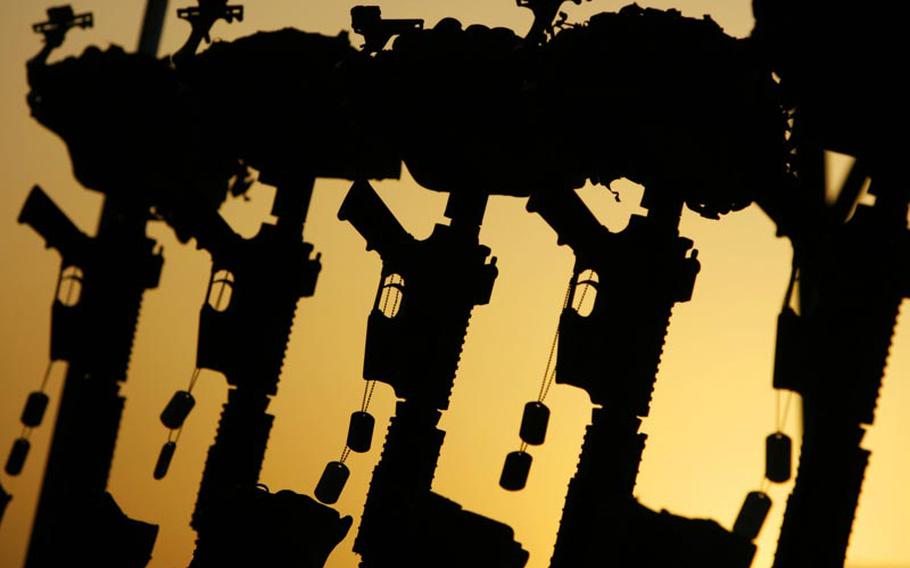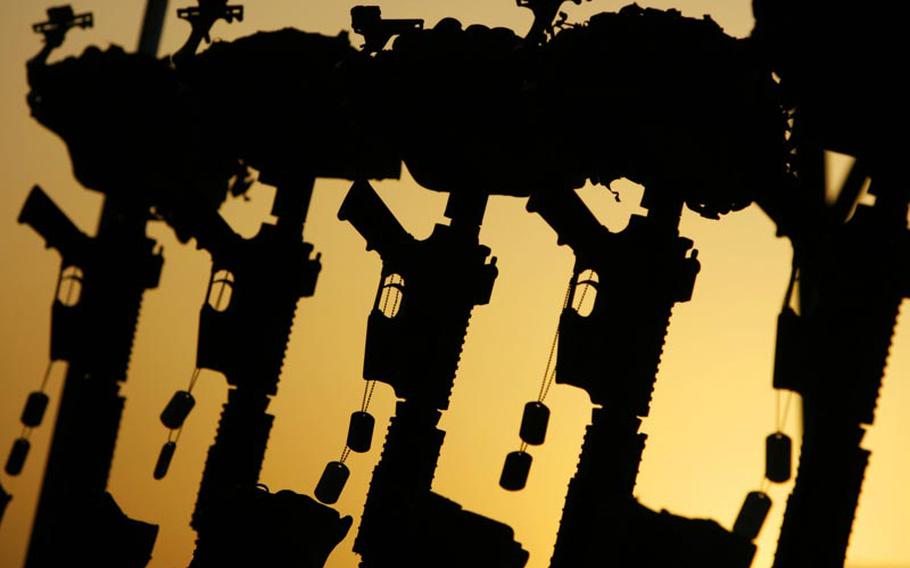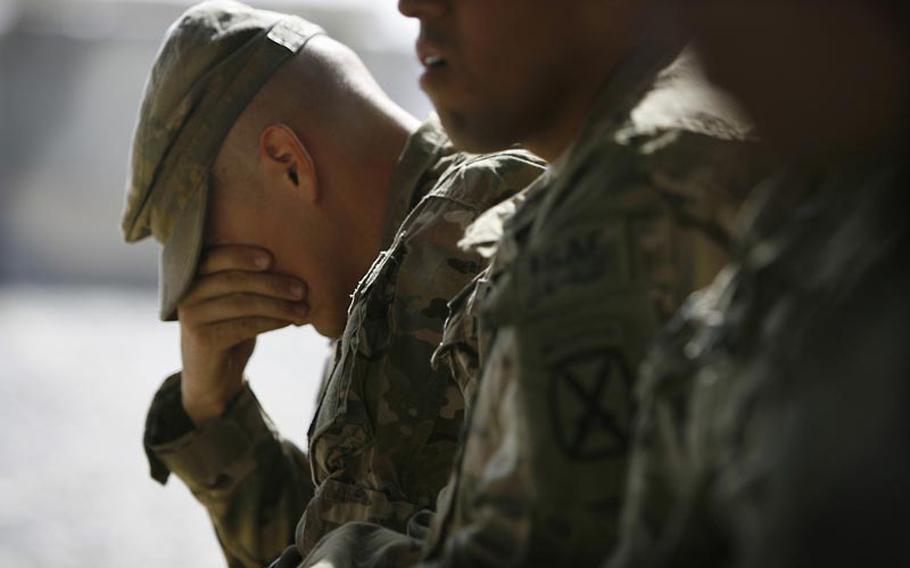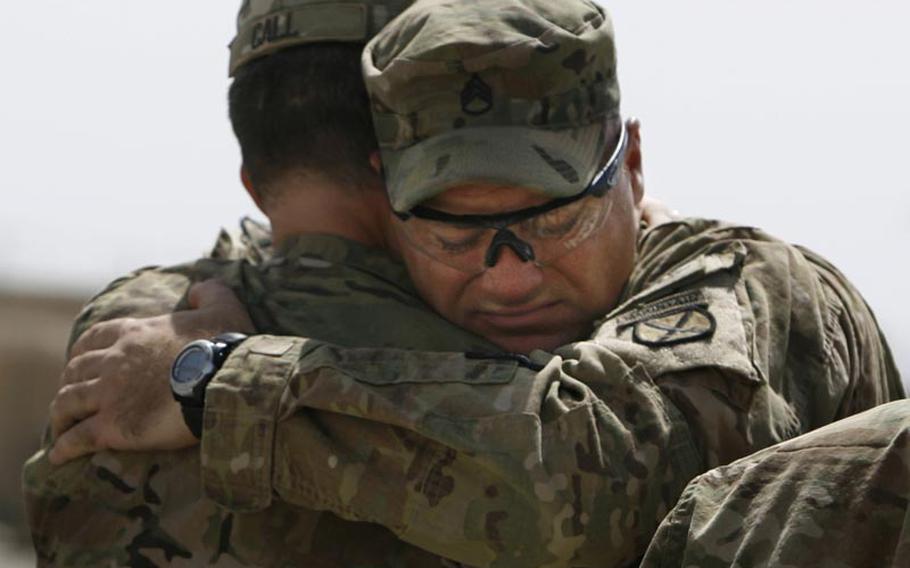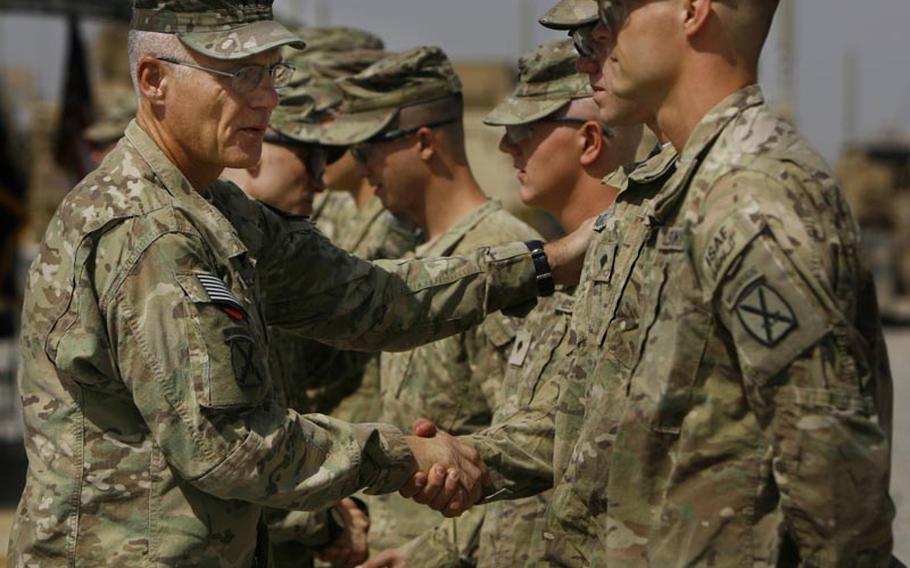 This story has been corrected
FOB HOWZ-E-MADAD, Afghanistan - A muted laughter echoed under the canopy as a small band of Company C soldiers gathered on a wooden platform.
They talked of small things; unimportant things that made them smile.
But as a gentle music began to play, a somber realism took hold: The members of Company C, 1st Battalion, 32nd Regiment, part of the 10th Mountain Division out of Fort Drum, N.Y., were there to remember. They took their seats as the other guests settled in around them. Some bowed their heads in prayer. Others began to quietly weep.
A cruel emptiness filled the space as the battalion chaplain, Capt. Omari Thompson, read the names of the soldiers being remembered: Sgt. Edward J. Frank II, 26, of Yonkers, N.Y.; Spc. Jameel T. Freeman, 26, of Baltimore; Spc. Patrick L. Lay II, 21, of Fletcher, N.C.; Spc. Jordan M. Morris, 23, of Stillwater, Okla.; and Pfc. Rueben J. Lopez, 27, of Williams, Calif.
The five soldiers, all members of 3rd Platoon's 1st Squad, were killed Aug. 11 when their Mine Resistant Ambush Protected All Terrain Vehicle drove over an improvised explosive device near Combat Outpost Nalgham in Kandahar province.
Regional Command-South Commander Maj. Gen. James Terry arrived by Black Hawk helicopter, but there was none of the pomp and circumstance that often accompanies the arrival of a general. He quietly took his seat along with the other guests.
While all of 3rd Platoon was able to attend, most of the company stayed behind in Nalgham, guarding the strong points and fighting positions they have sacrificed so much to hold.
"This is a time of war and in times of war there is killing and dying," said the chaplain. "For one thing that cannot happen effectively during war is grieving because this war will not stop to give us that time.
"So the numbness you experience, the callous attitude you may have, your inability to cry like normal people during times of grief is not a burden or a curse that you should be concerned about. It is actually a blessing from God that allows you to continue in this fight.
"You are warriors with hearts of steel that have allowed you to fight a brutal war day in and day out. You are not normal people, you are soldiers, American soldiers who go outside the wire and accomplish your mission in spite of the reality that every step, every movement mounted or dismounted could possibly be your last."
One by one, soldiers offered a tribute to the friends they lost. Concluding his remarks about Sgt. Frank, the voice of a visibly hurt but composed Pfc. Broderick Booker rose.
"The true test of man," Booker said, "is not whether he can stand the times of comfort and convenience, but rather how he responds to the times of hardship and controversy."
Then Company Commander Capt. Dennis Call spoke of time marked by battles — "campaigns fought and comrades lost" — as opposed to the seasons marked by the young soldiers' civilian counterparts.
After the ceremony, Call spoke of the enormous strain of watching friends stolen in their youth, and the lasting nature of that pain. "This is a healing wound for the remainder of the deployment," Call said, "but it will be one that we'll have to deal with when we get home. The physical pain and scars that guys endure are easier to deal with than the emotional scars,"
CorrectionSgt. Jedidiah Gallina was incorrectly identified in a picture caption in an earlier version of this article.