McCain blasts drawdown plans during visit to Afghanistan
---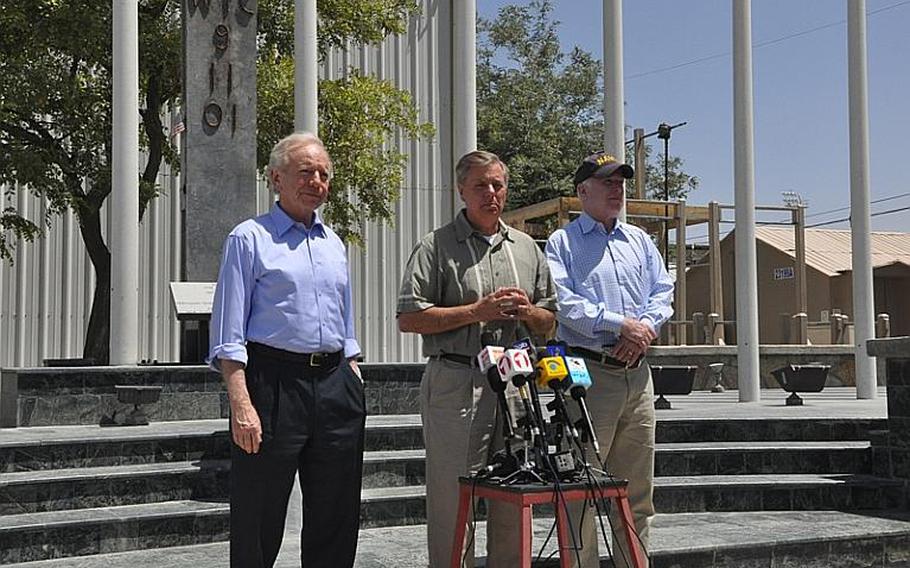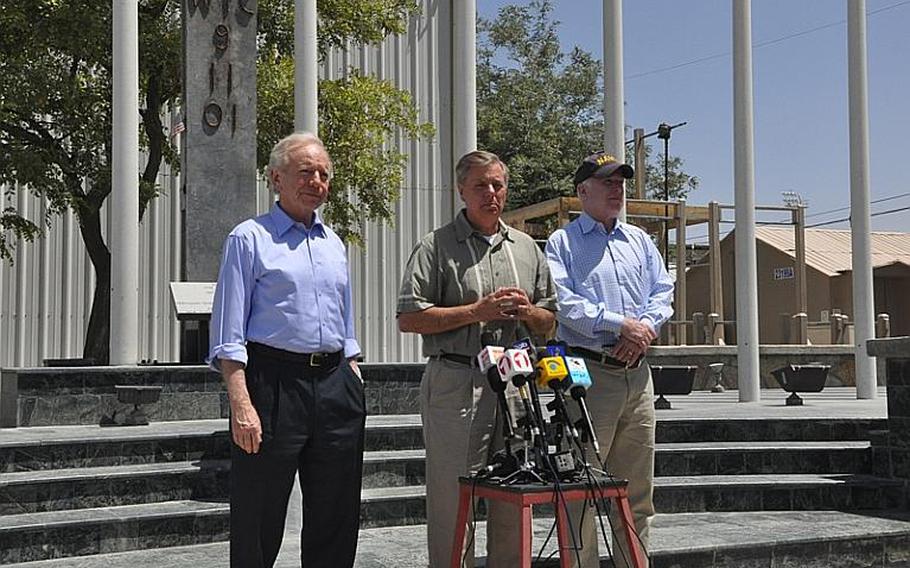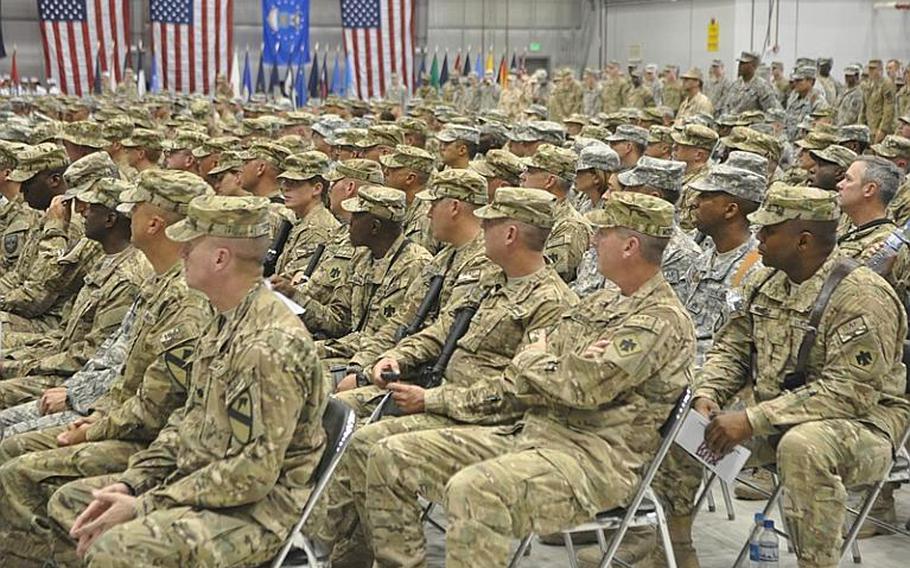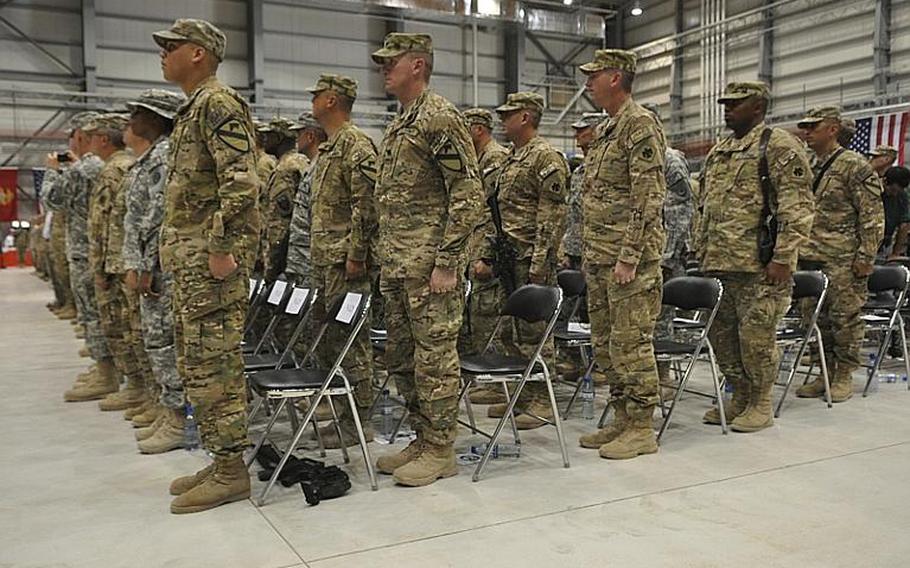 BAGRAM AIRFIELD, Afghanistan — Sen. John McCain used an Independence Day visit here to criticize President Barack Obama's plan to withdraw U.S. troops from Afghanistan starting this summer, calling it "an unnecessary risk" to American forces that will continue the war effort.
"I still hope that we can be successful in our operations, particularly in what we call RC-East," McCain said, referring to the U.S. regional command in eastern Afghanistan. "But the president's decision was made without recommendation from our military commanders, and I believe it poses an unnecessary risk."
McCain, the Arizona Republican who ran for president against Obama in 2008, made the trip to Afghanistan with fellow senators Lindsey Graham, R-S.C., and Joe Lieberman, I-Conn. The three sit on the Senate Armed Services Committee.
Their visit occurred less than a month after Obama's announcement that 33,000 U.S. troops will leave Afghanistan by the end of next summer, with the first 10,000 heading home by Dec. 31. There are a little more than 100,000 U.S. soldiers serving here.
Standing before a memorial commemorating victims of the terrorist attacks of Sept. 11, 2001, the senators asserted that the U.S. should maintain troop levels through the conclusion of next year's "fighting season" in October in an attempt to further weaken the Taliban-led insurgency.
"We try to remind our fellow citizens that the attack of 9/11 began here in Afghanistan," McCain said. "And it's not in our national-security interests to see Afghanistan return to a base [for launching] attacks on America and its allies."
Graham emphasized that even with the impending troop withdrawal the U.S. would maintain a strong, long-term presence in Afghanistan.
"To the people of America, helping those who will fight the enemy in their own backyard is more labor-intensive, it costs more and it's deadlier, but the payoff is enormous," said Graham, a colonel in the Air Force Reserve. "My goal is that when we leave one day, that we'll have an enduring relationship as far as the eye can see, [but] we never have to come back to this country except as guests."
Lieberman invoked the Soviet army's decadelong campaign that ended in 1989 to make a similar point. "We learned our lesson the last time we came to protect Afghan independence — in that case from the Soviet Union," he said. "We left too soon, and both the Afghan and American people paid for it. We're not going to make that mistake again."
The senators, who had met with Afghan President Hamid Karzai a day earlier, spoke before attending a re-enlistment ceremony Monday that was led by Gen. David Petraeus, the outgoing commander for U.S. and NATO forces in Afghanistan.
Addressing the 235 servicemembers taking part in the ceremony, Petraeus praised them for contributing to significant progress in repelling the insurgency and for their willingness to re-enlist. "What you have chosen [to do] is extraordinary, and America can never thank you enough," he said.
Following the event, Petraeus, confirmed last week by the Senate to succeed Leon Panetta as head of the Central Intelligence Agency, offered no criticism of Obama's troop withdrawal plan.
"My reaction is that I support it wholeheartedly," said Petraeus, who recommended a smaller, slower reduction in forces. "Once the president has made a decision, we salute and we do everything humanly possible to carry it out."
Earlier in the day, McCain had voiced concern about ongoing upheaval in eastern Afghanistan, where recent insurgent strikes include the bombing of a hospital in Logar province, an attack that left more than two dozen dead.
But Petraeus dismissed speculation that the U.S. would flood the region with troops.
"We've never intended to move brigades or large ground forces to the east — I think that's a misperception ..." he said, but added there likely would be an increase in "enablers" — air power and special operations forces — sent to the region.
kuzm@estripes.osd.milTwitter: @martinkuz
---
---
---
---