Foe to friend? GIs leery about working with Taliban defectors who wanted them dead
by
Matt Millham
April 15, 2012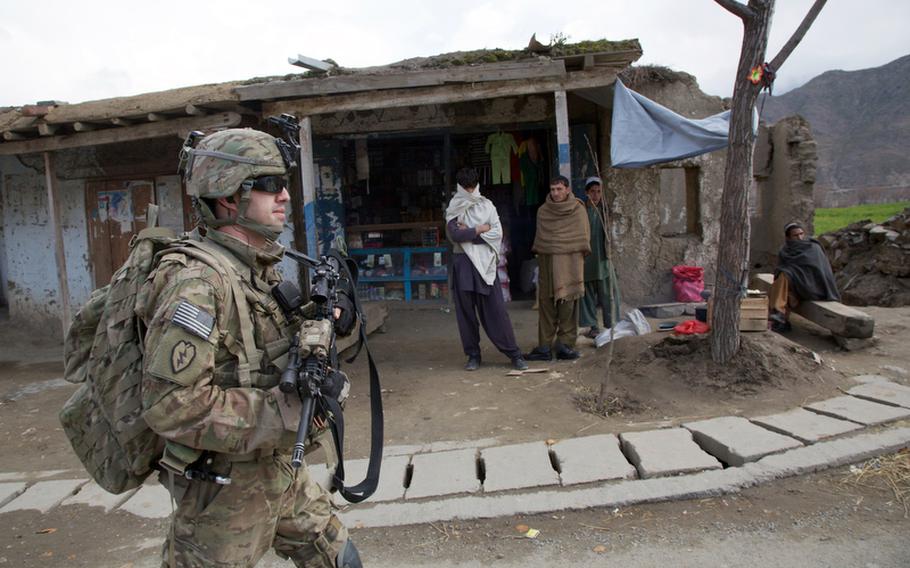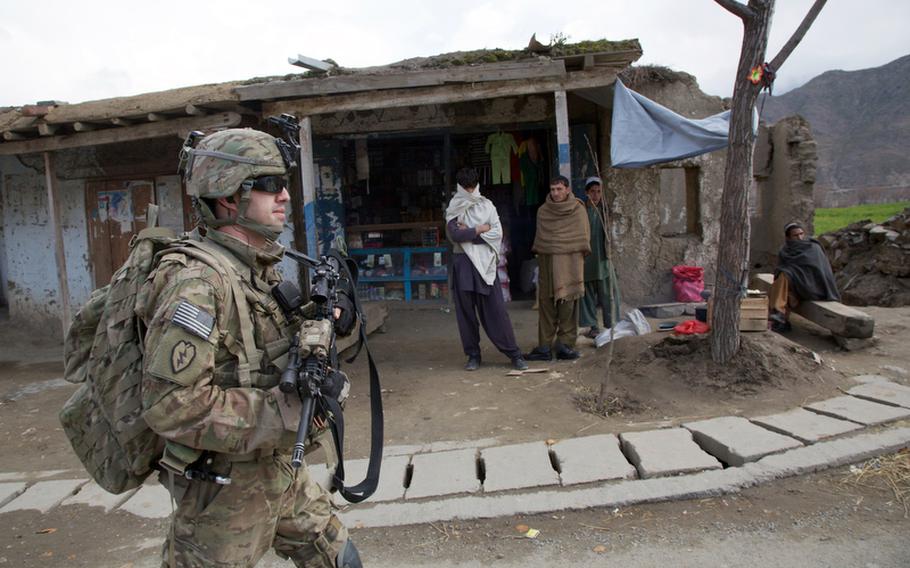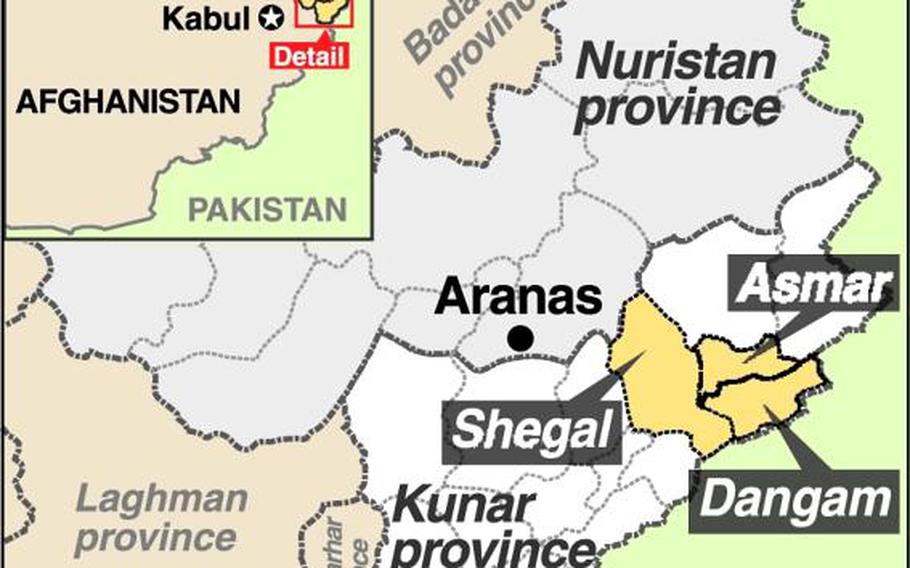 COMBAT OUTPOST MONTI, Afghanistan — It's widely assumed by the soldiers of Company B, 2nd Battalion, 27th Infantry Regiment, that Massoud killed two of their buddies.
But Capt. Michael Kolton, 29, the company's commander, won't ask the former insurgent leader about it.
"I don't want to know the answer."
Less than a week after a roadside bomb killed two of Kolton's men in July, Massoud showed up at his austere mountain base after dark and sat down for tea. The clandestine encounter, one of many Kolton says he had with militants in northern Kunar, set the ball rolling for Massoud's defection from the insurgency — along with 100 of his fighters — in February.
At first, the decision to look past Massoud's presumed transgressions and pave the way for his reconciliation with the Afghan government didn't go over well with the company's men.
"That's a hard thing for an individual soldier to forgive," said 1st Lt. Andrew Ferrara, 23, a platoon leader from Torrance, Calif., who has no doubts about the blood on Massoud's hands. "But that's what reconciliation is."
"You just sit back and realize that, hey, that guy could kill a whole lot more of our dudes, but now he wants to be on the side that he sees progress being made."
Amid firefights in the zigzag valleys and dizzying peaks of the Hindu Kush, Company B over the last year undertook a campaign of reconciliation to drain the local insurgency of personnel and render villages inhospitable to Pakistani militants crossing the border.
Those efforts, which can mean a free pass for fighters who killed or wounded U.S. troops, did almost as much to degrade the insurgency in this stretch of Kunar as did bombs and bullets, according to Kolton, whose unit redeployed from Kunar province two weeks ago.
While his company killed at least 300 fighters in last year's fighting season — mostly foreign militants who trekked over high, rocky passes from nearby Pakistan — it also brokered peace between scores of local militants and the Afghan government.
Along with the local fighters came their villages, former insurgent havens used to stage attacks and harbor foreign fighters.
Those developments have brought some peace of mind to Ferrara, whose feelings about the success or failure of the U.S. campaign here are deeply personal.
"One of my siblings was killed 10 miles from here. Literally 10 miles that way," he said, pointing over the snow-covered ridge looming over Monti to the west.
"I'm not angry about it. But it would make me angry to see no progress, to make me think that he died in vain."
Ferrara was a sophomore at West Point when his brother Matthew, also a first lieutenant, was killed in Aranas in neighboring Nuristan province in November 2007. Many believe Matthew was targeted in retaliation for his actions days earlier, when his platoon repelled a swarm of insurgents attacking their outpost, then tracked down their leader and killed him.
Ferrara admits he once harbored fantasies of finding the men who killed his brother, bringing the cycle of vengeance around another turn.
"But as I matured at the academy and understand a little bit more about the war, I understood that that's not a rational way to think, nor is it even an appropriate way."
Instead, he used his brother's death as a tool. If he suspected that militants were in a meeting, he went out of his way to mention it, he said, because many fight out of a sense of vengeance for the deaths of family members.
So he told them: "You guys have families, and you're upset when people get killed in your family. I'm upset also, but I'm here to continue to help."
Not everyone bought into that logic.
U.S. Special Forces and Afghan commandos raided the Dab Valley, a stony notch a few miles north of Combat Outpost Monti, in 2007, killing the entire family of one insurgent leader and most of another's, Kolton said.
Five years later, their hatred for Americans and the Afghan government still boils.
"How do you reconcile someone that has a personal hatred against everything that you stand for?"
He doesn't have the answer.
But his success with Massoud, and with two senior militants in Jalala, a former insurgent stronghold now home to an Afghan army outpost, makes him believe it's possible, and he continued reaching out to militants in the Dab until he left.
He admits, though, that his clandestine talks with insurgent leaders, usually done without Afghan forces or their government knowing, are not the only reason fighters in northern Kunar engaged in talks.
Four months before militants in Jalala began to turn, Company B took a nearby mountain in a violent assault that left as many as 200 insurgents dead. Local and out-of-area fighters used the mountaintop, now occupied by Afghan army forces, to command and control attacks up and down the Kunar River valley.
Staff Sgt. Anthony Fuentes, a 27-year-old platoon sergeant from Jackson, Calif., said the success of that operation drained support for the insurgency in this stretch of the upper Kunar Valley.
"They operate off of successes, so when they have a big success, it's easy to recruit people," he said. "But if you're constantly losing, it's hard to get good people to come work for you."
However, the flow of fighters continues from Pakistan, which supplies most of the men and materiel to the fight in the region. Despite gains with the local insurgency, heavy fighting is expected to resume here in spring.
"We know that there's significant numbers of Taliban all up and down the Pakistan border in this region," said Sgt. Jeffrey Mitchell, a 29-year-old fire support noncommissioned officer from Arlington, Wash.
"I don't think that we're going to break their numbers, because so long as they've got influence in those small villages, then they're still going to have a pool to draw from for their next group of guys to send out."
But last year's shelling of border villages by Pakistani army artillery created an opening for U.S. forces here to begin tamping down support for the insurgency, Kolton said.
After months of backdoor and public meetings, he called tribal elders from the border — all members of the Mahmund tribe — to talk at his outpost in February.
Two days later, Mahmund elders met Kolton again in private, suggesting they could meet his demand to enroll 150 fighters in the Afghan peace and reintegration program in return for development. That number is roughly half what the Americans suspect the tribe contributes to the insurgency in Kunar's Shegal and Dangam districts.
"The recipe for success here is not that difficult," Kolton said. "It just requires someone that gives a [expletive]."
He acknowledges the emotional toll that recipe can take on U.S. forces who have lost friends in combat, but if those feelings aren't checked, he said, the gunfights won't stop.
"If you're here to kill people that do bad things, then you're going to be sadly disappointed when you realize that there's no end to it."
millhamm@estripes.osd.milTwitter: @mattmillham
---
---
---
---