At Afghan border, Eikenberry praises progress, calls for more assets
by
Jon Rabiroff Seth Robson
November 2, 2010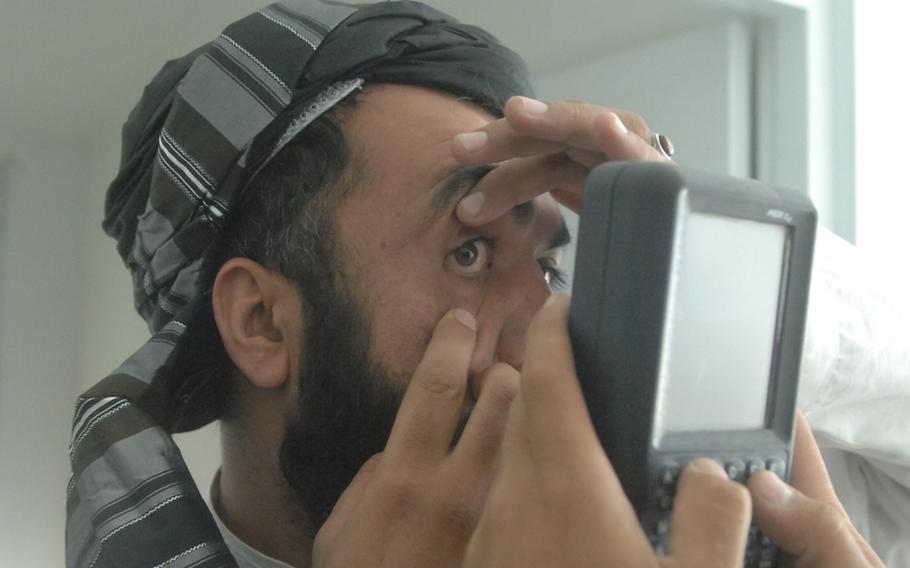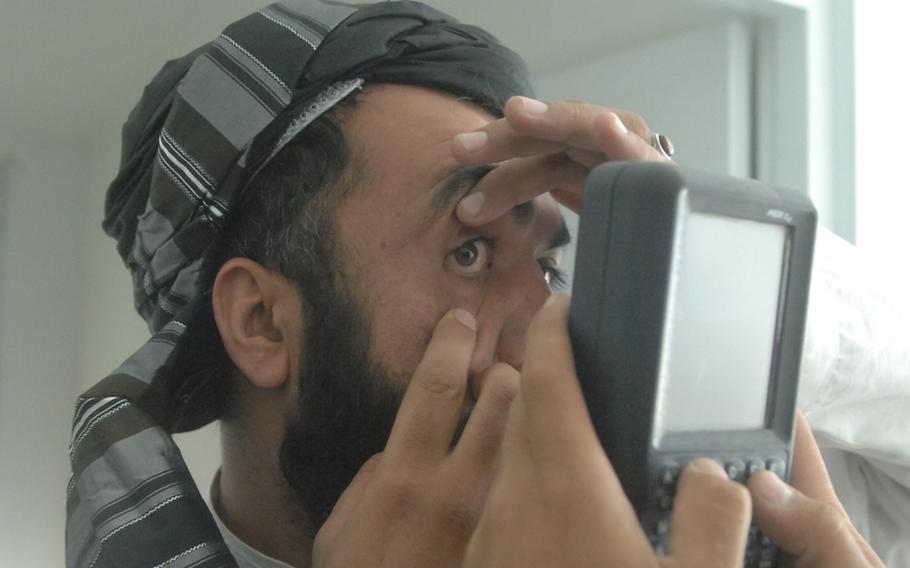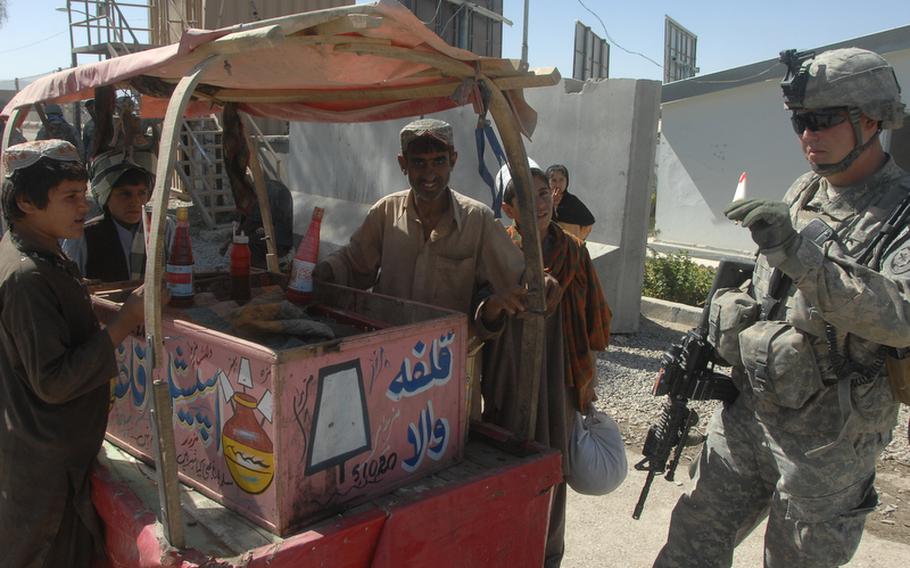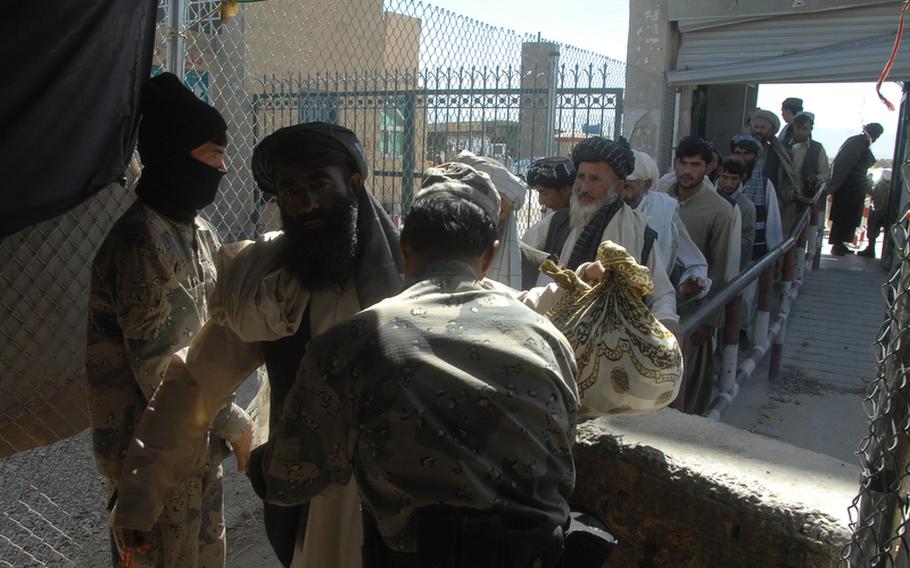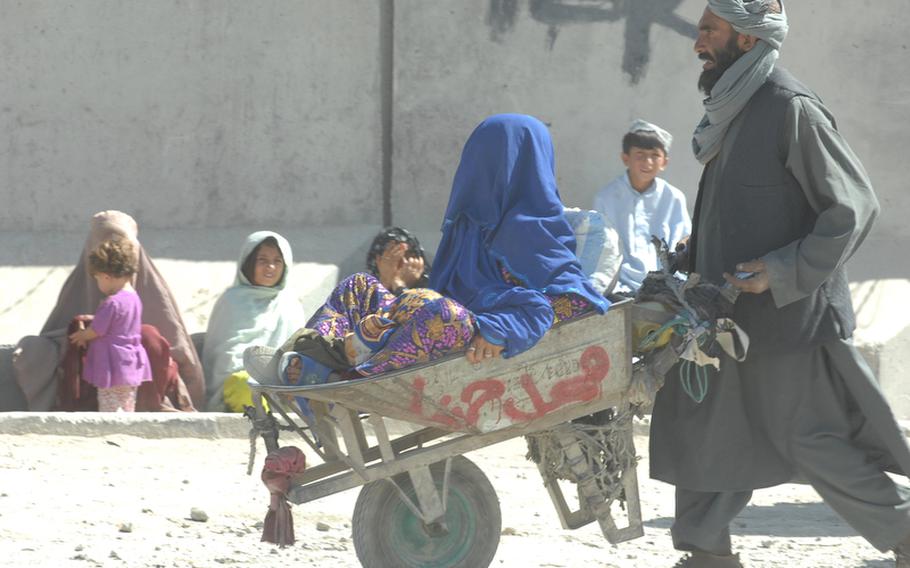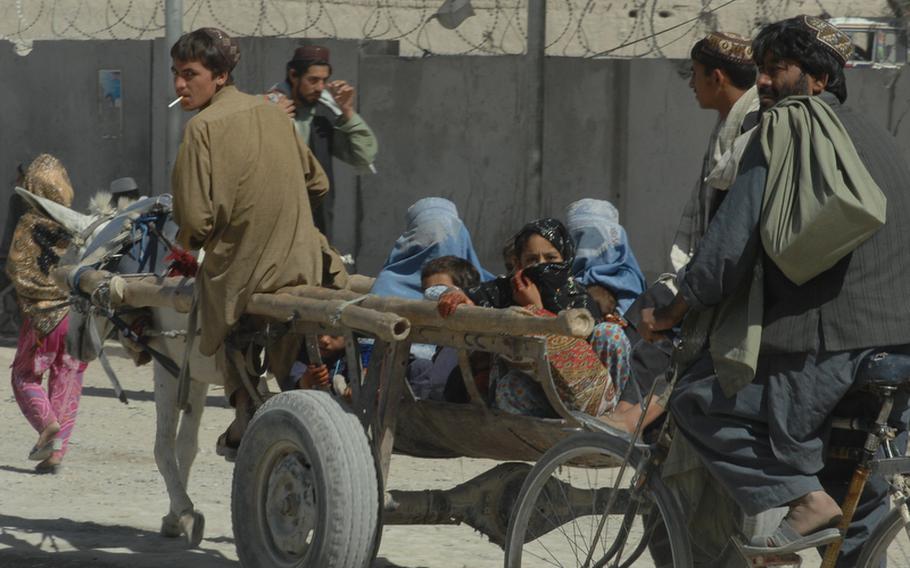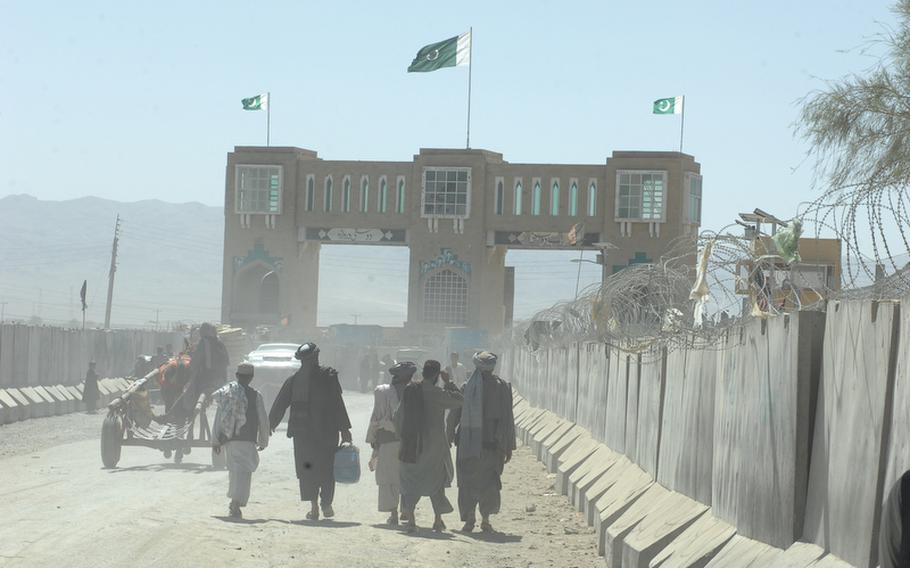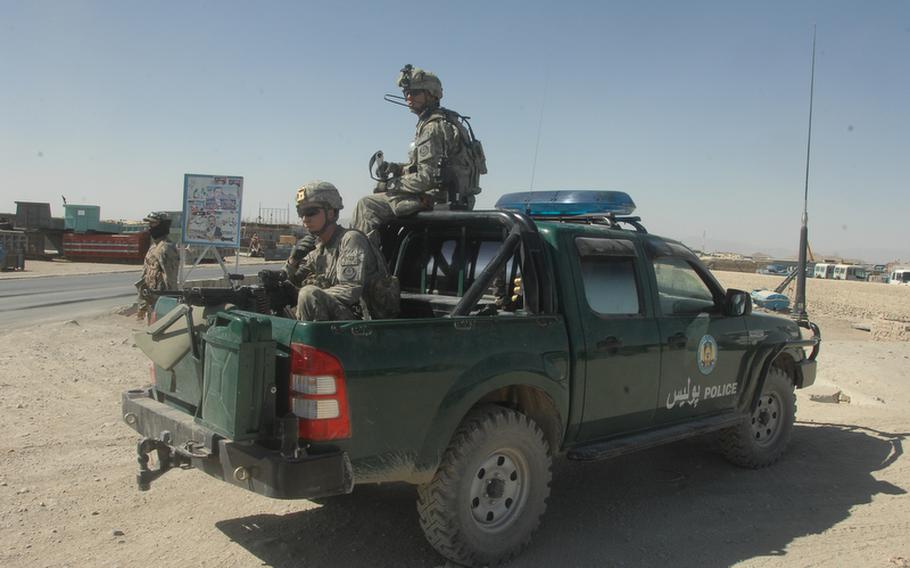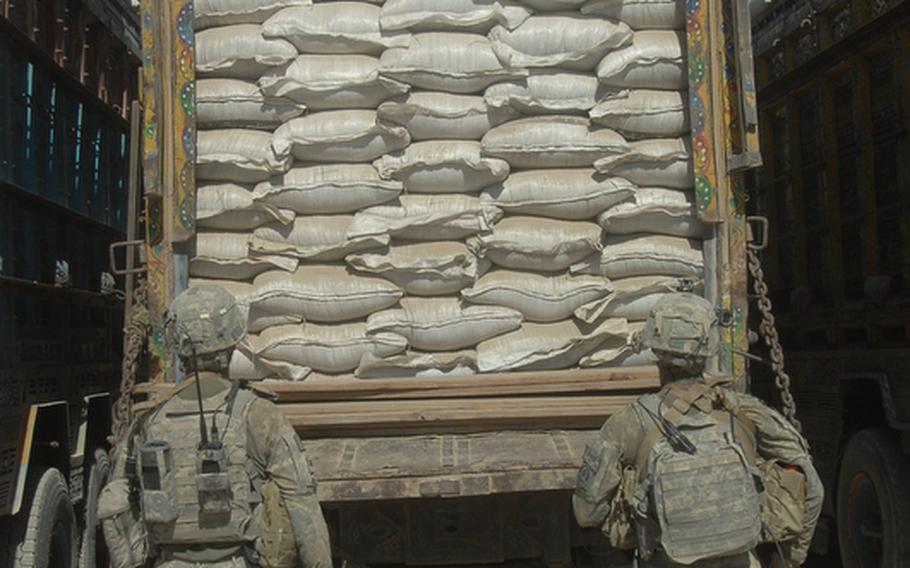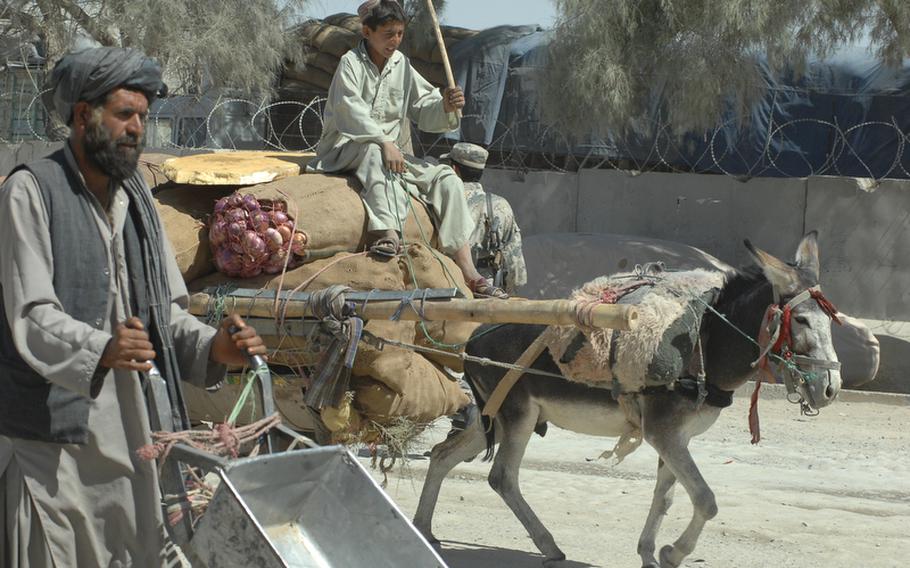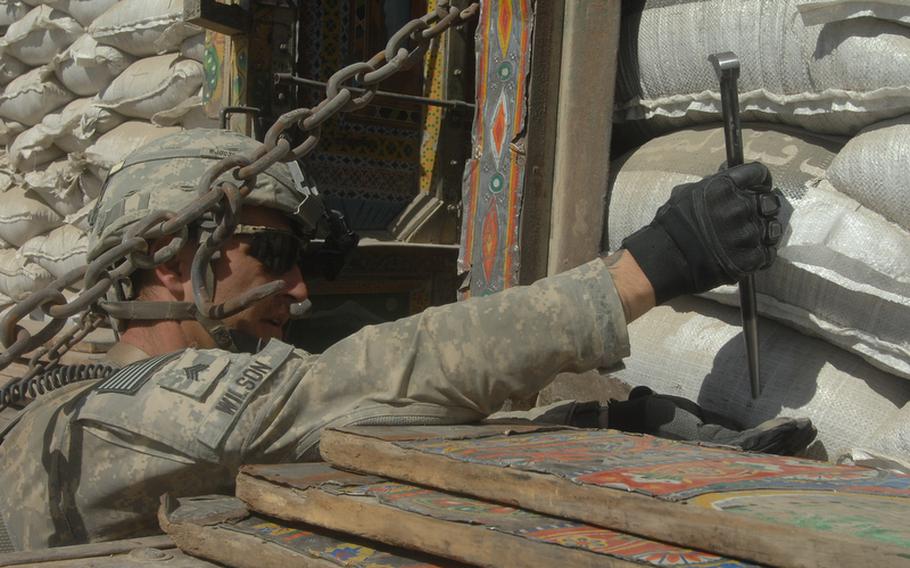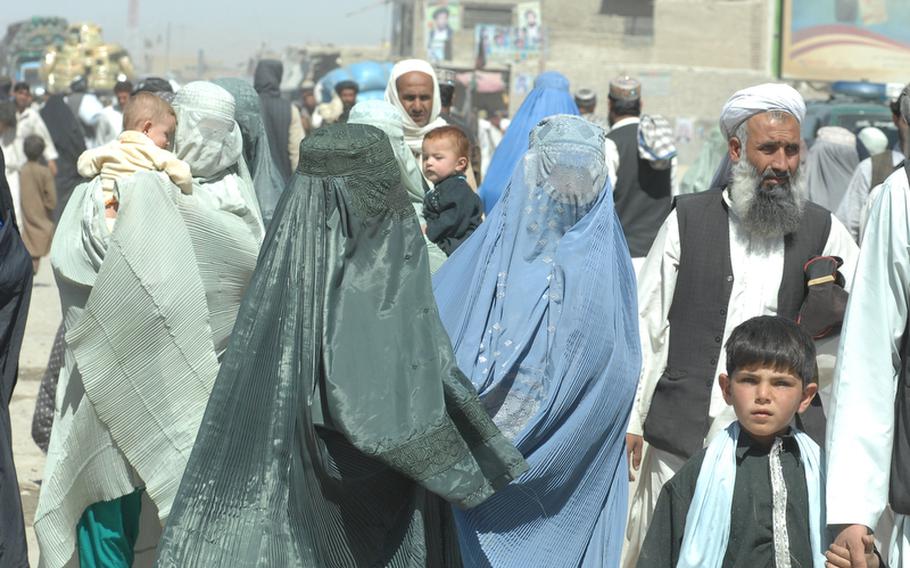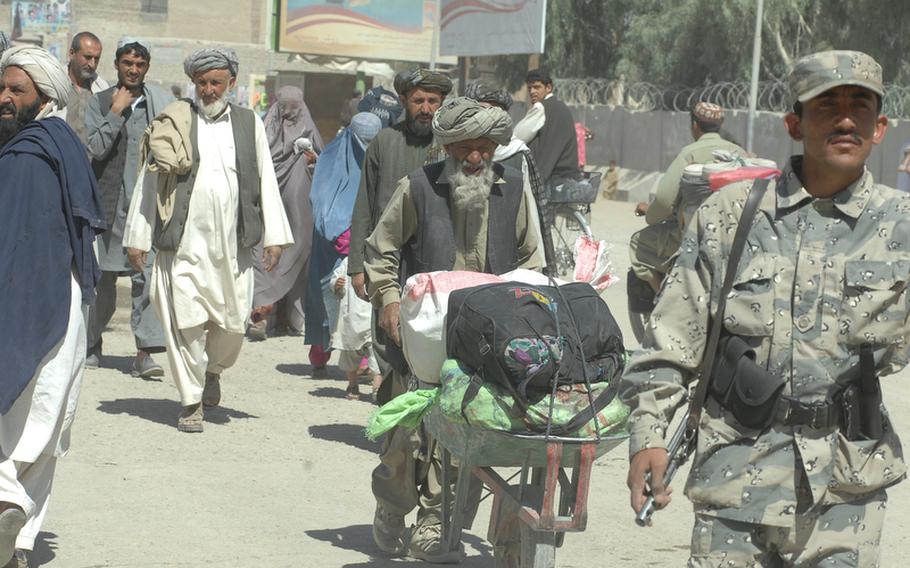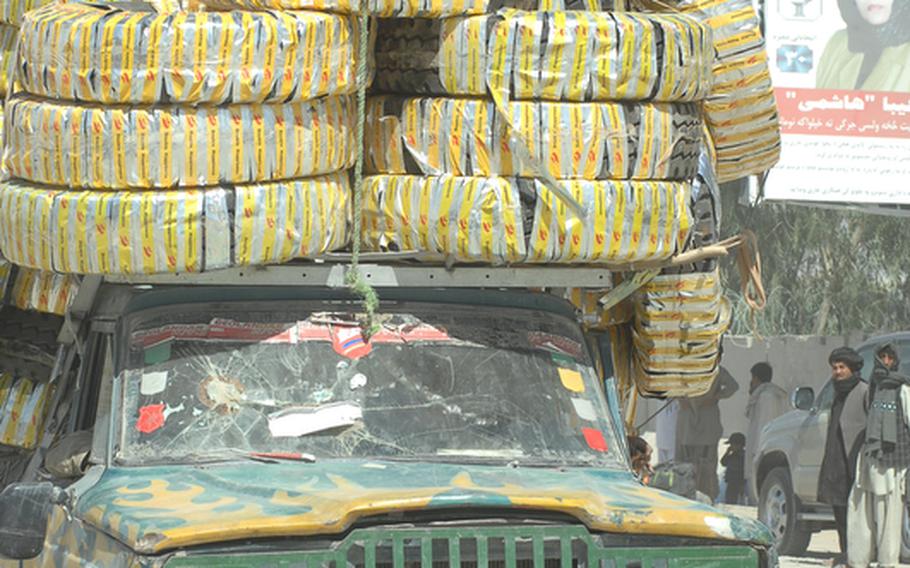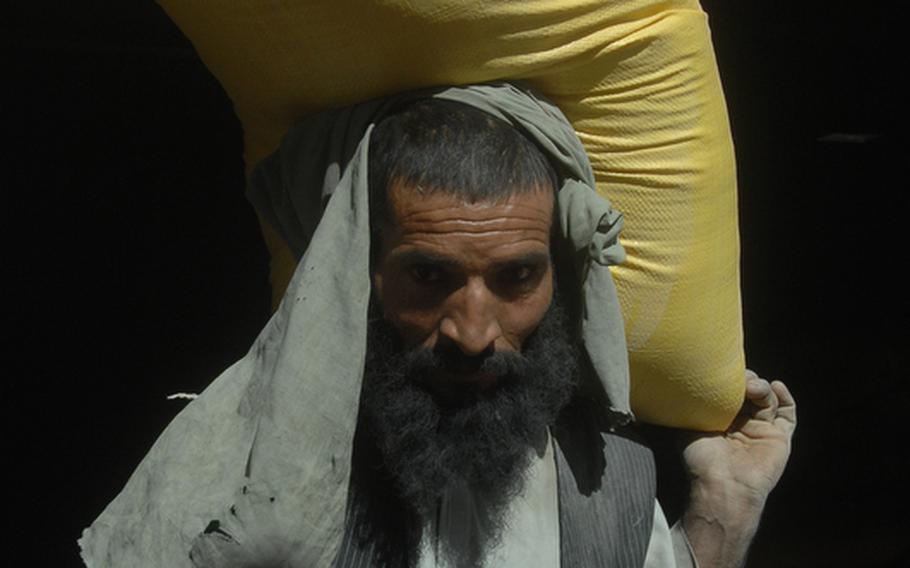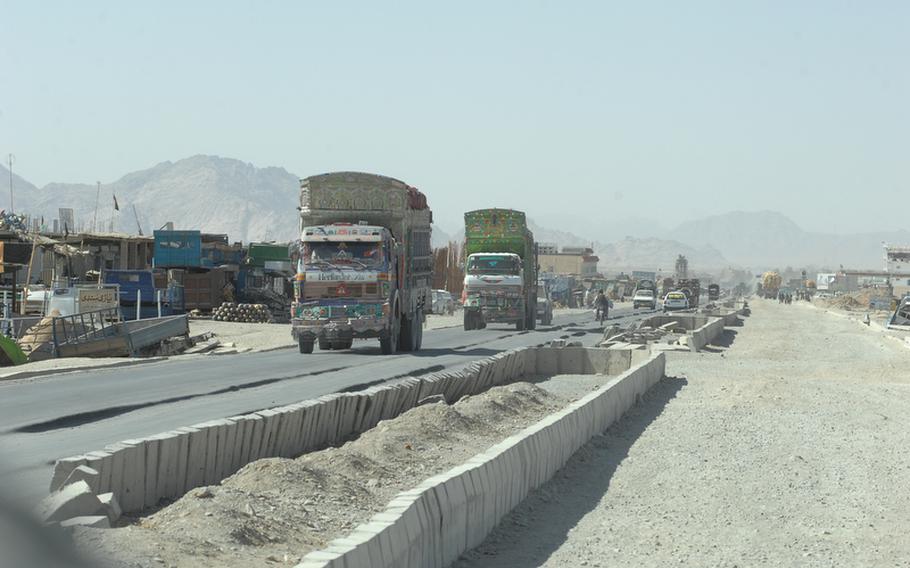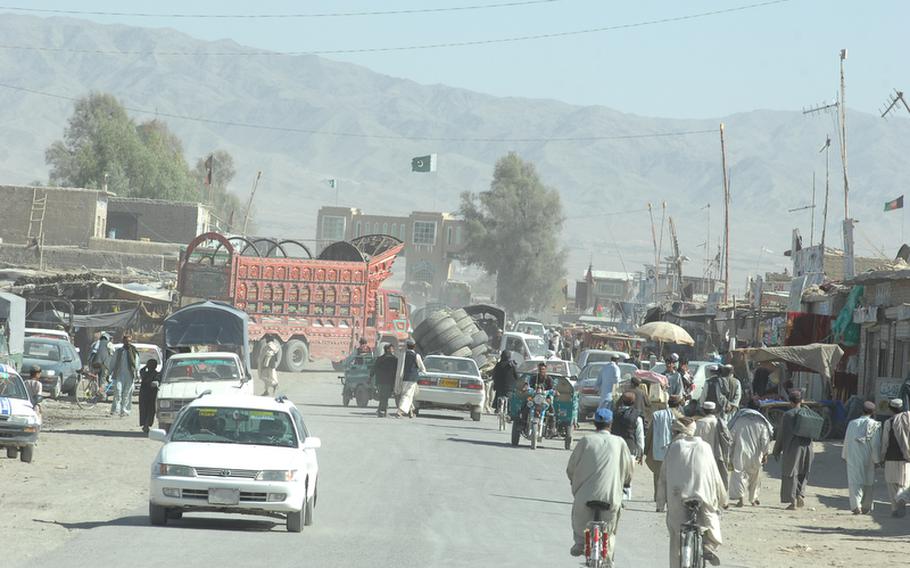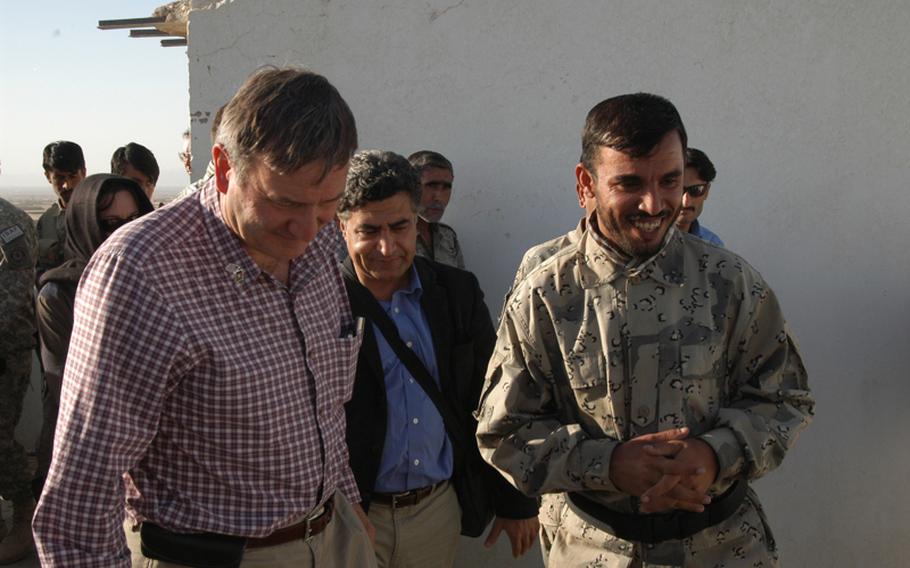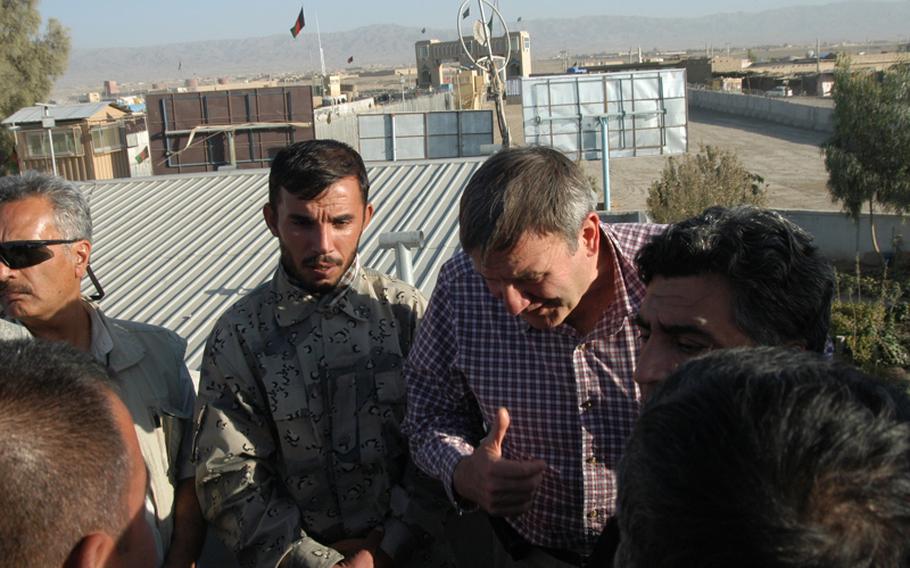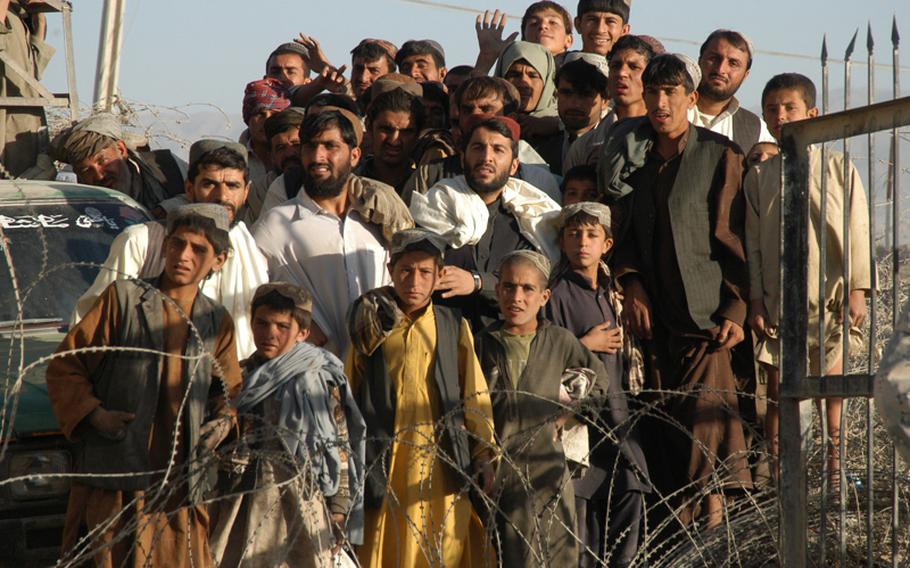 SPIN BOLDAK, Afghanistan — Highlighting the importance of shoring up security at the border, U.S. Ambassador Karl Eikenberry visited a crossing in southern Afghanistan on Monday, stressing positives, but also the need for more cooperation and equipment.
"I talked to the customs chief here and I know he and the minister of finance have talked about a pretty substantial modernization plan, which the United States of America fully supports," he said. "There's so much better security in place [and] improving customs operations, but very frankly the customs chief here needs some help. He needs more modern facilities, some more modern systems."
Nine years into the Afghan war, efforts to monitor the border with Pakistan have met with little success; massive amounts of bomb-making chemicals, drugs, weapons and enemy fighters continue to pour into Afghanistan.
Eikenberry visited Wesh, a town on the road between Kandahar and the Pakistani city of Quetta, one of just two crossings where U.S. forces have any permanent presence. The U.S. also has troops at Torkham Gate in the Khyber Pass, which links Jalalabad and Peshawar in northern Pakistan, according to U.S. Air Force Maj. Michael Johnson, an International Security Assistance Force spokesman.
U.S. soldiers at Wesh say there is so much explosive material flowing across the border that the Taliban must be hauling it in large trucks through the legitimate border crossings.
However, the Afghan Border Police, whose job it is to secure the border, are undermanned and undertrained.
Eikenberry met with Afghan Border Police Col. Abdul Razziq, a charismatic leader who has been profiled by U.S. news organizations as an emerging force in the fight against the Taliban.
The Washington Post recently referred to him as a man "best known for allegations of pocketing millions of dollars in illegal customs dues, who has left the border to lead hundreds of his militiamen into Taliban-held villages that have bedeviled NATO troops for years."
Eikenberry praised Razziq and the agencies involved in border control, noting a "huge change" in security evidenced in "thriving bazaars, people going about their lives, real thriving commerce" along the road to the border.
"It's pretty extraordinary," he said, but added that more needs to be done.
"You need a comprehensive approach … that begins with the frontline support of the Afghan Border Police," Eikenberry said. "You need a strong, coherent customs system … and ultimately you need the help of the neighbor. You need the help of Pakistan."
Eikenberry also chatted briefly with Pakistani officials, who said cooperation has been good on both sides of the border.
Daily traffic across the border at Wesh includes 25,000 to 50,000 pedestrians, 4,000 civilian vehicles, 550 commercial trucks and 80 to 125 ISAF supply trucks.
One platoon of U.S. soldiers — the first real U.S. presence here — works with 130 Afghan Border Police at Wesh to boost security.
From their base, soldiers from Troop D, 4th Squadron, 2nd Stryker Cavalry Regiment, can see the "Friendship Gate" that marks the border with Pakistan.
New scanners enabling border guards to see inside 12 trucks per hour will soon be introduced to boost security. Right now it takes 15 men two to three hours to inspect a single truck, since loads are irregular and not palletized, and it can take between three hours and two days for a truck to clear the border, said troop commander Capt. Matthew Kelley.
Many of the pedestrians who cross the border live in the nearby Pakistani city of Chaman but cross into Afghanistan each day to work in Wesh or Spin Boldak, he said.
"You have one of the lowest unemployment rates in Afghanistan here," Kelley said.
"There is stability and relative security and there are jobs with the trucks coming across. They need repairs and people need a place to stay and food to eat. And Afghan government ministries are actually doing their jobs here, which is different to other places in Afghanistan."
Few of those who cross the border possess travel documents, although there are plans to issue locals ID cards that could substitute for passports, he said.
U.S. and Afghan forces pull people randomly from the crowds crossing at the Friendship Gate and add them to a biometric data base to see if they are connected to the Taliban. The system recently led to the detention of a Taliban leader from Helmand province who tried to sneak across, Kelley said.
Spc. Spencer Marks stood among the crowd at the border and pointed out men he thought should be searched and added to the biometric data base.
"A lot of these kids have a really hard life," he said of children carrying bags of produce back and forth across the border.
Some soldiers think the kids might be carrying ammonium nitrate — a fertilizer that the Taliban uses to build bombs and which is illegal to possess in Afghanistan. The Taliban smuggles tons of ammonium nitrate across the border.
"The thought right now is that ammonium nitrate and other items are coming through this area," Kelley said. "The amount they are seeing in Afghanistan right now, we would think they are getting big trucks across," he said.
On a recent patrol, a half-dozen soldiers jumped into the border police's Ford Ranger pickup trucks and drove into Wesh to search for ammonium nitrate among the acres of warehouses and yards filled with thousands of recently imported second-hand cars.
When they searched a warehouse, the size of their task become apparent: There were tens of thousands of bags of produce, each with the potential to contain enough ammonium nitrate to create a large explosion.
Sgt. Jeff Wilson pulled out a test tube and mixed its contents with some suspicious powder to test for ammonium nitrate but the test came back negative. Later, he poked a metal rod into bags on the back of a truck looking for explosives but found only grain.
The 2nd SCR troops have found traces of ammonium nitrate on ISAF supply trucks crossing the border. That suggests that some ISAF drivers are hauling illicit cargo in addition to their official loads, Kelley added.
The commander of the Afghan Border Police at Wesh, Lt. Sadullah Khan, said his unit guards 608 miles of the border between Shamulzai in Zabul province and the Registan desert spanning Kandahar and Helmand provinces.
"Anybody who wants to can cross easily," said Khan, who has patrolled the border for six years. "Stopping them here won't stop them coming. They will cross elsewhere in the dark of night."
And the long wait for truckers means many try to go around. Each night, up to 100 trucks are detained at illegal border crossing points.They are brought to Wesh to be inspected.
---
---
---
---