Allen: Airstrike kills insurgents who shot down U.S. helicopter
by
Megan McCloskey
August 10, 2011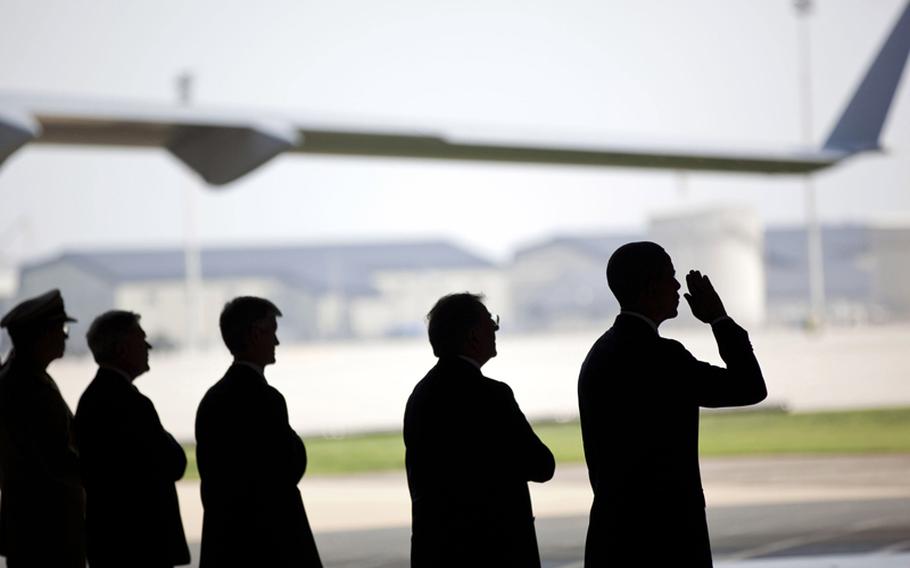 WASHINGTON — An airstrike has killed the insurgents responsible for shooting down a U.S. helicopter in Afghanistan and causing the largest single-day loss of American life in the 10-year-old war, the top commander there said.
Forces tracked the insurgents after the crash, and shortly before midnight on Monday F-16 fighter jets were sent in to take out their location, Marine Gen. John Allen said Wednesday in a video briefing from Kabul.
The insurgents, fewer than 10 in number, were found in the Chak district of Wardak in eastern Afghanistan.
The CH-47 Chinook helicopter downed over the weekend carried a quick-reaction force in pursuit of insurgents who had fled a night raid on a Taliban network in the Tangi Valley, Allen said.
The helicopter took small-arms fire during the chase and crashed after it was struck by a rocket-propelled grenade, he said.
Thirty-eight Americans and Afghans were killed, including 25 U.S. special operations troops, seven Afghan soldiers, a civilian Afghan translator and the five-man Army helicopter crew.
The Taliban leader the forces were after in the original mission is still at large.
"We will remain in pursuit," Allen said.
The airstrike did kill another Taliban leader from that network named Mullah Mohibullah, according to a statement from the International Security Assistance Force. He and the shooter were attempting to escape the country.
An investigation, led by Army Brig. Gen. Jeffrey Colt, deputy commander of the 101st Airborne Division, will soon begin work to confirm the cause of the crash and assess lessons learned. Allen said he is confident that sending in the special operation forces "was the right decision made at that time."
Night raids continue unabated, he said.
As the surge troops withdraw starting at the end of this year, "the role of counterterrorism, and in particular these kind of missions, will become more prominent," Allen said.
Ten thousand U.S. troops are scheduled to pull out at the end of 2011, and 23,000 more will go home by September 2012. Allen said he is evaluating the campaign plan, and in the spring and summer it is likely troops will shift from the southern provinces of Helmand and Kandahar to the east.
Shooting down the helicopter was one of many recent grand-scale attacks, including the assassinations of President Hamid Karzai's half-brother and the governor of Kandahar and the attack on the Intercontinental Hotel in Kabul in June.
Allen dismissed any notion that the Taliban were racking up victories, saying instead it was a product of the surge's success in squeezing the insurgents out of the villages they once dominated.
"It's not uncommon in an insurgency when insurgents are losing ground to resort to spectacular attacks," he said, adding that coalition leaders expect them to target areas where they can "get a high-profile payoff."
mccloskeym@stripes.com@MegMcCloskey