10th Mountain soldiers add job program to win over enemy fighters
---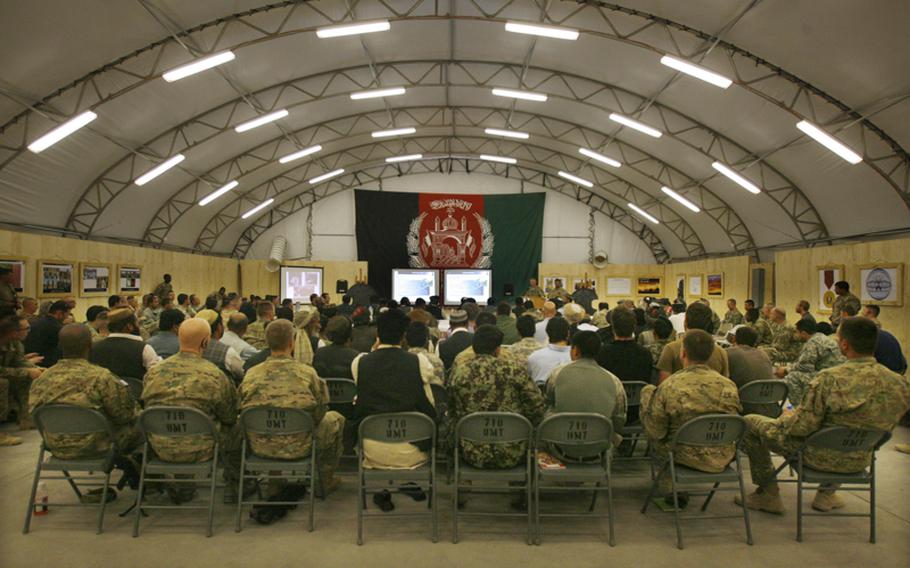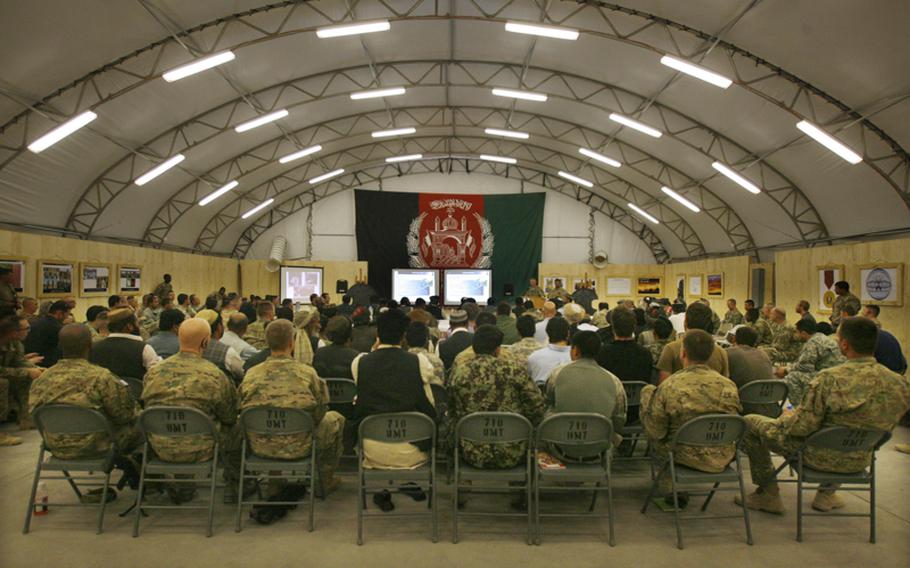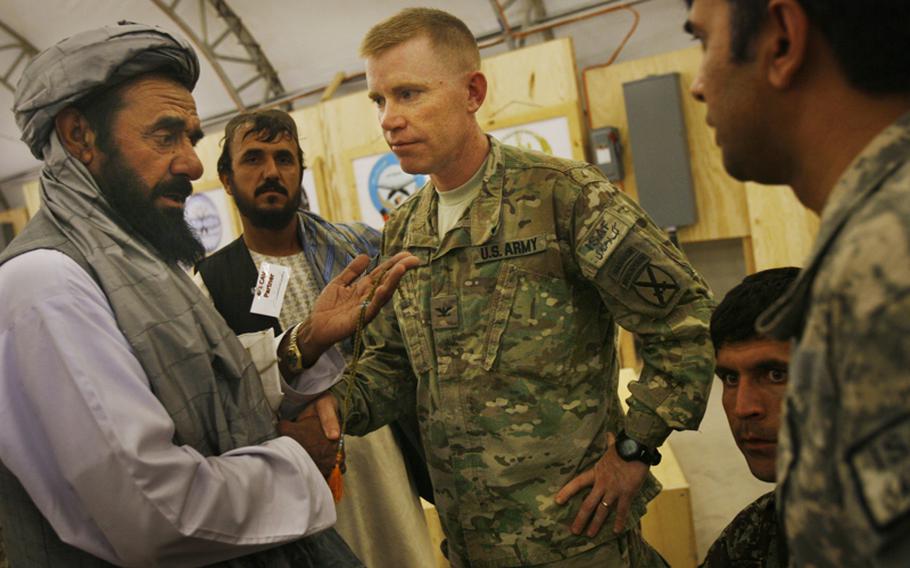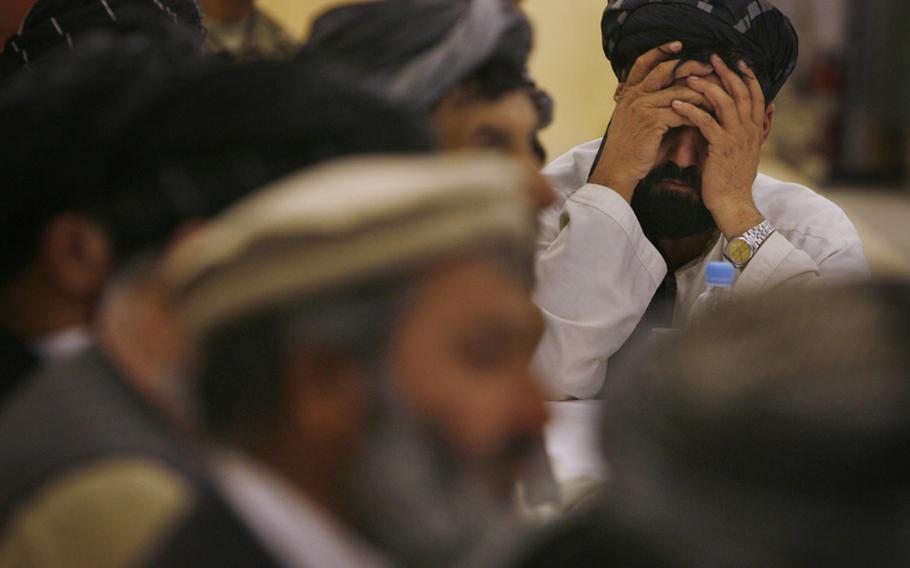 FORWARD OPERATING BASE PASAB, Afghanistan — As the spring fighting rages in Kandahar province, soldiers with 10th Mountain Division's 3rd Brigade Combat Team are hoping to stem the violence by working to reintegrate local Taliban fighters into their villages in the Zhari and Maiwand districts.
The existing reintegration process offers fighters who are willing to leave the Taliban a safe haven and a 90-day stipend. The 10th Mountain is adding a yearlong jobs training program.
"[The Taliban] just have a magnetic aura about them in this area," said 3rd Brigade Commander Col. Patrick Frank. "This is the spiritual heartland of the Taliban. By giving [the local fighter] a job for a year, we hope that pull is erased."
In an effort to energize the process, the brigade hosted a regional shura Thursday at this post, 21 miles west of Kandahar city. They invited district and local leaders to encourage Taliban recruits to give up their criminal activity and return to civil society.
"This is a golden chance for our community. The people need peace," Maiwand District Governor Obaidullah Bawari said at the shura.
Though the structural process of reintegration is in place nationally, implementation has been slow and somewhat fragmented, and its use in the contested south has been minimal.
In December 2009, then-Secretary of Defense Robert Gates outlined the program to the Senate.
"This is really about getting the foot soldiers to decide that they don't want to be a part of the Taliban anymore," Gates said.
Reintegration was formally introduced in July 2010, when Afghan President Hamid Karzai signed a decree making it a national goal. Several months earlier, international donors including Britain, Germany and Japan, had pledged more than $140 million to support the program.
Reintegration has achieved modest success, with some 1,700 insurgents renouncing violence, turning over their weapons and cutting ties to terrorist networks, according to an ISAF web site.
But the program is not without critics. As early as last September, barely two months after Karzai made reintegration policy, an official at the Afghan government's Peace and Reconciliation Commission, which directs efforts to reach out the members of the Taliban, described the program as "almost dead" because, in part, few of the pledged funds had arrived.
Political squabbles over who controlled the reintegration and how money should be distributed also hobbled the program, according to Afghan officials quoted in The New York Times, and reintegration appears least effective in regions that are most violent, such as the east and south.
And, the pace of the program is undeniably slow. The Taliban is estimated to have between 20,000 to 40,000 members. At the rate of reintegration publicized by ISAF — 1,700 fighters over the course of a year — it would take 11 to 23 years to demobilize the bulk of their forces.
But reintegration — along with the reconciliation program, which is aimed at negotiating with upper-level Taliban — remains a key part of U.S. strategy, and the soldiers of 10th Mountain see their training program, which provides former fighters with a sustainable livelihood for a year, as a logical next step.
"Our fear is that, at the end of 90 days, is he still anchored in the community, or his he another unemployed, unskilled, uneducated male?" Frank said.
Once a fighter is deemed eligible by an Afghan-led vetting process, he'll be integrated into the newly formed Civil Service Department where he'll serve in an apprenticeship program, be paid a salary, and earn a certification as a skilled laborer.
The program is under way within the 3rd BCT's Task Force Spartan, where former fighters from Zhari and Maiwand districts are being schooled in masonry and building a mosque.
Though amnesty for low- to mid-level Taliban is an increasingly important piece of U.S. policy in Afghanistan, criticism of practice is seldom lost on the brigade, and soldiers here know there are many Americans who question the idea of working with the Taliban in any way.
But soldiers are quick to note that if a Taliban fighter is working, he's not fighting.
"That's a year he's off the street," Frank said. "With the reintegration program, it allows us tool to break the cycle of violence. And that's what we're attempting to do with our Afghan partners."
Stars and Stripes reporter Neil Shea contributed to this report.
---
---
---
---