US drones make temporary move to Black Sea region
---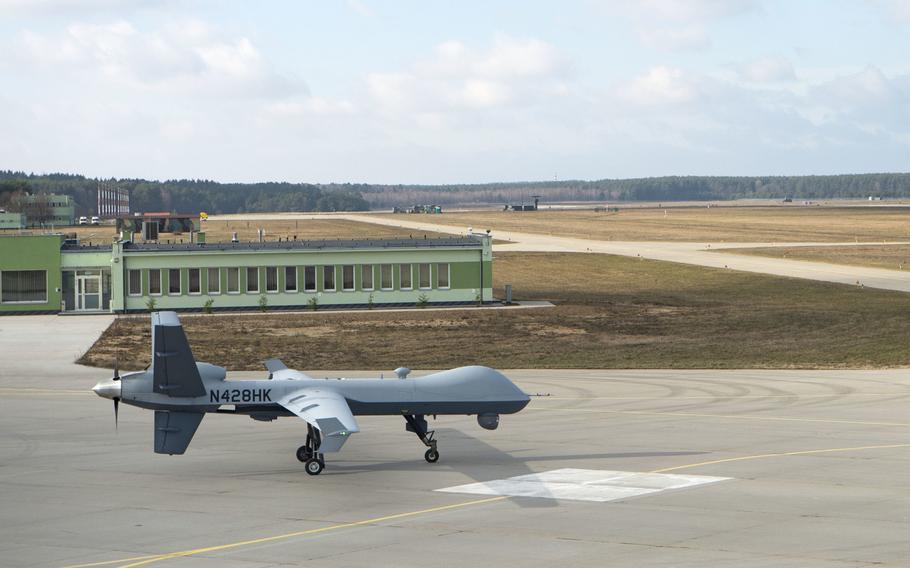 STUTTGART, Germany — Air Force unmanned aircraft are flying out of a temporary camp in Romania, a move that puts intelligence-gathering capabilities closer to the Black Sea as tensions between U.S. partners and Russia continue in the region.
The shift south for a group of MQ-9 Reapers was prompted by construction at their main operating base in northwest Poland, U.S. Air Forces in Europe said. An unspecified number of personnel and support equipment have relocated with the Reapers to Campia Turzii Air Base in the center of Romania, while the runway is worked on at Miroslawiec Air Base, which lies about 100 miles east of the Polish Baltic seaport of Szceczin.
"This temporary relocation is conducted with the full cooperation of our NATO ally, Romania," USAFE said in a July 4 statement.
The Air Force has been operating drones out of Poland since May 2018. The mission is carried out by the 52nd Expeditionary Operations Group Detachment 2, a separated unit assigned to the 52nd Fighter Wing at Spangdahlem Air Base in Germany.
While USAFE hasn't detailed the areas the aircraft patrol, the unit's mission is to conduct intelligence, surveillance and reconnaissance in support of U.S. European Command. When operating out of Poland, that likely meant surveying coastal areas along the Baltic Sea and Poland's border with the Russian military exclave of Kaliningrad.
The Reapers now have taken up temporary residence in Romania, which lies on the Black Sea. In April, NATO agreed to boost its presence near the sea in the hope of improving the alliance's situational awareness.
Tensions in the Black Sea escalated last year when Russia seized three Ukrainian ships, a clash that sparked worries from other Black Sea nations like Romania and Bulgaria.
"The U.S. works closely with Romania and other NATO allies and partners to bolster collective defense capabilities and enhance regional security," USAFE said.
USAFE did not say how long the Reapers would be in Romania.
However, last month, the U.S. and Poland reached a deal to expand the U.S. military mission in that country, including the establishment of a U.S. Air Force MQ-9 reconnaissance squadron in Poland.
vandiver.john@stripes.com Twitter: @john_vandiver
---
---
---
---