Spangdahlem-based airman gets 22 years in abuse death of infant son
by
Nancy Montgomery Seth Robbins
September 19, 2011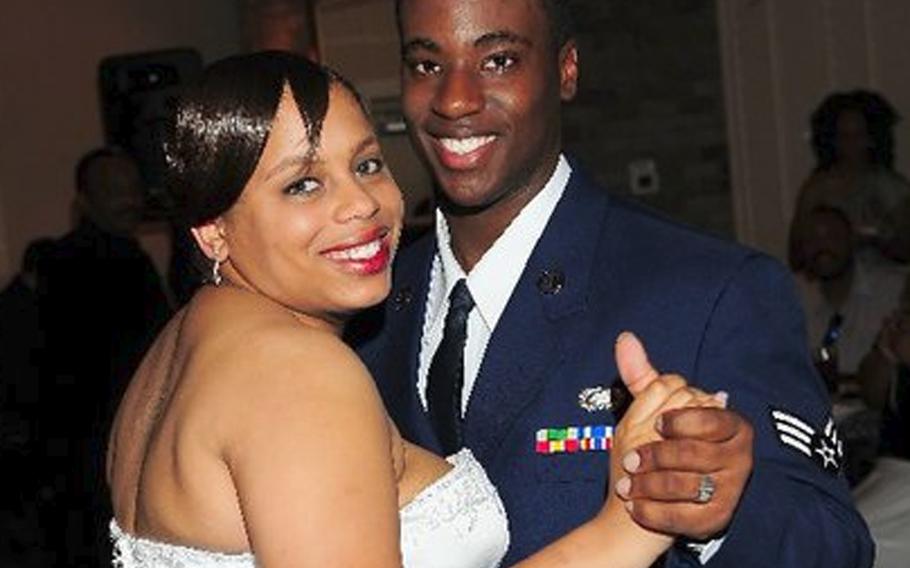 UPDATED SEPT. 19, 1 P.M. EDT
SPANGDAHLEM, Germany — Airman 1st Class Horace Wickware, convicted Monday of the abuse and murder of his 8-month old son, was found guilty Monday and sentenced to 22 years in prison.
The eight-member jury, which deliberated for about 11 hours over the course of three days, also found the 23-year-old airman guilty of involuntary manslaughter, assault, negligent homicide and child endangerment. Besides imprisonment, the jury also ordered that Wickware be dishonorably discharged, forfeit all pay and allowances, and be reduced to the lowest possible pay grade.
He faced a maximum sentence of life without parole for the murder of his son, Cordale. Cordale died Oct. 30, 2010, of a brain injury; he had been in the hospital on life support since Sept. 2. Prosecutors said he had been violently shaken.
Prior to sentencing, prosecutor Capt. Benjamin Beliles told the jury that Wickware "robbed Cordale of his entire life."
Beliles then asked the jurors to think of the seminal moments that Cordale would have experienced had he lived.
"We will never know who he would have become," he said.
During the trial, which began Sept. 8, prosecutors portrayed Wickware as a disengaged father who did not devote much time to his son, even in the final weeks of his life. Doctors and medical experts testified that Cordale had been abused repeatedly, citing a number of injuries, which included broken limbs and a burn.
The jury also heard tearful testimony from Wickware's wife, Jennifer, who is serving a sentence of five years in prison after she was convicted in German court of maltreatment, negligence with lethal consequences and failing to adequately care for Cordale. Prosecutors said she should have protected her son.
She heard the news that her husband had been convicted of murder from a prison social worker, according to her lawyer, Susanne Hardt.
"She will take a deep breath," Hardt said. "She was afraid that he would go free."
On Sept. 12, Jennifer Wickware testified that she had not suspected her husband of hurting her son, but changed her mind after seeing X-rays and other evidence that prosecutors say show the baby had been abused.
The last time she saw the baby breathing was the morning of Sept. 2, 2010, she testified, when her husband placed him in his new swing.
She said she went into another room to mop, and then her husband returned a few minutes later.
"He said I needed to come and look, because he thinks Cordale likes his new swing," she said. She went to look.
"Cordale was slumped over to his right. His whole body was limp," she said.
She was the military prosecutor's star witness, undergoing three hours of testimony and cross-examination. She never once looked at her husband, even when she identified him in court.
"It was a really hard day for Jennifer," Hardt said. "She did very well. She didn't get nervous."
Hardt said Wickware was divorcing her husband and planned to start that process after the airman was sentenced and it was determined where he would be incarcerated. Wickware will begin serving his sentence at Mannheim Correctional facility, according to court officials.
Wickware's defense team had sought to lay blame for the infant's death on his wife, but the five men and the three women who made up the jury were not convinced.
Joern Patzak, who prosecuted Jennifer Wickware and also sat in at the court-martial the day she testified, said he thought she'd been a good, credible witness.
"Do you think someone could (act) like she did? She'd be in Hollywood," he said.
Patzak said there were other reasons for the court-martial panel, and before them, the German authorities, to decide that it was Horace Wickware, and not Jennifer, who had harmed the baby. From the airman's worksheet, it was apparent that the injuries occurred only when he was at home. Further, it was Jennifer Wickware who had sought medical care for the baby.
One piece of evidence used in both trials was that Jennifer had at one point done an internet search for "baby lying still" to try to figure out what was wrong. "She didn't know. That's the most critical thing," Patzak said.
Throughout the trial, Horace Wickware sat composed, showing very little emotion even when the jury announced the guilty verdict.
But he wiped away a few tears as one of his defense counselors, Capt. John Montgomery, asked the jurors for leniency before his sentencing.
"He is tormented by the loss of his son," Montgomery said. "Regardless of the sentence you hand down, he will be tormented by this for the rest of his life."
---
---
---