Memorial service for 3 soldiers fills Hohenfels theater
---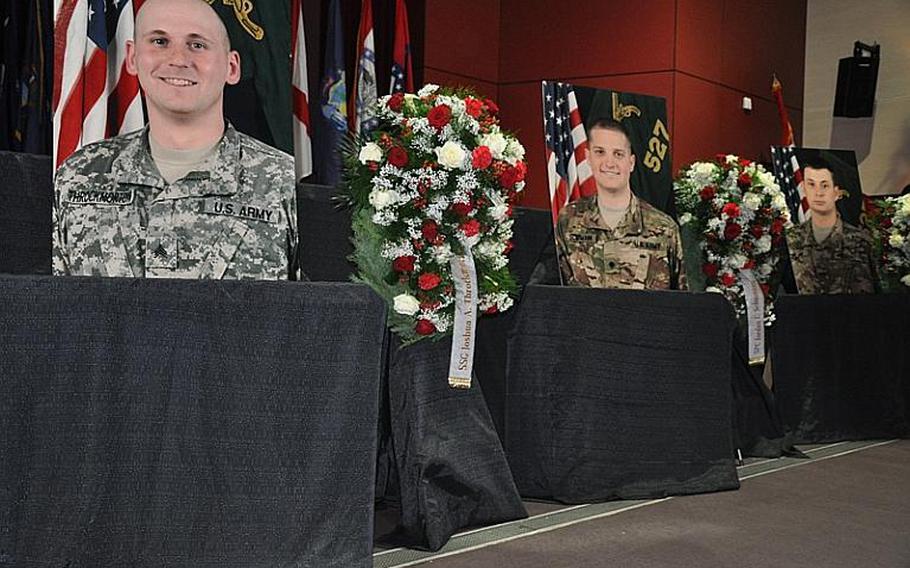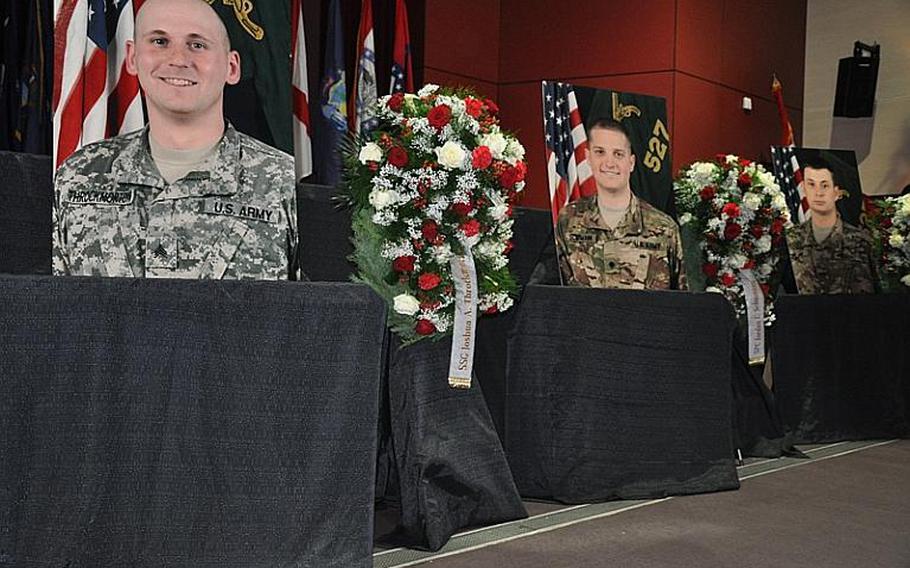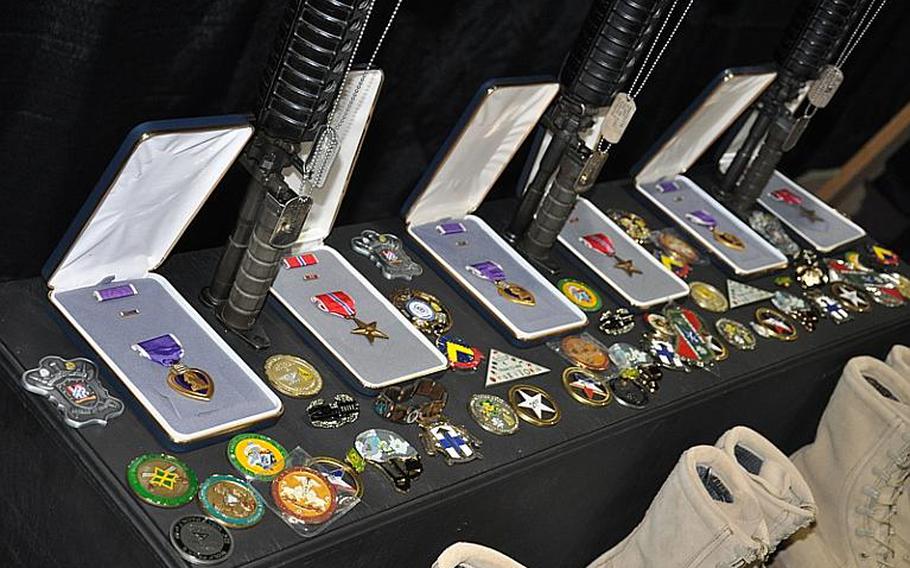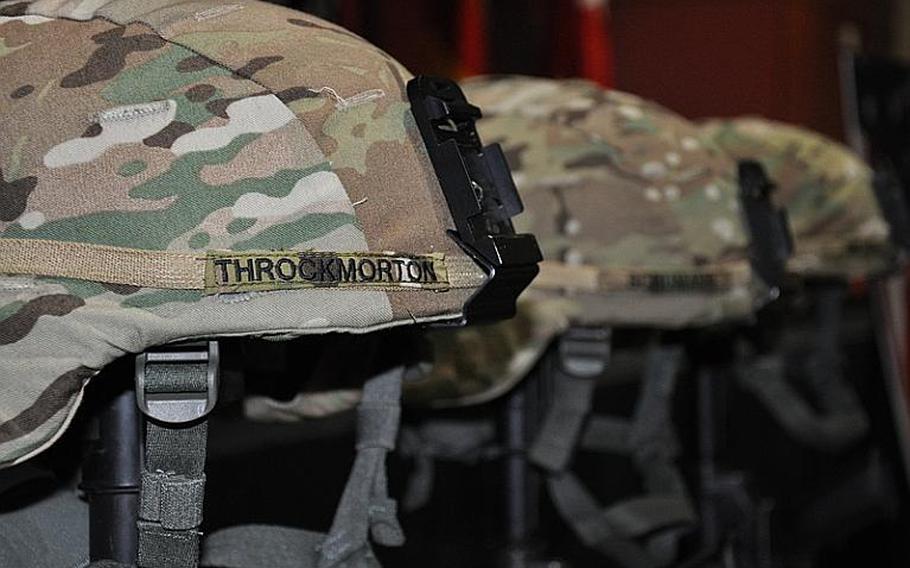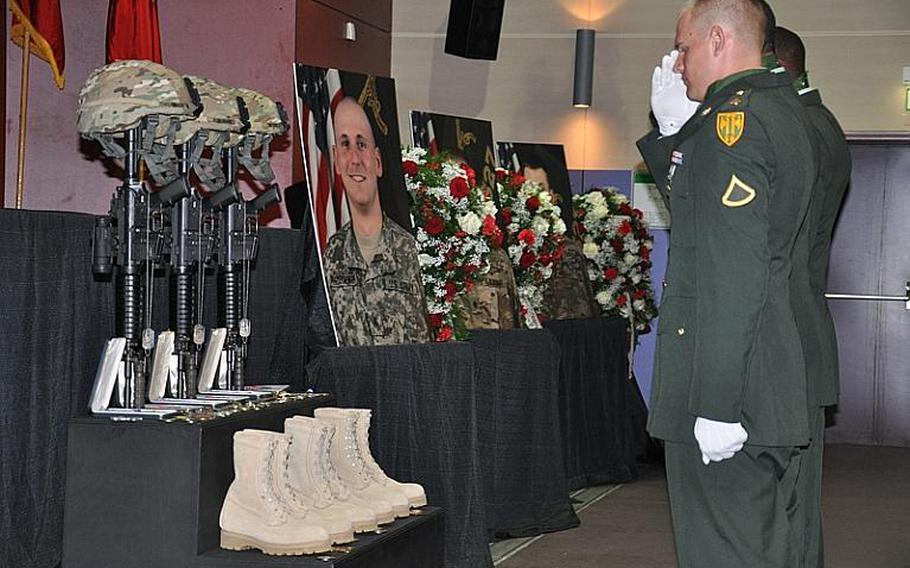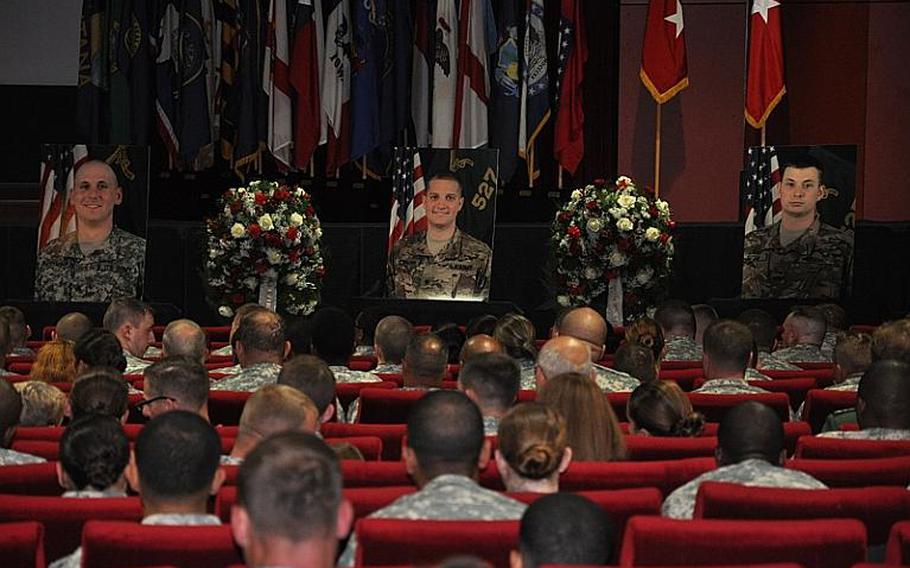 HOHENFELS, Germany – The memorial service for three Hohenfels-based military policemen, who were killed in Afghanistan when their vehicle hit a roadside bomb, was moved from the community chapel to the base theater Wednesday to accommodate the number of people who came to pay their respects.
Sgt. Joshua A. Throckmorton of Battle Creek, Mich.; Spc. Jordan C. Schumann of Port St. Lucie, Fla. and Spc. Preston J. Suter of Sandy, Utah, were killed July 5 during a quick-reaction force mission in which their vehicle struck a makeshift bomb in Paktia province.
The soldiers, assigned to the 527th Military Police Company, were responding to a request for aid after another unit in the province came under attack, according to a description of the event read during the service. The soldiers were in the lead vehicle of the convoy.
Throckmorton, known as "Sergeant T" by his unit, was admired for his leadership and combat experience. The 28-year-old was serving his third deployment.
"Words can never begin to express how much I loved, respected and will miss [Throckmorton]," wrote Sgt. Michael Morgan, whose comments were sent in a letter from Afghanistan to be read at the service in Germany.
"Josh was one of the greatest men I have ever had the pleasure of knowing or serving with," he wrote. "He was a deeply loving husband, a world class father and the best friend I could have ever asked for."
Throckmorton is survived by his wife, Leslie, and three daughters: Kylie, 9; Abigail, 7 and Devan, 2.
He was posthumously promoted to the rank of staff sergeant, according to unit officials at the service.
Schumann, 24, was looking forward to meeting his newborn son when he went on leave in September. He was a certified emergency medical technician and firefighter and had aspirations of becoming a flight medic, according to a statement from Capt. Rebecca Doak, the unit's commander.
Schumann is survived by his wife, Sarah, and his parents, Clay and Linda Schumann.
An unidentified friend of Schumann's sent a tribute recalling his jokes and his laughter.
"You would always come out of your room flexing and saying that you were going to get 'swoll' for Sarah," the tribute read.
Joining the Army at age 20, Suter was remembered as a vital team player and a successful athlete, taking his unit's basketball team to the Installation Management Command-Europe championships. He was also part of the team that won the 3-on-3 tournaments at Forward Operating Base Gardez.
He was remembered as always being calm and collected.
"[Suter] was remembered only to have been nervous once in his life, and that was in the days leading up to his marriage to his beloved wife, Nicole, who he met in Germany and married a few short months before he deployed," according to a biography provided at the service.
Suter, 22, is also survived by his father, Christopher Suter.
---
---
---
---