Dog handler killed in Afghanistan remembered as 'the best'
By
montgomeryn@estripes.osd.mil Nancy Montgomery
May 4, 2012
---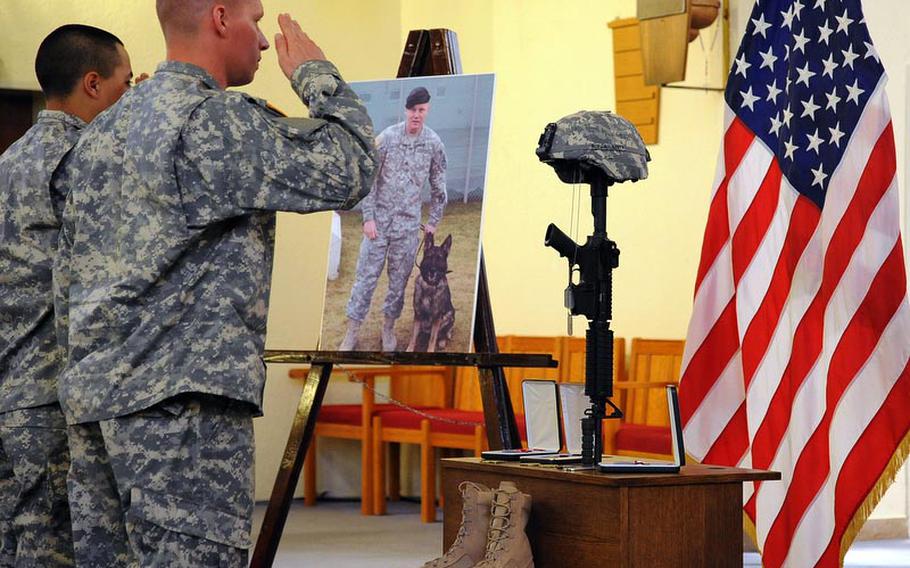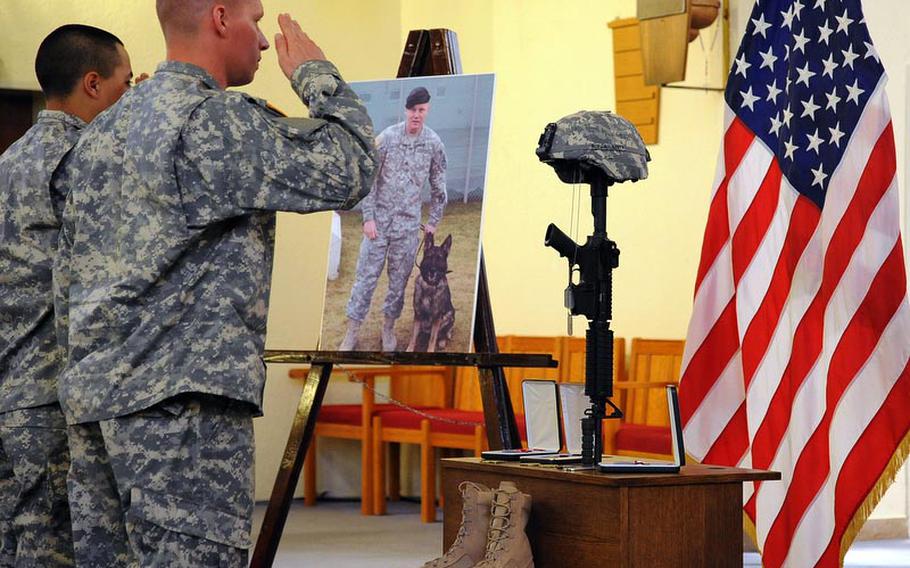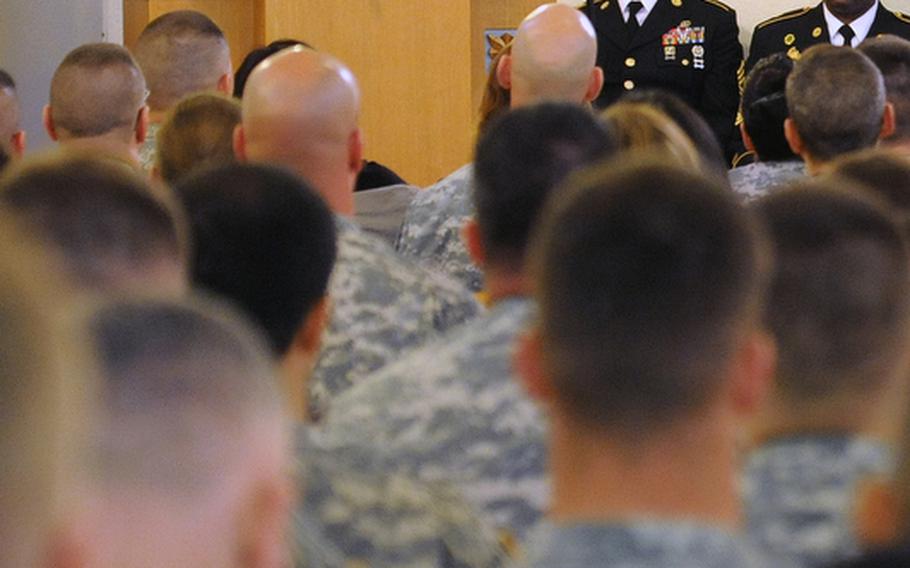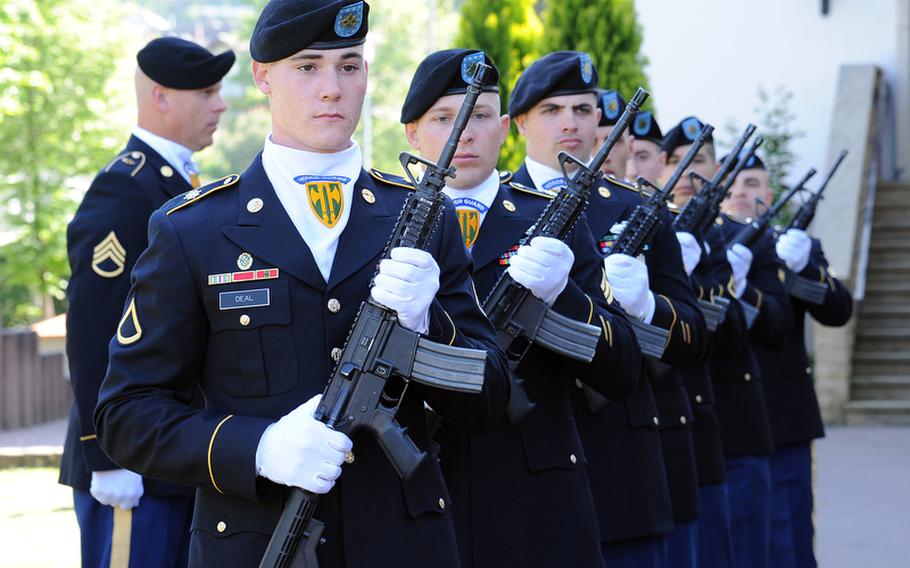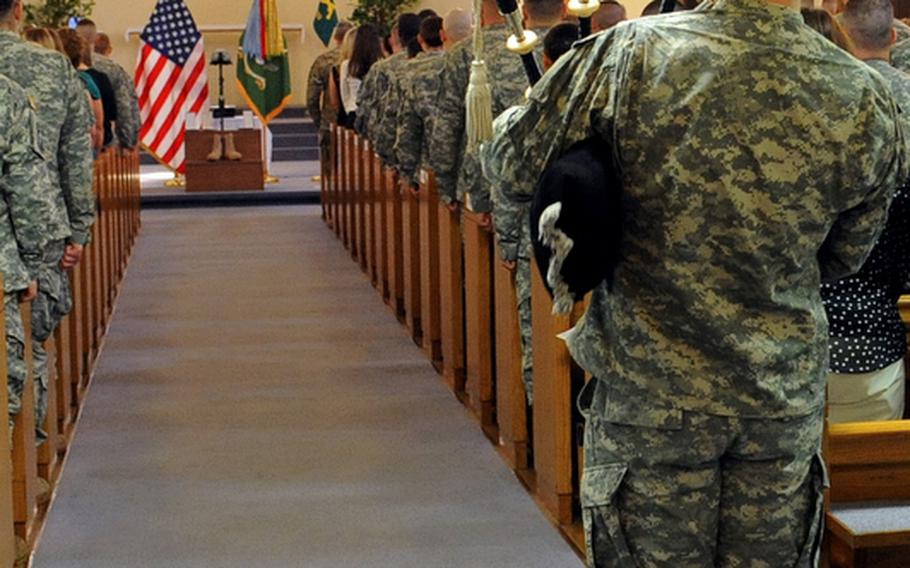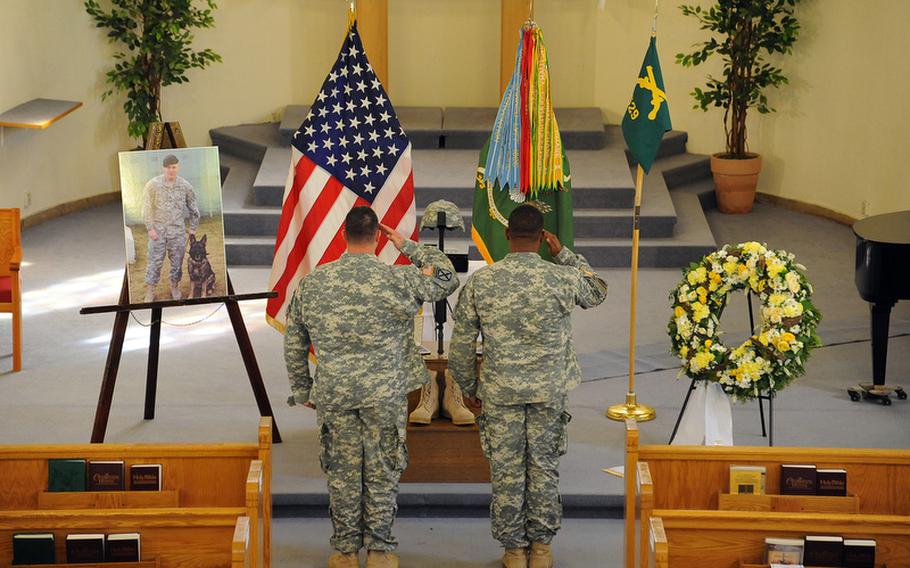 HEIDELBERG, Germany — Staff Sgt. Dick Alson Lee Jr. was counted a lucky man. People loved him. He loved his work. He'd met his mate, another military police officer, and married her, and the couple had a pair of towheaded boys, ages 5 and 2.
In three deployments to Iraq and Afghanistan, Lee stayed safe.
Disaster struck the fourth time.
On April 26, while he and his bomb-detecting dog were working with Special Forces in Ghazni province, Afghanistan, Lee met with the bomb that ended his life. He was 31 years old. A Special Forces soldier, Staff Sgt. Brandon F. Eggleson, 29, of the 4th Battalion, 3rd Special Forces Group, Fort Bragg, N.C., also was killed when their Humvee drove over the bomb.
"He (Lee) was in country 23 days. It was his first mission," said Sgt. 1st Class Joseph Jones, the 529th Military Police Company's kennel master. "I'm still taken aback."
So was most everyone at Lee's memorial service Friday at the Mark Twain Village Chapel in Heidelberg.
As some 300 soldiers took their seats in the pale wooden pews of the chapel and the sun streamed through the colored glass windows tilted open to the day's warmth, Lee's tearful young widow, Katie, walked up the aisle between her two sons, holding a small hand in each of hers.
Maybe that sorrowful sight was part of the reason the speakers eulogizing Lee at the ceremony could barely speak.
Lt. Col. Joseph DeCosta, commander of the 95th Military Police Battalion, said Lee was "the guy you just wanted to be around."
He was exemplary, both personally and professionally, DeCosta said, "the class president and at the same time, the class jokester."
DeCosta looked directly at Lee's family.
"Boys!" he said. "David and Joshua!"
When they looked up at him at the podium, DeCosta continued, his voice loud and hoarse:
"Your daddy was a great soldier," he said. "Your daddy was a hero."
Capt. Aaron Kravitz, Lee's company commander, was the next speaker. Kravitz talked about Lee's sacrifice, that he'd laid down his life, like so many others over the past decade, for "the nation and each other."
Kravitz's grief was evident. His speech was short.
"Sometimes that's the only way you can make it through," he said afterward.
Lee, like other military dog handlers, had deployed without his company, as an individual augmentee, to provide his and his dog's bomb-sniffing expertise to other units. Lee's dog, a German shepherd named Fibi, was also killed in the explosion that killed Lee.
Lee, whom friends called "Alson," loved being a dog handler so much that he turned down a couple of promotions to keep doing it, Jones said.
"He was the best handler I had in my kennels and the best NCO I had in my kennels," Jones said after the service. "He wasn't just good, he was great."
Jones said he planned to keep Lee's memory alive by telling stories about him. "Every handler that I meet," Jones said.
Lt. Col. Jeff Giannola, the chaplain for the service, read from the Book of Isaiah and urged the soldiers to live each day as if it were their last and to help each other.
"I wish I could provide an answer why Alson was taken from us," the chaplain said. "I cannot."
The company suffered another casualty last year in Afghanistan, when Spc. Marc Whittaker's dog, Anax, was shot in the hind legs. The dog, accompanied by an emotionally traumatized Whittaker, was flown to Germany and underwent the amputation of a leg before recovering and being retired.
Whittaker was the first person Lee's wife called after getting the terrible news about her husband, Kravitz said. "He's with the family now."
---
---
---
---