Campbell will take command of USAREUR on Monday
by
Matt Millham
November 29, 2012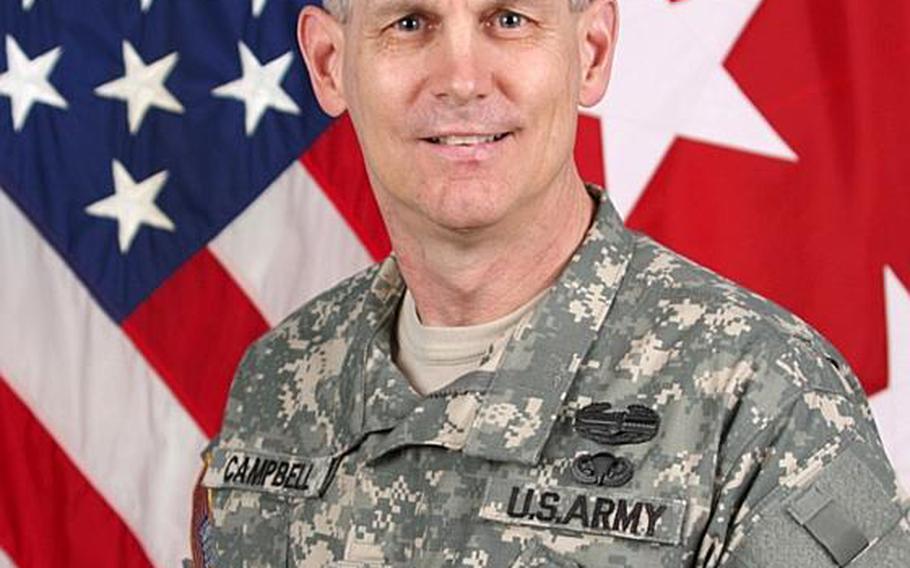 KAISERSLAUTERN, Germany — Lt. Gen. Donald M. Campbell Jr. will take command of U.S. Army Europe and 7th Army on Monday, four days after relinquishing the reins of the Army's III Corps at Fort Hood, Texas, to his deputy.
Campbell, who is expected to arrive Sunday, will formally assume command of the Army's top command in Europe in a ceremony after the new year, according to a USAREUR news release.
Campbell, an armor officer, was nominated for the post in June and confirmed by the Senate in July, but without a replacement named to take over his Texas command, he hadn't been expected to arrive in Europe until after the new year.
But on Nov. 15, Defense Secretary Leon Panetta named Maj. Gen. Mark Milley to replace Campbell as commander of Fort Hood and III Corps, which is preparing for an expected 2013 deployment to Afghanistan.
According to the USAREUR news release, Campbell will be the command's 38th commander and last to head the organization in Heidelberg before its 2013 move to Wiesbaden. Wiesbaden's Clay Kaserne is where Campbell will likely serve most of his tenure as head of USAREUR.
Maj. Gen. James C. Boozer has been serving as acting commander and chief of staff of USAREUR and 7th Army since the departure earlier this month of Lt. Gen. Mark P. Hertling. Hertling, also an armor officer, left USAREUR on Nov. 1 and retired at the U.S. Military Academy at West Point, N.Y., on Nov. 3 after 37 years of service and more than 19 months as USAREUR commander.