Army shows off newest helicopter for distinguished guests
by
Dan Blottenberger
September 10, 2010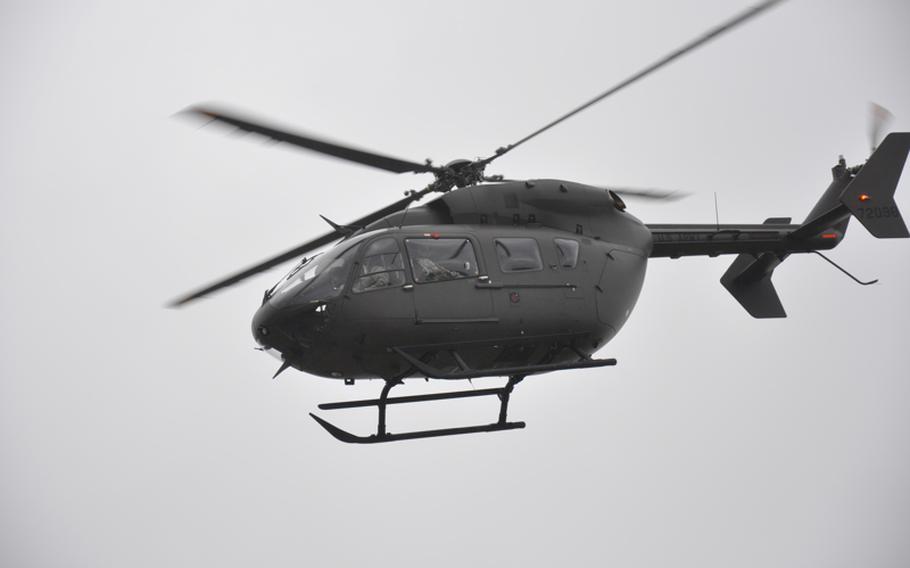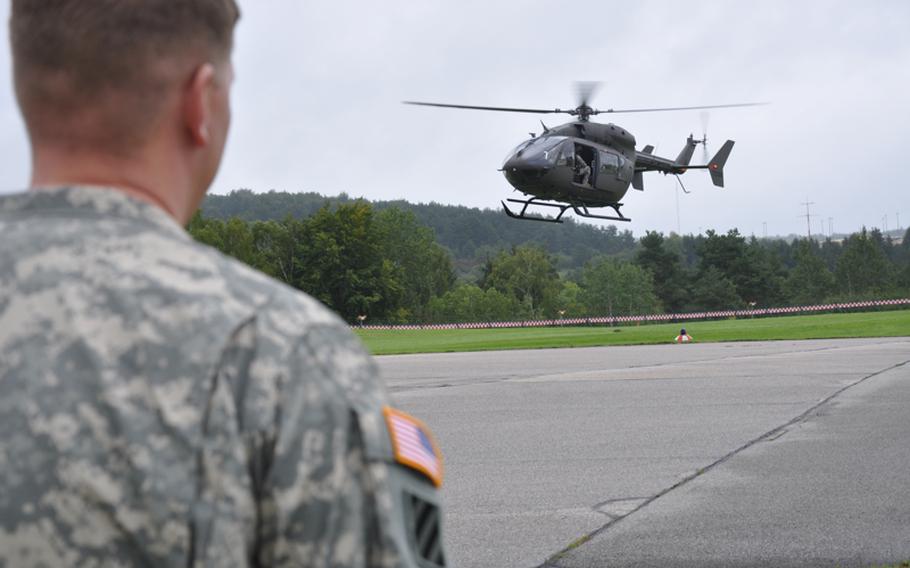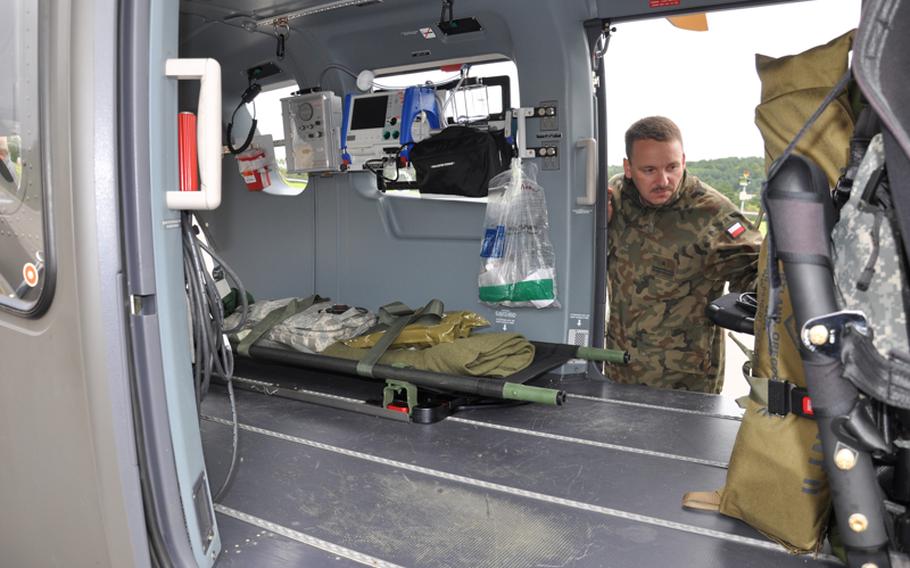 HOHENFELS, Germany — Military officials from as far away as Japan were in Germany this week to get a look at the Army's new light utility helicopter.
In all, 23 delegates representing 17 countries attended the UH-72A Lakota unveiling ceremony, which consisted of an aerial demonstration, a briefing on the Army's plans to field the helicopter, and a question-and-answer period with the aircraft's crewmembers. The event was held in accordance with the 1999 Vienna Document, which requires NATO members to host a demonstration when they deploy any new type of major weapon or equipment system.
The U.S. Army is fielding 200 of the German-made, U.S.-assembled Lakotas worldwide to use for medical evacuations, training missions and VIP flights. U.S. Army in Europe officials plan to replace its current fleet of 10 UH-1 "Huey" helicopters with the Lakotas by January.
The Army already has 11 of the new helicopters in Germany — seven that are being used during field exercises where troops are taught to medically evacuate wounded comrades or call for gunships during firefights, said Maj. Nick Sternberg, a Joint Multinational Readiness Center spokesman.
The other four are here as part of a one-year rotation of the Washington D.C. National Guard's 121st Medical Air Ambulance Company.
Each aircraft carries a $4.5 million price tag, but it's worth the money, said pilot Chief Warrant Officer 3 Harold Eggleston.
Some of the improvements will significantly reduce the crew's workload, the Farmville, Va., native said.
"With the auto-pilot system, if we want to just kind of orbit and fulfill our [training role], we can just put a couple points in and the aircraft will fly itself," he said.
Plus, if any piece of the aircraft fails there is always a back up system to use, he said, including a twin-engine system that allows the aircraft to fly at low altitudes on one engine.
"Everything is backed up," Eggleston said. "Each side of the cockpit is identical."
It's also easy to see the advantages the Lakota has over its predecessor when being used for medical evacuations, said Cpl. Roger Miller, who works as a paramedic when he is not deployed with his job in the National Guard.
"It is easier to access the patient on this aircraft," he said. "You don't have to look for things all over the floor like you did in the Huey."
And unlike the Huey, there is enough room in the back for two patients, said Miller, whose unit will be using the Lakotas as medical evacuation helicopters when soldiers are training at Hohenfels and Grafenwöhr.
Maj. Runar Öhman, a Swedish pilot, said he was surprised the U.S. could afford such a quality aircraft for noncombat purposes.
"It is a very robust helicopter. It is a very proven helicopter," he said. "It was impressive to be able to have that number of helicopters for that purpose."
blottenbergerd@estripes.osd.mil
---
---
---
---