Airport shooting suspect's anti-American views reflected in Internet messages
by
Nancy Montgomery
September 14, 2011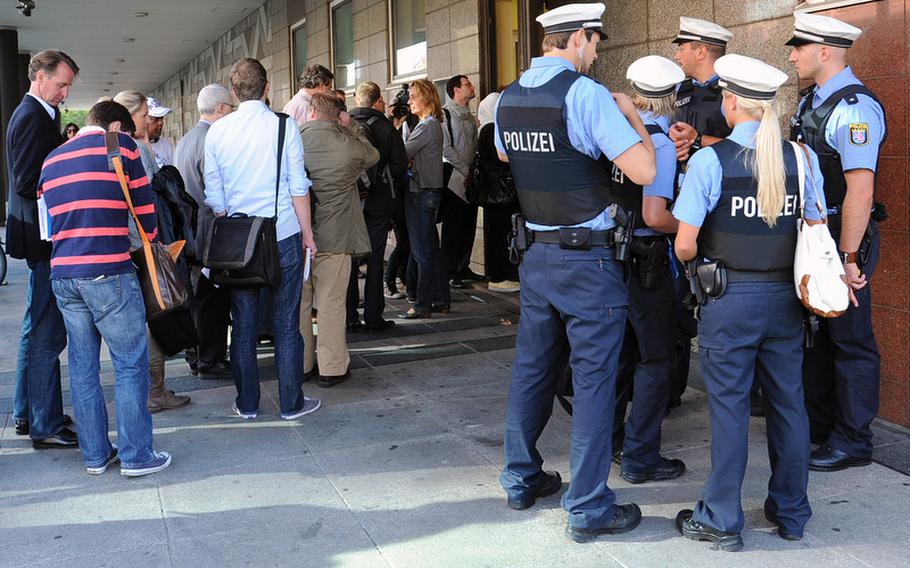 FRANKFURT, Germany — The Kosovo Albanian man charged with murder in the killing of two U.S. airmen in March had a second court appearance Wednesday in Frankfurt, where a judge read chat messages in which Uka expressed anti-American feelings.
Arid Uka, 21, sat between his two defense lawyers, as one of the judges in the case read aloud Internet and SMS messages from Uka, who said in his first court appearance that he was influenced by jihadist propaganda on the Internet.
At those proceedings two weeks ago, Uka confessed to killing Senior Airman Nicolas Alden, 25, and Airman 1st Class Zachary Cuddeback, 21, saying he wanted to prevent American servicemembers from going to Afghanistan, where he said he believed they would rape Muslim girls.
Prosecutors have said Uka watched a video on the Internet that purported to show American soldiers raping a teenage Muslim girl, but that what he watched was a scene from the movie "Redacted," based on the rape and murder of an Iraqi girl by U.S. troops in 2006.
Although Germany has experienced scores of terrorist attacks in past decades, largely from leftist groups like the Red Army Faction, the airport attack was the first attributed to an Islamic extremist.
German authorities say Uka acted alone.
Uka also is charged with three counts of attempted murder. Two other airmen, Staff Sgt. Kristoffer Schneider and Senior Airman Edgar Veguilla, were wounded, when the shooter opened fire March 2 on airmen boarding and on board a bus that was to take them from the airport to Ramstein Air Base, ahead of an Afghanistan deployment. Prosecutors say the gun jammed when Uka aimed it at a third airman.
His trial is to continue intermittently through January and is supposed to examine all the circumstances surrounding the case.
One thing at issue is what Uka's sentence would be. German law provides for a life sentence for murder, with eligibility for parole at 15 years.
Uka, however, killed two people, and according to defense attorney Jens Joerg Hoffmann, that's an "aggravating circumstance" that could increase the amount of time Uka would spend in prison, before becoming eligible for parole.
"The problem is the defense has very little room to maneuver," Hoffmann said. But he said one mitigating factor he would stress was Uka's youth.
"If the deed happened four weeks before, he would have been a juvenile," Hoffmann said. Accused persons who are 18, but not yet 21, are not viewed as adults by German criminal law, and thus may be eligible for certain privileges, including possibly not being given life-long sentences.
Cuddeback's family is a co-plaintiff in the case. The Cuddebacks are represented by a German lawyer, Marcus Steffel, who has said he'll ask for an exceptionally long prison sentence for Uka.
U.S. airmen are among witnesses expected to testify starting next month.