After Russia talks, NATO chief says risk of new fighting over Ukraine is real
by
John Vandiver
Stars and Stripes
January 12, 2022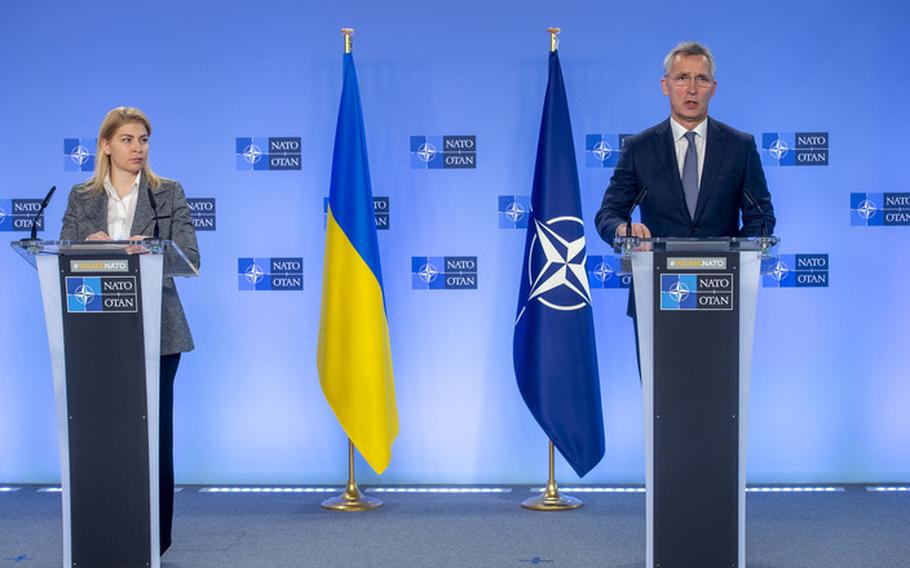 STUTTGART, Germany — There is "real risk" of a new war in Ukraine, NATO's top official said Wednesday after high-level talks with Russia failed to achieve a breakthrough over Moscow's military buildup along Ukraine's borders.
NATO Secretary-General Jens Stoltenberg, who led talks between the alliance's 30 members and Russia at alliance headquarters in Brussels, said the discussions come at "a defining moment for European security."
"There are significant differences between allies and Russia on these issues. Our differences will not be easy to bridge," Stoltenberg said. "There is a real risk for a new armed conflict in Europe."
The meeting, which came two days after a similar round of talks between the U.S. and Russia in Geneva, marked the first gathering of NATO's Russia Council in more than two years.
The meeting was held as tensions in Europe have hit a post-Cold War high between Western allies and Russia, which has massed more than 100,000 troops on Ukraine's borders. The U.S. and other NATO members have said such a move by Russia would provoke severe economic sanctions and also force the alliance to fortify its eastern flank as a protective measure.
So far, Moscow has been vague about its intentions, but Russia's track record has raised concerns that a replay of its 2014 invasion and annexation of Ukraine's Crimean Peninsula is in the works. Since then, Russian-backed separatists have been at war with Ukrainian government forces in the country's east.
Moscow also has made demands of NATO in connection with its military buildup — demands allies say are impossible to meet.
Among them: Russia wants NATO to pull back from Eastern European states that were admitted into NATO in the aftermath of the Cold War. Moscow also wants a pledge from allies that Ukraine, which is seeking NATO membership, will never be allowed into the alliance.
U.S. Deputy Secretary of State Wendy Sherman, after the talks in Brussels with Russian Deputy Foreign Minister Alexander Grushko, rejected Russia's demands as she did two days earlier during discussions in Geneva.
"Every country has the sovereign right to choose its own path," Sherman said in a Twitter post after the NATO-Russia Council session.
Such demands also were dismissed by Stoltenberg, who reiterated the point that NATO has an open door membership policy and that Russia has no veto power over what country gets in.
"At the end of the day, it has to be NATO allies and Ukraine that decide," he said.
While NATO has rejected Russia's main demands, allies say they are prepared to discuss with Moscow the possibility of enhancing transparency between East and West in connection with how military exercises are conducted in Europe. NATO also says it is willing to discuss arms control and missile deployment issues with Russia.
Stoltenberg said NATO wants additional meetings with Russia that would look at how to revive a treaty that banned intermediate range missiles in Europe.
Meanwhile, Russia has given no sign that progress on such topics would be sufficient for it to pull troops back from Ukraine's borders.
---
---
---
---