2 EOD soldiers go for world records, running in bomb suits
by
Steven Beardsley
March 31, 2012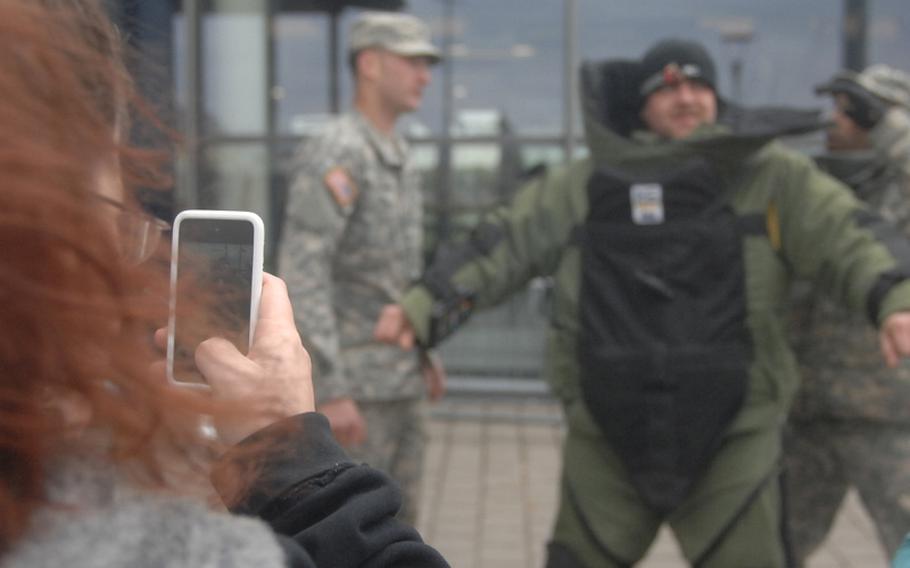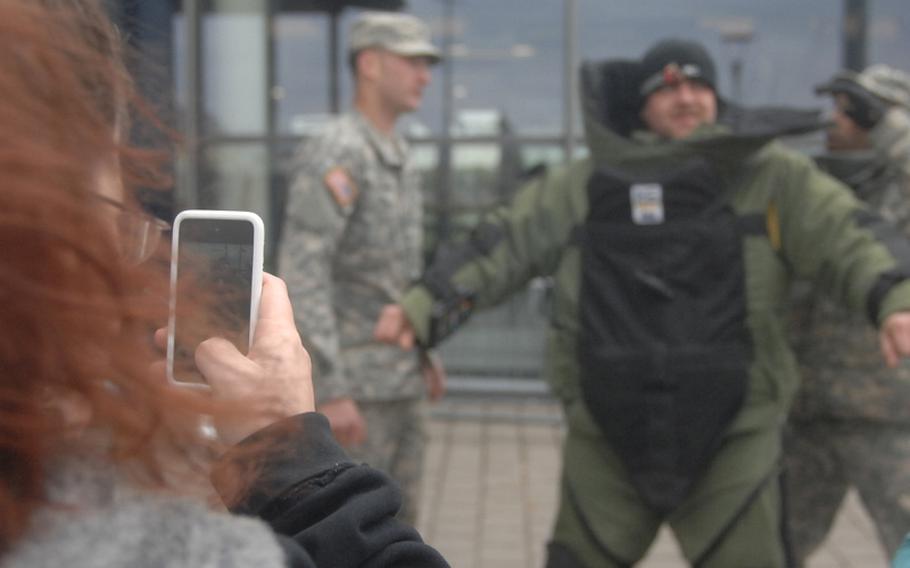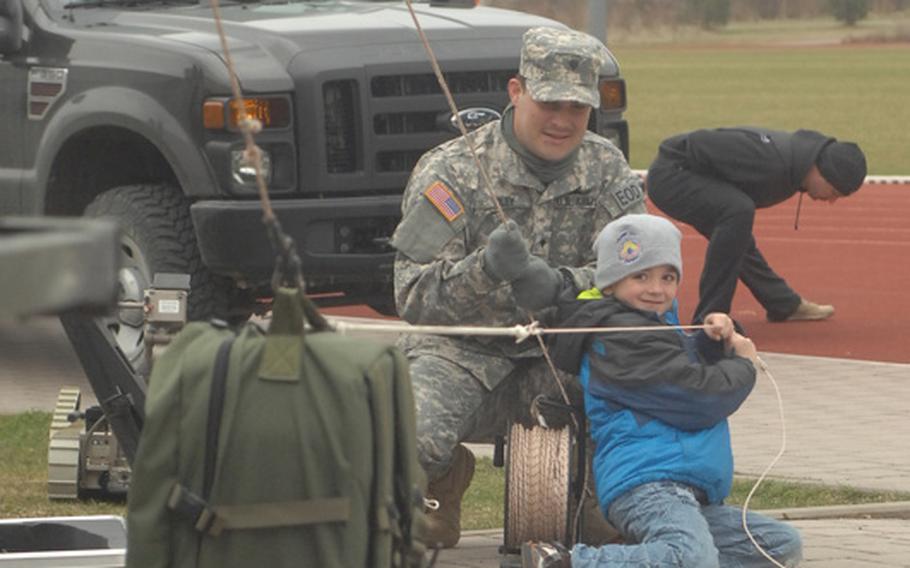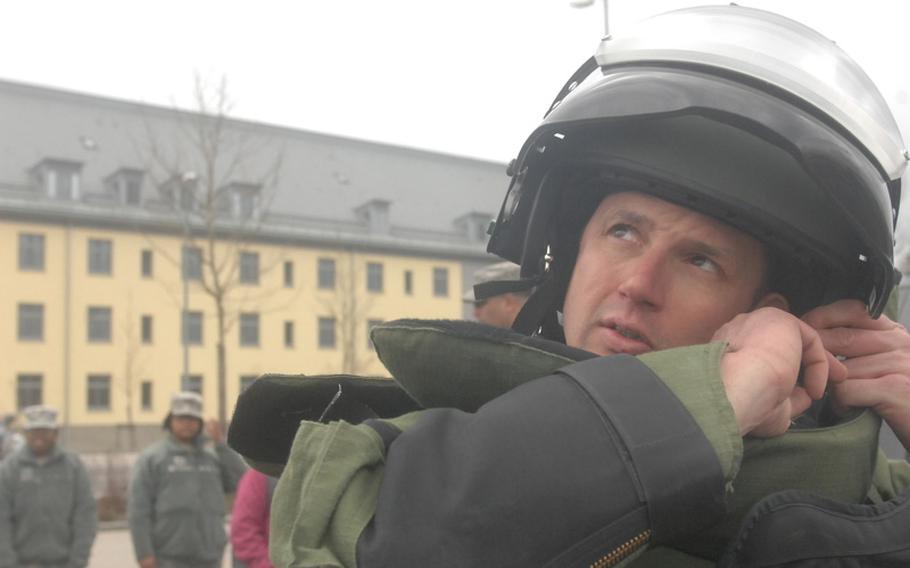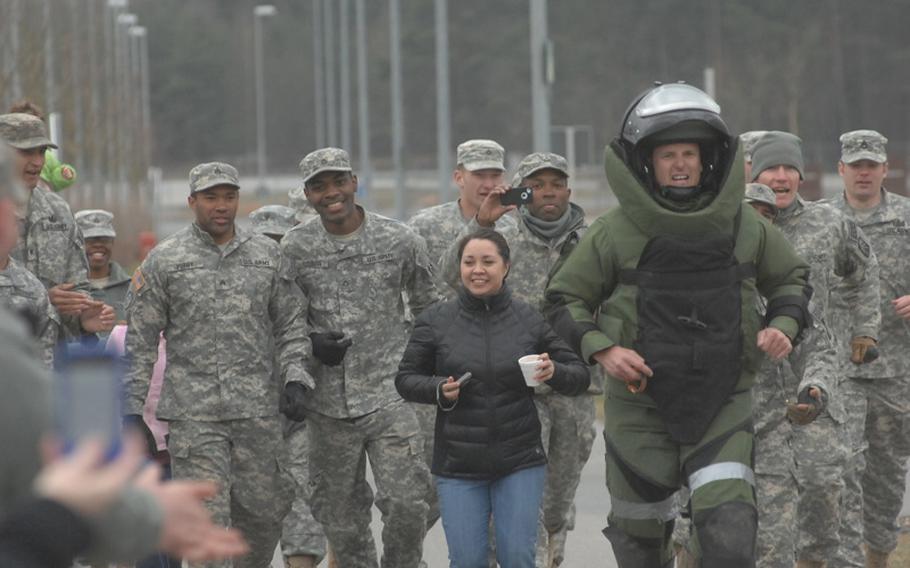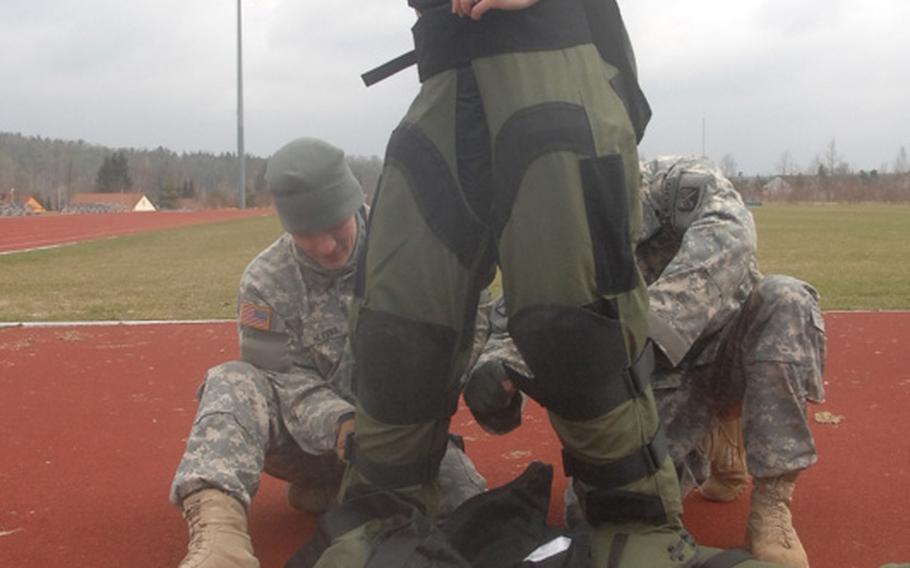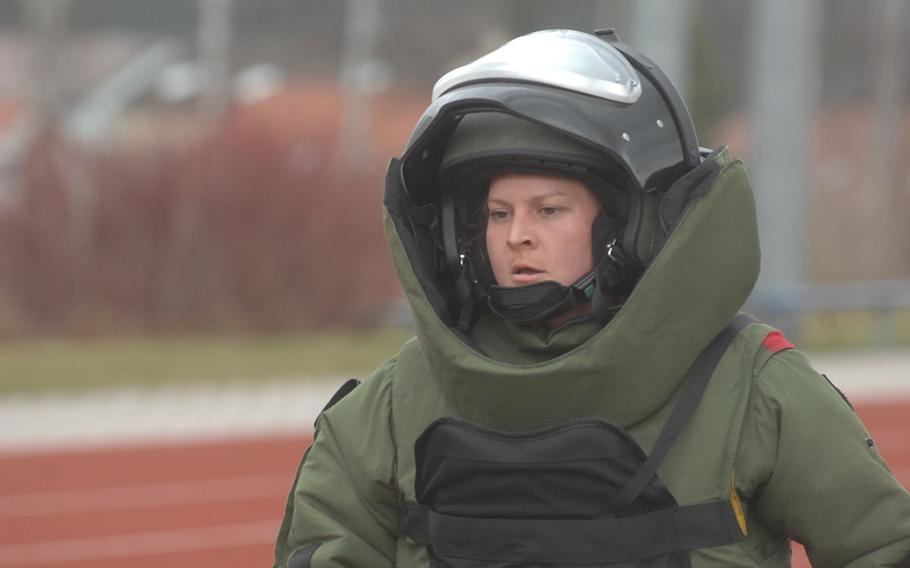 GRAFENWÖHR, Germany — It's rarely a good sign when a soldier in an 80-pound bomb disposal suit starts running.
Saturday it was a sight met with cheers and encouragement, as two members of the 702nd Explosive Ordnance Disposal Company attempted record-setting runs in the cumbersome suits, part of a fund-raiser for two charities associated with the unit.
Sgt. First Class Eric Johnson set a tentative best for the World Record Academy, needing 8 minutes, 5 seconds, to cover a one-mile loop outside the Grafenwöhr gymnasium on Saturday morning.
Minutes later, Sgt. Stephanie Beachley appeared to mint the first women's record for a one-mile run in a bomb suit, hoping to get into the Guinness Book of World Records with a 13 minute, 14 second run around the track. Both attempts still need to be certified by the respective organizations.
Neither effort came easily.
"I just kept telling my legs to go, and they were like, 'Nah, I don't think so,'" Johnson said later.
The record attempts anchored fund-raisers for the Wounded EOD Warrior Foundation, a national charity that offers financial relief to families of injured EOD technicians military-wide, and the EOD Memorial Foundation, a non-profit that memorializes slain EOD troops.
"They're great foundations and it's held close to our heart because it's our job and we want other people to know about it," Beachley said.
Beachley and Johnson said they also wanted to draw attention to the role of the 702nd, scheduled to deploy to Afghanistan later this year. Equipment sat on display at the event, including several robots used to remotely detonate suspicious objects.
Boy Scouts asked for donations for the charities, and the unit's Family Readiness Group raised money for their organization through a bake sale.
The biggest attractions were the record attempts. Bomb suit runs became popular around 2009, Johnson said, after a deployed EOD technician in Iraq, Lt. Jonathan Kehoe, set a world record as part of a fund-raiser. Others soon sought to beat it.
Johnson set his first record in 2010, when he needed 8 minutes, 42 seconds, to run a mile around the post exchange. This time, he needed to beat a record of 8 minutes, 30 seconds, set by Ensign Daniel Glenn on Feb. 28 on Eglin Air Force Base in Florida, according to a Navy news release, which said that time was being submitted to the Guinness Book of World Records.
Beachley needed to come under 20 minutes, an easier task given her practice best of about 12 minutes.
Both soldiers practiced for weeks before the current attempts, they said, adjusting to the suit's weight and trimming their times. While the suit isn't as awkward as it appears, its weight of about 80 pounds is substantial.
"You get winded really, really fast," Johnson said. "A quarter-mile in, you're just sitting wondering why you're doing it in the first place."
Saturday, even Johnson was surprised at how fast he finished. He thought he started too quickly, and he feared wearing himself out early.
Strong winds proved an annoyance as Beachley made her laps around the track, she said. As fatigue set in, her pace slowed to a shuffle. Members of the small crowd watching then joined her for the final lap, jogging alongside to the finish.
"It was tiring, but it feels great to get out there and actually accomplish something that's tough to do," Beachley said. She wants to try it again, she said, in hopes of lowering her time.
She'll need to set aside practice time — running is rarely required in day-to-day EOD work, she said.
"If I'm ever actually running in a bomb suit, something is wrong."
The captions on some of the photos have been corrected to clarify that the run time achieved earlier this year by an ensign that Johnson was hoping to beat had not been recognized by the World Records Academy.
---
---
---