Work to turn S. Korea Army post into urban oasis to begin in 2017
By
Yoo Kyong Chang Ashley Rowland
May 2, 2012
---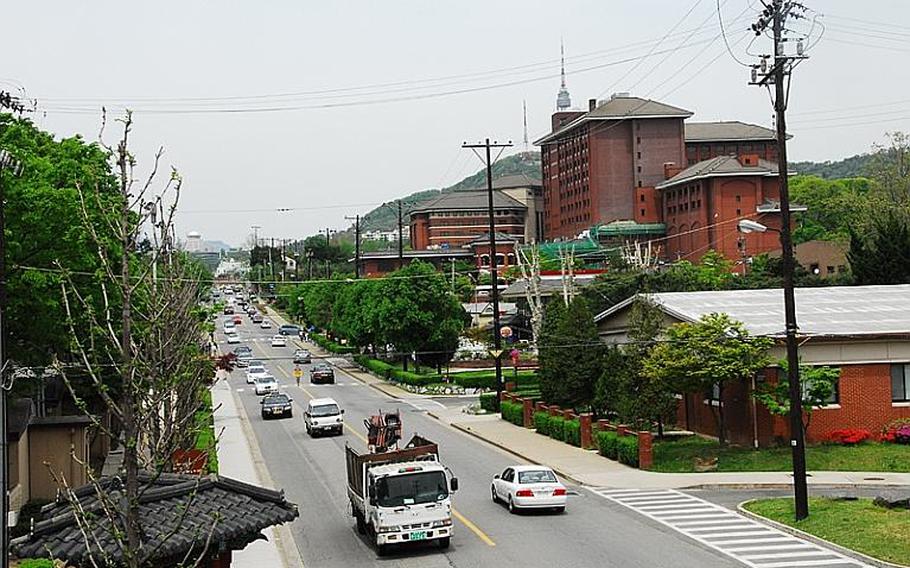 SEOUL — The decade-long process of turning the largest U.S. military installation in South Korea into a Central Park-like oasis in the middle of Seoul will begin in 2017, according to South Korea's Ministry of Land, Transport and Maritime Affairs.
The start of the transformation is timed to coincide with U.S. Forces Korea's move from Yongsan Garrison as part of a long-planned consolidation of U.S. troops to the Pyeongtaek-Osan area and to Daegu, shrinking the military footprint in South Korea from 107 bases to 48.
Rotterdam-based West 8 and South Korea's Iroje will design the project, which, according to West 8's website, will emphasize sustainability, the preservation of green spaces and the "fundamental concept of healing."
"Yongsan is kind of our sad history, and we thought that we need to heal," said Choi Hyeyoung, a landscape architect for West 8.
In one of the most painful chapters in Korea's past, Japanese forces occupied the peninsula from 1910 to 1945, basing a number of troops at Yongsan. USFK and 8th Army are now headquartered at Yongsan, operating out of a number of Japanese colonial-era buildings that remain standing.
Choi said more than 30 of the Japanese buildings will be incorporated into the design of the future park as art galleries, museums and exhibition centers, some exploring the base's history.
"Keeping the buildings has a lot of architectural value," she said, because few buildings from the first half of the 20th century remain standing in South Korea.
Choi said a greenway will connect the park to Namsan mountain and a land bridge will connect the park to the Han River area.
The 635-acre base will be divided into six smaller parks, including a heritage garden on what is now the main post. The Dragon Hill Lodge and the future site of the U.S. Embassy, scheduled to move from downtown Seoul to Yongsan, will remain.
Some buildings constructed by the U.S. military will remain standing, while others will be demolished and the footprint turned into a plaza, or madang, an open space for activities, Choi said.
The construction will take place in three phases, according to a ministry official, speaking on the customary condition of anonymity.
Between 2017 and 2019, some portions of the park will be opened to the public, though significant work will not begin until the second phase, scheduled for 2020 to 2023. During that phase, some existing buildings will be torn down and construction of others will begin. In the final phase, between 2024 and 2027, all remaining construction will be completed.
---
---
---
---