Visitors no longer allowed at Yokota commissary
by
Seth Robson
November 3, 2011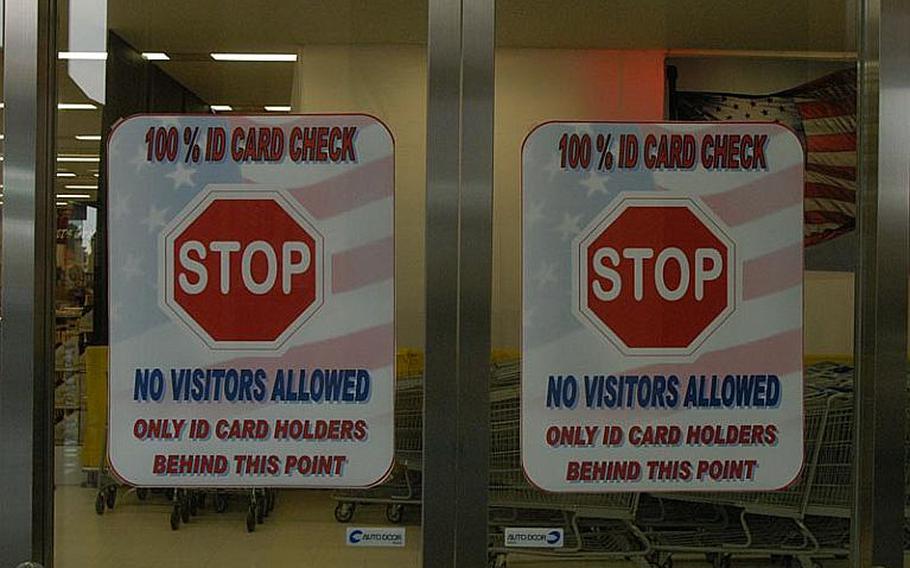 YOKOTA AIR BASE, Japan — The Air Force has cut commissary access for non-ID card holders at Yokota Air Base in an effort to stop base residents buying items for visitors who are not authorized to shop there, officials said.
Large signs posted at the commissary since the weekend read: "Stop. No Visitors Allowed. Only ID card holders beyond this point."
Base spokesman Capt. Raymond Geoffroy said the ban is a stopgap measure while leaders review the commissary access policy.
Standard practice at commissaries worldwide is to check patrons' ID cards at checkouts, however, local commands can set additional restrictions such as limiting who can enter the stores, Geoffroy said.
At Camp Zama, for example, ID-card holders are allowed to bring visitors into the commissary as long as their guests don't touch the merchandise, officials said. At Yokosuka Naval Base only ID-card holders can enter the commissary. If they want to bring in guests such as visiting family members they need to obtain a letter from the base commander authorizing access, officials said.
"DeCA (the Defense Commissary Agency) is specifically meant for servicemembers and their families and we are trying keep it that way," he said.
ID card holders at Yokota had been allowed to escort non-military visitors into the commissary as long as the visitors didn't make purchases. However, the command received information that people were buying things for visitors who didn't have commissary privileges, Geoffroy said.
"Some locals authorized access to the commissary have been buying things for friends who are not authorized access," he said. "We just want to make sure the commissary is being used properly."
The access policy likely to be implemented after the review would allow ID card holders to escort visiting family members into the commissary but bar them from bringing in friends and acquaintances, he said.
"For example: if my Mom, who is non-military, came to visit she would be able to come in to the commissary with me but not some random friend from downtown," he said.
DeCA public affairs officer Nancy O'Nell said in an email Thursday that the Department of Defense has authorized patrons to bring guests into commissaries since Nov. 1, 1999.
Commissaries exist to serve the U.S. military and are an important part of servicemembers' pay and benefits. Authorized personnel can serve commissary food to their guests, give it as a gift to friends or family or donate it to charity, she said. However, they can't sell or give away commissary purchases to individuals or groups not entitled to commissary privileges, and they are prohibited from using commissary purchases to support a private business, she said.
People caught violating the policy can lose their commissary privileges, and possibly prosecuted criminally, she said.
Rules on who can use overseas commissaries are affected by status of forces agreements between host countries and the U.S. government, O'Nell said.
"Servicemembers on leave, retirees (and) National Guard and reserve members visiting nations overseas in an unofficial capacity may not have full commissary privileges, and DeCA recommends these travelers check with the location they will be visiting prior to travel," she said.