US, South Korea military to mark anniversary with exercises
By
Yoo Kyong Chang Jon Rabiroff
June 19, 2012
---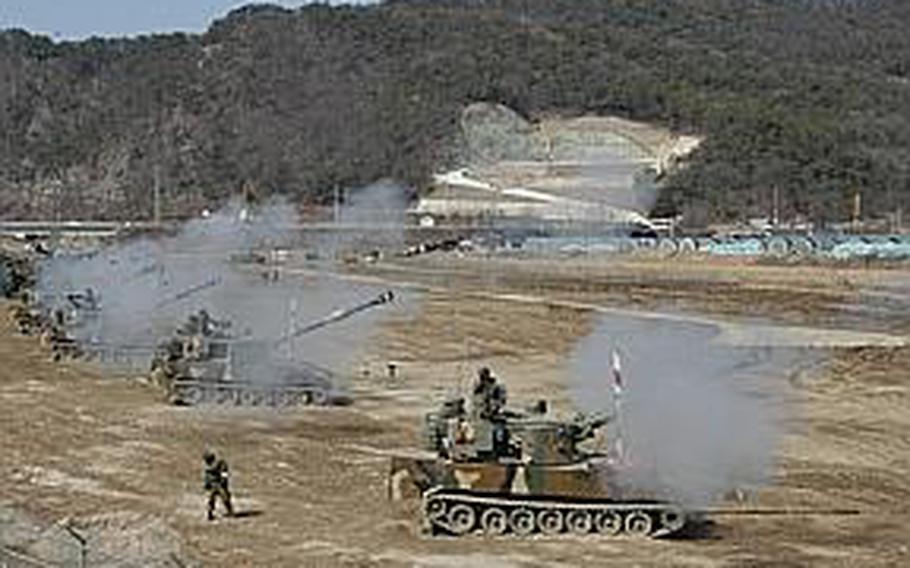 SEOUL — The U.S. and South Korean militaries will mark the 62nd anniversary of the start of the Korean War with a bang.
Many, in fact.
More than 2,000 U.S. and South Korean servicemembers — along with an array of fighter jets, attack helicopters and tanks — are scheduled to participate Friday in what is being called the largest one-day, joint live-fire exercise they have ever conducted.
South Korean Prime Minister Kim Hwang-sik will preside over the exercise, which will be staged in Pocheon, about 15 miles south of the Demilitarized Zone and North Korea.
Among the Korean equipment slated to be put through its paces for the first time during a joint drill will be the E-737 Airborne Early Warning and Control Plane, called the "Peace Eye," and the T/A-50 light attack aircraft, according to the South Korean Ministry of National Defense.
Military officials said that during the exercise, the two militaries will demonstrate how they would respond if North Korea were to launch the same sort of offensive it did on June 25, 1950, the first day of the Korean War, when the North's tanks and troops rolled into South Korea under cover of artillery fire.
The war raged for more than three years before hostilities were stopped by armistice on July 27, 1953. Because no peace treaty was ever signed, the two Koreas remain technically at war.
While the U.S. and South Korea flex their combined military muscle on land and in the air Friday in Pocheon, their navies will be practicing procedures on water in exercises announced last week.
They will be joined by Japan for a trilateral exercise Thursday and Friday in the waters south of the Korean peninsula, according to the Pentagon. Then, the U.S. and South Korean navies will move on to conduct "a routine carrier operation" in the Yellow Sea, west of the peninsula, from Saturday through Monday.
The USS George Washington Carrier Striker group will participate in both exercises before making a port call in Busan, on the southern tip of the peninsula.
North Korea routinely denounces such exercises as preparations for attack, while the U.S. and South Korea usually maintain they are defensive in nature.
---
---
---
---