US bases in Korea largely unscathed by Typhoon Bolaven
By
Jon Rabiroff Ashley Rowland
August 28, 2012
---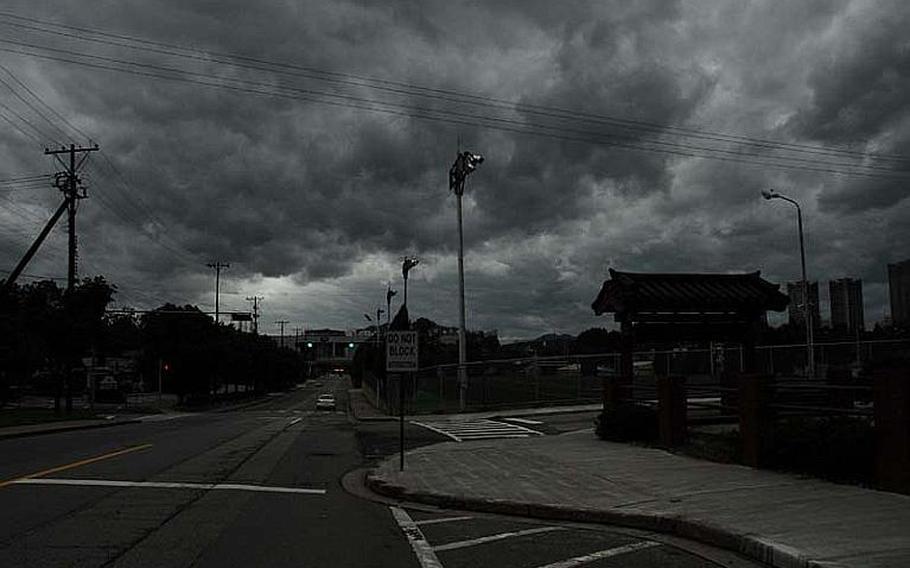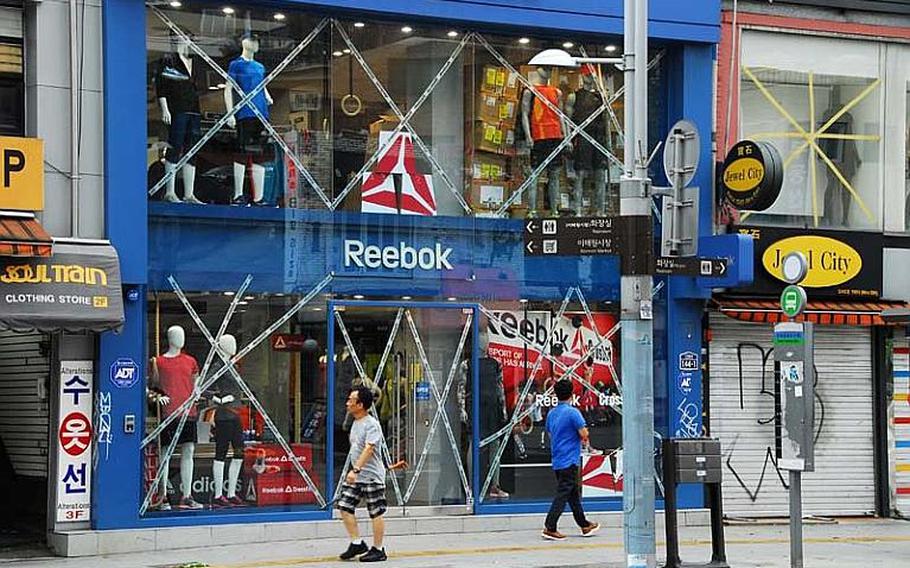 SEOUL — U.S. military installations in South Korea mostly escaped the wrath of Typhoon Bolaven, which knocked down homes and trees and caused widespread power outages across the peninsula Tuesday.
While the massive storm brought wind gusts in excess of 50 mph to parts of South Korea, the peninsula was spared the full force of Bolaven as the core of the typhoon stayed just offshore, churning north along the west coast for much of the day.
As Tuesday evening arrived, the storm's center remained out in the Yellow Sea, with its projected path taking it over North Korea, according to the Korea Meteorological Administration.
No deaths or injuries to U.S. military personnel were reported.
Two Chinese fishing boats capsized Tuesday morning near Jeju Island — a popular resort area south of the South Korean mainland — with three dozen crew members on board. Five were confirmed dead and 10 were still missing as rescue efforts continued into Tuesday night.
According to Korean media reports, at least three South Koreans were killed as the storm moved north along the mainland. An elderly woman reportedly died when a church bell tower in Gwangju, south of Seoul, collapsed on her. The storm severely damaged or destroyed close to two dozen apartment buildings and complexes, reports said.
Officials said more than 300,000 households were without power at some point during the day.
From initial reports, U.S. bases sustained minimal damage, including U.S. Army Garrison Yongsan, where no problems were reported.
Yongsan spokesman Mark Abueg said the base received just 0.04 inches of rain by Tuesday evening and recorded maximum wind gusts of 43 knots — far less than the 12 inches of rain and gusts of 50 to 65 knots that had been predicted. The typhoon, while massive, also caused relatively little damage as it earlier pounded Okinawa, which had feared a direct hit.
At South Korea's Osan Air Base, just a half-inch of rain had fallen by 4:30 p.m., and wind gusts during the day had reached a high of 47 knots, knocking down a few trees and power lines, said 51st Fighter Wing spokesman Capt. Cody Chiles.
Daegu area spokesman Philip Molter said there were about a dozen downed trees but no significant damage was reported in Area IV, though power was lost and quickly restored at a few buildings on Camp Carroll. Most businesses had reopened by early Tuesday afternoon, he said.
Damage at U.S. Army Garrison Humphreys was limited to approximately a dozen small downed trees, minor rooftop damage to a few buildings and a bent door, garrison spokesman Ed Johnson said.
On the country's southeastern coast, Kunsan Air Base received one inch of rain and recorded winds of 65 knots at 12:40 p.m. Some power outages, minor roof damage and downed trees were reported.
"Everything is operating as normal," base spokesperson Capt. Sheila Johnston said Tuesday evening.
In the northernmost region of South Korea, some trees were knocked down but they caused no additional damage, according to U.S. Army Garrison - Red Cloud spokesman Kevin Jackson.
Power went out at Camp Jackson in early afternoon when a transformer blew, but it was expected to be restored Tuesday night, Jackson said.
All DODDS schools in South Korea were closed Tuesday, and the annual Ulchi Freedom Guardian exercise was suspended in anticipation of the typhoon.
It appeared Tuesday evening that U.S. military bases here would be back or close to normal Wednesday.
Officials said all DODDS schools in South Korea would reopen Wednesday.
U.S. Forces Korea spokeswoman Jennifer Buschick said a decision on when the military exercise would resume had yet to be made.
"There is still a possibility of danger due to hazards created by high winds after the storm winds down, and we will remain focused on the safety of our servicemembers, civilians and their family members as we continue to monitor the situation closely," she said.
The largely computer-based, joint U.S.-South Korea military exercise involving 30,000 American troops — which began Aug. 20 — was originally scheduled to run into Friday.
Stars and Stripes' Yoo Kyong Chang contributed to this report.
---
---
---
---